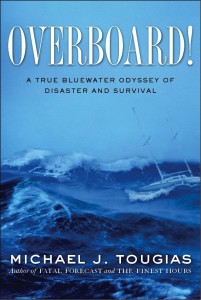 A true story about five sailors who experienced distress while sailing to Bermuda is now in print. Four of them survived the harrowing experience, with one succumbing after 10 hours in the water.
Michael Tougias' recently released nonfiction book "Overboard! A True Blue-Water Odyssey of Disaster and Survival," was published by Simon and Schuster earlier this year.
Captain Tom Tighe, first mate Lochlin Reidy and three novice crewmembers [Chris Ferrer, Ron Burd, Kathy Gilcrest] set sail aboard the 45 ft Almeisan from Connecticut to Bermuda in May 2005. Captain Tighe had made the trip 48 times before.
A few days into the voyage, their boat is battered with massive 30-foot waves in a severe storm. A huge wave hurls the Captain and First Mate overboard.
Mr. Tougias' story details the Captain's and First Mate's efforts to survive in the water and the simultaneous story of the three novice crewmembers attempting to survive aboard the damaged sailboat in the fierce storm.
After 10 hours of constantly fighting the seas the Captain died, while the First Mate fought the stormy seas for another 16 hours until a Coast Guard plane spotted the light on his life vest.
-
The body of Captain Tighe, 65, was recovered by a Panamanian-flagged tanker ship that has been assisting in the search and rescue. The Coast Guard's search and rescue was so dangerous it was later selected [from among thousands of case] as the case of the year.
Mr. Tougias is also the author of 19 other books, including three other nonfiction sailing disaster books:
Ten Hours Until Dawn: The True Story of Heroism and Tragedy Aboard the Can Do
Fatal Forecast: An Incredible True Tale of Disaster and Survival at Sea
The Finest Hours: The True Story of the Coast Guard's Most Daring Rescue
Mr. Tougias interviewed over 70 people for the book, including the survivors, family members, rescuers and the passengers on another boat for the 212 page book.
You can read the first three chapters here.
Read More About
Category: Accidents and fires, All, News