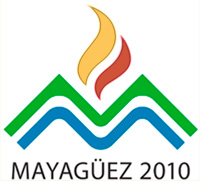 The Bermuda Olympic Association (BOA) today officially announced the names of the athletes who will represent Bermuda at the XXI Central American & Caribbean (CAC) Games, which are being held which are being held in Mayaguez, Puerto Rico from July 17th through August 1st 2010.
60 Bermudian athletes will compete in Athletics, Swimming, Bowling, Boxing, Gymnastics, Hockey, Sailing, Shooting, Tennis and Triathlon. This is the largest-ever team to represent Bermuda at the CAC Games. The athletes will be accompanied by Chef-de-Mission Donna Watson, who is President of the Bermuda Track & Field Association.
The CAC Games are the oldest continuous-running regional games, dating back to 1926. Held every four years, the Games typically host competitors from countries in Central America, the Caribbean, Mexico, Bermuda, and the South American countries of Surinam, Guyana, Colombia and Venezuela. The CAC Games are considered the starting point of international competition for athletes from the region who are seeking to represent their countries at the Olympic level. They are designed to provide a step between sub-CAC-region Games held the first year following a Summer Olympics and the Pan American Games, which are held the year before the Summer Olympics.The Bermuda Olympic Association is providing financial assistance to all athletes competing at the CAC Games.
BOA Secretary General, Philip Guishard, said:
It is difficult for many Elite and would-be Elite Athletes to commit sufficient time to training and also earn or raise enough funds to get them to international competitions like the CAC Games. The BOA, therefore, fills a vital role in helping young athletes along their journeys to success." He continued, "Although, in the current economic environment, the BOA (which is a charitable organisation,) has had challenges securing much-needed operating funds from the private sector, through our associations with the Olympic Solidarity arm of the International Olympic Committee and the Pan American Sports Organization, we are proud that we have been able to help Bermuda field its largest-ever team for a CAC Games.
The following athletes will compete for Bermuda at the CAC Games:
Latroya Darrell Athletics
Arantxa King Athletics
Shianne Smith Athletics
Aaron Evans Athletics
Harold Houston III Athletics
Tyrone Smith Athletics
Kathleen Christopher Bowling
Gloria Dill Bowling
Rochelle Harvey Bowling
Dianne Jones Bowling
Patricia Price Bowling
Earlene Tucker Bowling
Jermaine DeSilva Bowling
Damien Matthews Bowling
David Maycock Bowling
Lamar Richardson Bowling
LeVinc Samuels Bowling
Delmont Tucker Bowling
Earl Bascome Boxing
Ja'Nos Lindsay Boxing
Morgan Beckles Gymnastics
Rosie Finnagan Gymnastics
Ryanne Bardgett Hockey
JoAnn Bielby Hockey
Francesca Cacase Hockey
Jennifer Chisnall Hockey
LaKae Dill Hockey
Marcia Ford Hockey
Constance Francis Hockey
Latonia Fray Hockey
Helen Marshall Hockey
Jasmine Patterson Hockey
Raven Pearman Hockey
Keishae Robinson Hockey
Iman Smith Hockey
Elizabeth Stewart Hockey
Catherine Stubbs Hockey
Alexandra Wheatley Hockey
Sara Adderley Sailing
Theophilus Evans Sailing
William Hutchings Jr Sailing
Alex Jones Sailing
Anthony Evans Shooting
Carl Reid Shooting
Ross Roberts Shooting
Kiera Aitken Swimming
Lisa Blackburn Swimming
Rebecca Sharpe Swimming
Roy-Allan Burch Swimming
Julian Fletcher Swimming
Nick Thomson Swimming
Caitlin Gordon Tennis
Jacklyn Lambert Tennis
Tara Lambert Tennis
Naim Azhar Tennis
Gavin Manders Tennis
David Thomas Tennis
Neil Towlson Tennis
Flora Duffy Triathlon
Tyler Butterfield Triathlon
Read More About