[Updated with video] The Government ferry boat 'Bermudian' is finally off the rocks, after spending six days ashore after breaking its moorings during Hurricane Igor. Tug boats gathered for the mid-morning high tide and managed to get the Ferry off at approximately 11am this morning [Sept 25].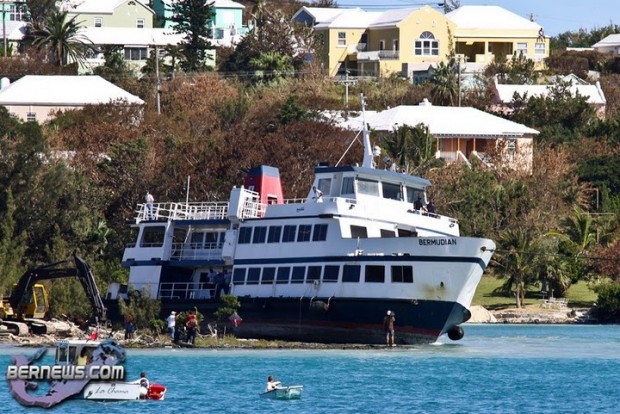 During Hurricane Igor, the Government ferry boat broke free from its moorings in St George's, and was getting battered against the shoreline on Sunday afternoon and evening. The Bermudian being out of service results in the Old Towne losing cruise ship passengers temporarily, as the boat is used to tender passengers on the Veendam, which docks at seas, to the Town of St. George.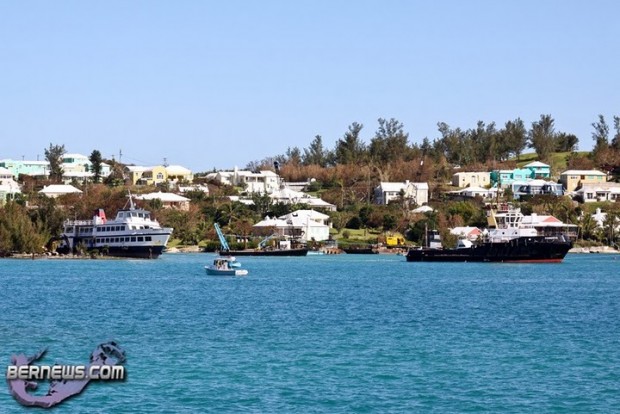 This morning's attempt was the second attempt, with the first coming during high tide on Thursday morning. They managed to move the ferry around five feet during that attempt, which saw one of the ropes snap. The boat is now being towed to Dockyard, where repairs must be made to areas including the starboard (right) rudder which is broken off at the flange (connection) as well as some damaged sections of the starboard propeller.
Video below shows it coming off the land, we advise you turn down the volume:
MV Bermudian is a licenced passenger carrier. Because she carries international passengers – passengers on the cruise ship – MV Bermudian must meet Lloyds of London insurance standards and specifications and must be inspected and re-certified after her repairs are complete.
[Photos by Only the Best]
Read More About