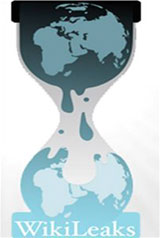 The expected release of secret communications between the U.S. Government and countries worldwide by Wikileaks started yesterday [Nov 28]. Searching through the data set shows at least one small reference to Bermuda already, however this is not as dramatic as it may seem, as numerous countries are mentioned, and not all cable communication released is of a nefarious nature.
Wikileaks said the full set consists of 251,287 documents, and they will "give people around the world an unprecedented insight into US Government foreign activities." The cables, which date from 1966 up until the end of February this year, contain confidential communications between the U.S and 274 embassies in countries throughout the world. Wikileaks released 226 so far, with over 250,000 left to go.
Material from the documents began being posted online yesterday [Nov 28] afternoon on the websites of several media outlets that have collaborated with WikiLeaks to release the information. The New York Times, the UK's Guardian, Germany's Der Spiegel, France's Le Monde and Spain's El Pais all gained advance access to the documents to prepare their coverage.
Revelations in the cables reported by those outlets include; Arab leaders are privately urging a military attack on Iran, US officials have been instructed to spy on UN leaders,. U.S and South Korea discussed a unified Korea if North Korea crumbles,  and that China's leadership directed a hacking campaign into computers of Google and Western governments.
Individuals were discussed in detail, with Italian Prime Minister Silvio Berlusconi, who has a home in Bermuda, being said to be a "vain and ineffective as a modern European leader" and that he has "frequent late nights and penchant for partying hard." Cables also ran on lighter notes, with discussions of Libyan leader Moamer Kadhafi's nurse being a "voluptuous blond."
Searching the Wikileaks cable graphics of the cablegate dataset by country, shows that Bermuda is listed on the graph. We are far from alone, as the data set shows approximately 200 countries and territories spanning the globe, whereas a country/territory/area not mentioned would be in the small minority.
Bermuda, as shown below circled in blue, has a very tiny raise on the graph, indicating that the cable[s], which span 45 years, will mention Bermuda in some capacity. Additional charts show that 68 cables refer to Bermuda.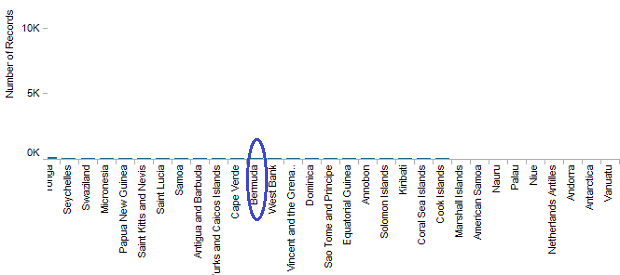 The Obama Administration issued a statement saying "We condemn in the strongest terms the unauthorized disclosure of classified documents and sensitive national security information." WikiLeaks founder Julian Assange argued that the documents could serve as "deterrents" to future war crimes. Websites carrying the data experienced server issues, and Twitter is abuzz with the hashtag #cablegate.
The cables are said to show the American officials 'bargaining' with foreign governments to accept the prisoners being held at Guantánamo Bay. Bermuda was one of the first countries that accepted refugees from the offshore holding center; Khaleel Mamut, Abdulla Abdulqadir, Salahidin Abdulahat, and Ablikim Turahun were released from Guantanamo and resettled in Bermuda on July 11, 2009. The ethnic Uighurs Chinese Nationals, who were held for many years without charge, have been cleared by U.S. officials of any wrongdoing.
Referencing the Gitmo prisoners New York Times, who had advance access to the documents, said:
Bargaining to empty the Guantánamo Bay prison: When American diplomats pressed other countries to resettle detainees, they became reluctant players in a State Department version of "Let's Make a Deal." Slovenia was told to take a prisoner if it wanted to meet with President Obama, while the island nation of Kiribati was offered incentives worth millions of dollars to take in Chinese Muslim detainees, cables from diplomats recounted. The Americans, meanwhile, suggested that accepting more prisoners would be "a low-cost way for Belgium to attain prominence in Europe."
AFP News Agency said:
Cables depicted US officials searching the world asking countries to take Guantanamo inmates, with Slovenia's leadership told that a meeting with US President Barack Obama was linked to its decision on taking a prisoner.
UK's Daily Mail said:
Now, with Mr Obama's deadline long gone, the cables released by Wikileaks show just how desperate the U.S. became to offload foreign Gitmo inmates.
Searching through the initial cables released do not indicate that Bermuda has specifically been referenced yet. On a slightly correlated note to a local situation, the cables do reveal communications between Germany and the USA on accepting Gitmo refugees, and specifically the ethnic Uighurs – whom Germany specifically did not want to accept due to not wanting to "irritate" China.
A German official is quoted within a cable as saying  "now that the Bundestag election was past, Germany was ready to help on detainees, as it had promised earlier." The official also "suggested that the discussions be kept confidential," as  "premature public disclosure could doom the whole initiative."
The quotes below showing the dialogue between Germany and the US about the Uighurs are taken directly from the cables, with the cable reference numbers provided.
Cable 09BEIJING1247, BEIJING-BASED G-5 CHIEFS OF MISSION ON DPRK, GTMO
German Ambassador Michael Schaefer reported that Germany had informed China of the U.S. request to accept some Uighur detainees held at Guantanamo and had been subsequently warned by China of "a heavy burden on bilateral relations" if Germany were to accept any detainees.
German Ambassador Schaefer said the German State Secretary had informed China of the U.S. request to accept some Uighur detainees held at Guantanamo, noting that Germany had not made a decision regarding the Uighurs. He noted that no German state had yet agreed to accept the detainees. Ambassador Schaefer said China had not officially demarched Germany but had warned Germany that accepting any Uighur detainees would "put enormous pressure on Beijing and a heavy burden on bilateral relations.
Cable 09BERLIN1548, GERMANY RENEWS CONSIDERATION OF GUANTANAMO
While Germany prefers non-Uighur cases because of expected tension with China, it will consider the cases of two Uighurs based on humanitarian grounds
While all interlocutors did not outright reject the two Uighur cases, Heusgen made clear that the prospect of being the only European country to irritate China by accepting Uighurs would make it difficult, although it is unclear whether Germany would take part in any broader European decision to resettle Uighurs.
Cable 09MUNICH328, GERMANY/AFGHANISTAN: IS THE CSU THE WEAKEST LINK
The CSU has refused to accept any of the 17 Uighurs to be released from Guantanamo, even though Munich is home to an estimated 500 Uighurs, the largest Uigher community in Germany.
Heusgen said that Uighurs would be "too difficult," but that Germany could probably accept "2-3 others." (Comment: The reluctance about Uighurs is due to the expected negative reaction of the Chinese government. End Comment.)
The cables are Wikileak's third huge release of classified American data. They previously released thousands of documents, as well a 2007 gun-camera video of an American helicopter crew killing a dozen people in Iraq, including two Reuters journalists, with one soldier heard shouting "Ha, ha, I hit 'em." The soldiers allegedly mistook the photographer's camera for a "rocket-propelled grenade launcher."
U.S. officials allege they were passed to WikiLeaks by Army Private Bradley Manning who had access to classified computer networks as a junior intelligence analyst in Iraq. Private Manning is now being held in a military jail, and faces a possible court-martial and, if convicted, up to 52 years in prison. Adrian Lamo, who reported Private Manning to the U.S. authorities, said the soldier had told him in chat messages that "everywhere there's a US post … there's a diplomatic scandal that will be revealed".
The cables come via the huge Secret Internet Protocol Router Network [SIPRNet]. SIPRNet is the worldwide US military internet system, which is separated from the ordinary internet and run by the Department of Defense in Washington. Many are unclassified, and none are marked "top secret," the government's most secure communications status. Although the system is deemed to be private, reports say that SIPRNet can be accessed by approximately 3 million people.
The full cables [over 250,000 still not released] are expected to be posted online over the next few months.
Read More About