This morning [Nov 8] the Bermuda Democratic Alliance [BDA] announced that Sylvan Richards will stand as their candidate for Constituency 26, Warwick South Central.
Saying "We need new leaders who will listen to the community and work to create innovative ideas, programs and methods to get Bermuda and its' people back on the track to success," Mr Richards said "I am ready to provide that leadership."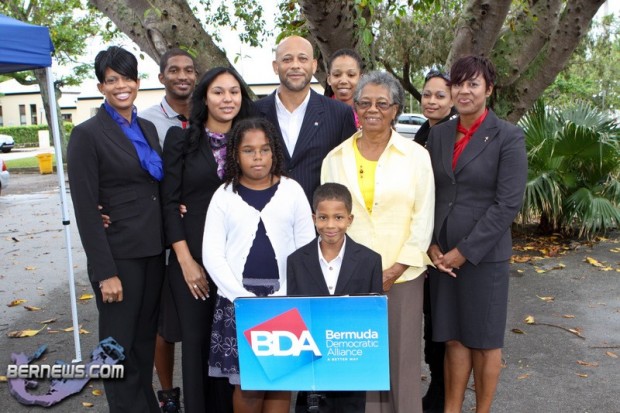 The bye-election will be held on December 15th to fill the seat vacated by former Premier Dr Ewart Brown. The UBP has not yet announced a candidate, and the PLP has put forward former Senator Marc Bean to contest the seat.
Mr Richards attended West Pembroke School, Warwick Academy and the Bermuda College. He attended Howard University in Washington D.C, graduating in 1985 with a Bachelor of Business Administration with a concentration in insurance studies.
Mr Richards is pictured below with BDA Leader Craig Cannonier: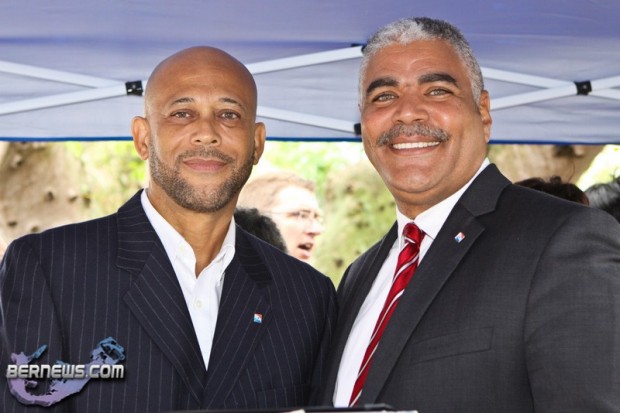 After working in various capacities including running a Domino's Pizza franchise in New York, Mr Richards was recruited as an assistant underwriter at ACE Insurance Company Ltd in 1995. He joined Allied World Assurance Company Ltd in the capacity of Assistant Vice President, General Casualty underwriter in their casualty department in 2001, and is currently employed by the company.
Married and the father of two daughters, he is a member of the Cornerstone Bible Fellowship, and traveled to Haiti in January of 2010 with a group from Cornerstone in order to provide relief efforts after the devastating earthquake there.
Mr Richards's full speech from this morning's announcement is below:
My name is Sylvan Richards Jr. It is an honor to speak before you today. This part of Warwick is dear to my heart. My maternal grandmother, Alouise Stovell, lived on Khyber Pass right across from the Amis Funeral Home. Some of my fondest early childhood memories include riding my pedal bike up to my grandmother's house just up the hill from here. I would run across the street to buy treats from Simons Grocery Store and play with the children in the neighborhood. When I was 15 years old, my family moved from Paget to Hillview Warwick where we lived for a few years while my Father built his house on Warwick Lane. My parents, my sister and her family still live there today.‪ I know this area, and its people.

The good, hardworking people of constituency 26 deserve integrity, transparency and accountability from their elected representative. They deserve leadership that is both accessible and in turn, responsive to their needs. As a son of the soil and someone with lifelong ties to this community, I will be honored to serve the people of constituency 26. I will listen to your concerns and embrace your ideas for improving the neighborhoods of this constituency, and in turn the country.

It is for these reasons that I have decided to run as the Bermuda Democratic Alliance's candidate in the by-election for constituency 26, Warwick South Central.

I want to tell you a bit more about why I've chosen to run as a candidate for the Bermuda Democratic Alliance in this by-election. I was born in 1959, a pivotal year for our Island. It was the year of the Theatre Boycott, which resulted in the integration of Bermuda's hotels and theatres. When I was old enough to understand the significance of my year of birth, I understood that one day, I too would do my part to shape and ensure Bermuda's future.

Bermuda, our island home is facing daunting challenges. We face many pressing issues such as the loss of jobs due to the downturn in the global and local economy, the increase in gun crime which threatens our families safety, and the failure of our educational system to adequately prepare our young people to compete in the new economy to name a few. We need new leaders who will listen to the community and work to create innovative ideas, programs and methods to get Bermuda and its' people, back on the track to success. I am ready to provide that leadership.

I believe that one of my responsibilities is to hold the current government accountable and to demand transparency, integrity and accountability from myself and all of our elected officials, regardless of party affiliation.

External forces that are reshaping our economy demand new Bermudian leaders who put people and doing the right thing, over party politics. All of our citizens, especially young Bermudians who are the future of this country, are looking for something to believe in again. They need hope! Our people need jobs, security in our neighborhoods and a sound, rigorous educational system that will prepare our young people to compete on a global level.

We as a country, have come a long way, but if we are to go from strength to strength, it is going to take the involvement and participation of all of our people. Bermuda's greatest attribute has always been its people. Therefore, we cannot afford to ignore anyone and we must embrace diversity, for it is through our diversity that we become stronger.

The challenges we face require a different way forward, a Better Way. I humbly request your support in serving as your member of parliament for Warwick South Central. Together we can create a New Bermuda for ALL Bermudians

Thank you.
Photos by Only the Best from the announcement, click to enlarge:
Update 11:30pm: Video of Mr Richards candidate announcement here.
Read More About