Craig Cannonier, Leader of the Bermuda Democratic Alliance, congratulated all the candidates for coming out last night, saying "Putting oneself up for public service is not something to be taken lightly."
The BDA Leader continued on to say that "To Mark, Devrae and Sylvan, I say your conduct as political adversaries in this campaign has been nothing short of exemplary. Each one of you has taken the high road in making their case to the voters. In so doing you have played a part in helping to restore our people's faith in the future of politics."
Mr Cannonier mentioned the low turnout and said "While I would be the first to acknowledge that the conduct of this by-election offers some hope in this regard, we cannot ignore the fact that there is a lot of work to be done to construct a new politics that is trusted by the people. Until we construct that new politics, a celebration of tonight's outcome is inappropriate."
Yesterday 460 voters turned out, cast 458 good votes, the PLP's Marc Bean won in a landslide with 310 votes [67%]; the UBP's Devrae Noel-Simmons came second with 78 votes [17%]; and the BDA's Sylvan Richards was third with 70 votes [15%]. At 460 out of 1,149 registered voters, turnout was at approximately 40%.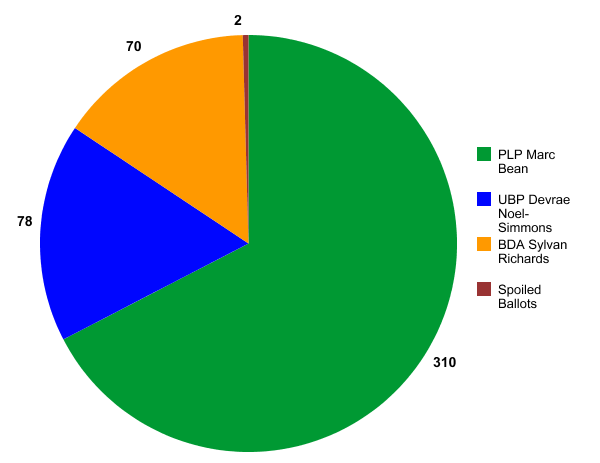 Mr Cannonier's full statement is below:
The voters of Warwick South Central have spoken. It is important first of all to thank all those who came out and did their civic duty. It is also important to acknowledge each of the three candidates in this historic by-election contest. Putting oneself up for public service is not something to be taken lightly.

And at this period of our history in Bermuda, when many people are disillusioned with politics, such willingness to step forward and serve is nothing short of a spirit of sacrifice. While we have our differences, no one can question your love for your country.

To Mark, Devrae and Sylvan, I say your conduct as political adversaries in this campaign has been nothing short of exemplary. Each one of you has taken the high road in making their case to the voters. In so doing you have played a part in helping to restore our people's faith in the future of politics.

So, to all the candidates and to all the voters who came to the ballot box, I say congratulations.

And a special congratulations to Marc Bean.

The Bermuda Democratic Alliance is extremely proud of Sylvan Richards for carrying the banner of our movement in Warwick South Central. We are proud of his commitment, his sense of integrity, his willingness to serve. We are proud of his hard work throughout this campaign and we know it is only the beginning for Sylvan Richards. Rest assured, Bermuda, there are many more Sylvan Richards out there.

The BDA is on a forward movement to ensuring greater accountability and integrity in Bermuda's public affairs. Our insistence on charting the way forward to a different, more inclusive, more authentic politics – a politics of integrity – has been vindicated by the very low turnout of this by-election.

Indeed, such a low turnout cannot simply be blamed on the inclement weather. Such a low turnout is an indictment of politics as practiced by the legacy parties.

While I would be the first to acknowledge that the conduct of this by-election offers some hope in this regard, we cannot ignore the fact that there is a lot of work to be done to construct a new politics that is trusted by the people.

Until we construct that new politics, a celebration of tonight's outcome is inappropriate.

I invite all those who are actively engaged in politics, as well as our media institutions, our activists and ordinary citizens to join me in this mission.
Read More About