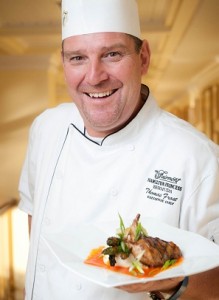 Fairmont Southampton and The Fairmont Hamilton Princess, today launched Lifestyle Cuisine Plus, a new menu available upon request that caters to guests with specific diet-dependent conditions such as diabetes, heart disease and gluten free, as well as unique dietary preferences including, macrobiotic, raw and vegan diets.
A typical Fairmont Lifestyle Cuisine Plus menu will include a selection of appetizers, entrees and desserts to address diabetes, heart healthy, vegan, raw, macrobiotic and gluten-free diets and contribute to guests' well-being, vitality and energy. Guests with specific food allergies and sensitivities are invited to have a direct conversation with the chef in order to plan their food options during their stay.
"With the advancing age of the baby boomer generation and their keen interest in health, the increasing prevalence of illness and disease associated with high-fat and high-cholesterol foods, and the growing trend towards clean and green, guests are more concerned with healthy eating choices than ever before," said Christopher Chafe, executive chef at The Fairmont Southampton. "There's no need to stop eating well just because you're on the road."
"As someone that follows a gluten-free diet, I know how difficult it can be to find gluten-free food, particularly in restaurants and when travelling," says Thomas Frost, executive chef at The Fairmont Hamilton Princess. "Diners with specific dietary requests often have to forfeit flavour and choice for their health, but not at Fairmont. We understand the need for individual diets and eating preferences and we're delighted to be launching our Lifestyle Cuisine Plus menus today."
Mr Frost is pictured below making broiled salmon and grilled pinapple salsa (gluten free):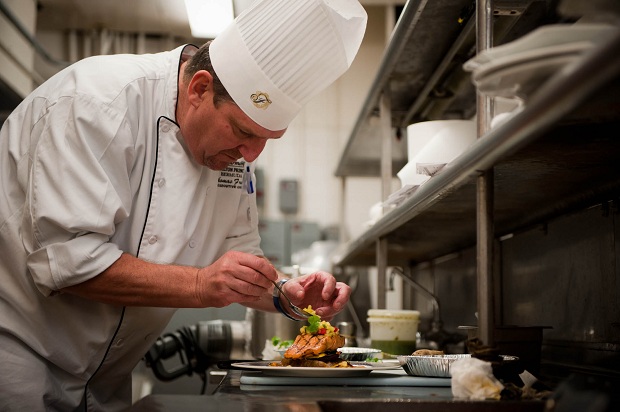 While the same nutritional parameters guide Fairmont chefs across the globe, actual menu offerings will reflect the distinctive style and unique food products of each destination. A sampling of Bermuda menu items includes: Grilled Red Snapper, Chick Pea Cream, Arugula, Raisins and Almond Salad (macrobiotic – Bacci); White Onion Soup (gluten-free – Harley's); Baby Spinach Salad, Pumpkin Slaw, Toasted Pine Nuts, Balsamic Dressing (raw – Jasmine Lounge); Mixed Berries with Crystallized Ginger and Coconut Flakes (vegan – Harley's); Niman Ranch Beef Tenderloin with sautéed spinach, roasted red peppers, asparagus and balsamic (diabetes – The Waterlot Inn); and Scottish Smoked Salmon with lemon and wholegrain toast (heart healthy – Windows on the Sound). .
Read More About
Category: All