[Updated - no vote to be taken] Senators are expected to debate the Tucker's Point SDO today [Mar.18], and both CURB and BEST called for residents to come to the Cabinet Building grounds to "quietly protest the Tuckers Point SDO."
Updates will be posted through the day, with the most recent on top, press 'F5′ key to refresh:
Update 9:00am March 19: Statement from BEST Chairman Stuart Hayward:
Hooray for this partial victory.

We appreciate the Senators who went the extra mile to become more informed and encourage them to assert their right to be fully informed on every aspect of this matter before resuming this debate.

As this SDO proposes to remove acres with a value of tens if not hundreds of millions of dollars from the pbulic's bank of protected conservation lands, we would recommend they have an independent environmental advisor (that is someone not connected to either TPC or the government) to assist them in asking the right environmental questions and evaluating the answers, and an independent financial advisor to assist them in asking and evaluating answers to the right financial questions.
Update 12:00am: After the debate ended, Senator Michael Dunkley [UBP] said:
We are pleased that common sense has prevailed and now we can work on a position that all sides can live with. As I stressed over and over again when I spoke…it is about balance and finding a position that works for us all. We commend the government for the opportunity to rise and report progress and we look forward to finding a solution that is best for Bermuda.
Update 11:37pm: Senator Burt [PLP] who was the one to "rise and report" which stopped the debate/vote, said it was done after liasing with the Premier, Environment Minister Walter Roban, Tourism & Business Minister Patrice Minors and Government Senate Leader David Burch.
The considered position having liaised with the Premier, Min. Roban,Min. Minors and the Senate Government Leader was that the better view was to rise, and report progress. We listened. This way we give an option for all the parties to reflect and to review their position.
Update 10:11pm: With the SDO now in a state of limbo, it is unclear what will happen with the plan for Rosewood Hotels & Resorts to become the property's operator. In a previous statement, Tucker's Point said, "Not only is approval of the SDO critical to the financial viability of Tucker's Point, it is a condition for finalizing the agreement with Rosewood Hotels & Resorts."
Update 9:35pm: Senator Burt [PLP] interrupts, and asks to rise and report progress, meaning that the SDO will not be put to Senate vote tonight. The debate has ended. The SDO can be brought back to the Senate for a vote, although it is unclear at this time if it will.
Senator Kim Wilson [PLP], and Senator Carol Ann Bassett [Independent] were the last two left to speak. The PLP were expected to vote for the SDO, and UBP against, meaning the SDO needed one Independent Senator to support it for it to pass.
Independent Walwyn Hughes said he would not support it, as did Senator Joan Dillas Wright [who had been whispered by some to be the independent who might have voted for the SDO] leaving Senate President Carol Ann Bassett to be the deciding vote. The PLP's stopping of the vote could be taken as an indication of the way they felt Senator Bassett would have went although there has been no official statement on the matter.
Update 9:30pm: Senator Atherden says she will not support the SDO, talks about unsold properties at Tucker's Point now. Says its tied into a financial issue. Says its not a "national priority." Says it is a business problem being turned into Bermuda's problem.
Update 9:17pm: Senator Burch finishes, Senator Jeanne Atherden [UBP] starts. Senator Wilson [PLP], and Senator Bassett [Independent] are left to speak. Senator Bassett would be considered the swing vote, as the other two independents have said they will not support the SDO.
Update 9:13pm: Senator Burch said he has been inundated with emails, 98 to date. Says he will vote for the SDO as "national interests outweigh his misgivings."
Update 9:11pm: UBP Leader Kim.Swan, who has been in the Senate Chambers during the debate, said, "Land for future generations need to be protected against the loss of important woodland reserve for predominately residential development. One of the last forested areas in Bermuda which also sits on top of irreplaceable and significant caves."
Update 9:07pm: Senator Burch says the same people who said the Government it too stuck in the past and pulls the "race card", are now imploring the Senate to turn it down for historical aspects. Said "mercy" and called it disingenuous.
Update 8:59pm: Senator Burch says international business and tourism will be the pillars of the economy for years to come. Says Government has demonstrated that they are willing to make difficult decisions to save tourism. Syas his support is "not without reservations," but says as it is approval-in-principle requiring final approval from planning is a good safeguard.
Update 8:59pm: Senator Shakir spoke for almost an hour, now finished. Senator David Burch [PLP] begins. Talks about the open process for the SDO, saying it is the first time.
Update 8:57pm: Senator Shakir is still speaking, says "if it means getting put out of the House thats how serious this thing is."
Update 8:38pm: Senator Shakir said to make a decision on the SDO we shouldn't have to think of historical aspects. Says an "emotional debate is a dangerous debate." Refers to Talbot Brothers who were removed from Tucker's Town, says they moved to Smiths parish, and later on were back in Tucker's Town performing for guests.
Update 8:35pm: 4 left to speak: Senator Burch [PLP], Senator Wilson [PLP], Senator Atherden [UBP] and Senator Bassett [Independent]. Senator Bassett is considered the swing vote. MPs continue to come into the Senate Chamber – UBP Leader Kim.Swan, Minister Glenn Blakeney and more.
Update 8:28pm: Senator Shakir says we have to protect tourism. Says "what outstrips environment to me, is sustainability." Speaking in general terms, is asked to "get back to focus" on the SDO. Senator Shakir says "if he has to be put out of the House" he will. Says he has been getting "disturbed" all day by people honking horns, as someone had signs out saying to honk.
Update 8:15pm: Senator Shakir references Jim Woolridge multiple times, the third Senator to do so during the debate.
Update 8:09pm: Senator Suzann Roberts Holshouser finishes, Senator Cromwell Shakir [PLP] begins. MP Walter Lister is welcomed in the Senate Chamber.
Update 8:03pm: Senator Suzann Roberts Holshouser continues to speak, she is touching on various environmental matters including caves and animal life. Says she "cannot support the SDO." Says she "wishes for the success of Tucker's Point, but not at the expense of something we cannot replace.:
Update 8:00pm: In addition to the Premier, MPs have stopped in the Senate Chamber including Deputy Premier Derrick Burgess, Tourism & Business Minister Patrice Minors, and Minister of Justice & Attorney General Michael Scott.
Update 7:55pm: So far Senator David Burt and Senator Laverne Furbert have spoken for the PLP, Senator Michael Dunkley and Senator Suzann Roberts Holshouser for the UBP, and Independent Senators Joan Dillas Wright and Walwyn Hughes. Left to speak are Senators Burch, Wilson and Shakir for the PLP, Senator Atherden for the UBP, and Senate President Carol Bassett, an Independent. If the UBP/PLP vote in a block as predicted to, it would appear that Independent Senator Carol Ann Bassett must vote for the SDO for it to pass.
Update 7:48pm: Senator Suzann Roberts Holshouser says Tucker's Point is in "serious financial difficulties" and they were upfront with them about that. Says if the previous SDOs were successful, they wouldn't be there today.
Update 7:41pm: Senate President acknowledges presence of Premier Paula Cox in the gallery. Senator Suzann Roberts Holshouser [UBP] starts speaking. Majority of the demonstrators have left, and ones remaining appear to be packing up [photo].
Update 7:37pm: Senator Joan Dillas Wright said she is "not prepared to support the SDO". This means assuming the PLP/UBP Senators vote as expected, Senate President Carol Bassett must vote for the SDO for it to pass.
Update 7:19pm: Senator Furbert finishes, Independent Senator Joan Dillas Wright starts. Says this is Tucker's Point 3rd SDO. She is considered to be a key swing voter.
Update 7:10pm: Senator Furbert says CURB needs to do their research. Says CURB is supposed to deal with those who practice racism, and said its "not people that look like me". She said it does not make sense to"bring in black speakers from Africa", and does not finish as the Senator is interrupted by the Senate President and asked to stay on the SDO topic. Senator Furbert said she is. Senator Furbert says she read extensively on the topic, and supports the SDO.
Update 7:02pm: Senator Furbert says what "really annoyed" her, was when CURB said the SDO was "a slap in the face" to the descendants of Tucker's Town. The Senator said "they were slapped in their face a long time ago." Mentions that white people lived there too.
Update 6:51pm: Senator Furbert references her son, an environmentalist, who has written three books on the environment. She said he has a masters degree in a related field, and will soon receive his doctorate. Quotes from an article he wrote about the SDO. Says he speaks from a position of authority, but some have dismissed him as he is her son.
Update 6:50pm: Senator Furbert speaks to the historical aspects, says that Tucker's Town and Tucker's Point are two different things, and some people confuse them. Says many of the people who left the area were not in the exact Tucker's Point area, but in varied places in Tucker's Town.
Update 6:40pm: Senator Hughes has finished, Senator Laverne Furbert [PLP] starts speaking. Senator Furbert addresses suggestions made by the two previous Senators that Government has not listened to the people. She says when she came in this morning, she saw Tucker;s Point employees. Says "when we talk about the public, what public are we talking about." Talks about all the emails received, says some were sent by civil servants using their dot gov email address, and said that would have been different before 1998.
Update 6:20pm: A breakdown of the voting:
There are 11 Senators, 5 PLP, 3 UBP and 3 Independents, and the SDO needs 6 votes to pass.
The SDO has already passed in the House of Assembly, with PLP MPs for and UBP MPs against.
The PLP Senators [5] are Lt. Col. David Burch, Kim Wilson, David Burt, Cromwell Shakir, and Laverne Furbert
The UBP Senators [3] are Jeanne Atherden, Michael Dunkley, and Suzann Roberts Holshouser
The Independent Senators [3] are Carol Bassett, Walwyn Hughes, and Joan Dillas-Wright
The PLP Senators are predicted to be voting in favour, UBP Senators are predicted to vote against
The Independents are considered by pundits to be the unknown quantity, and the key votes
Assuming the PLP/UBP vote as expected, only one Independent vote is needed for the bill to pass
Update 6:15pm: Senator Dunkley finishes, Independent Senator Walwyn Hughes starts speaking, indicates he wil not support SDO.
Update 5:48pm: Tucker's Point President Ed Trippe is on the Cabinet grounds.
Update 5:36pm:Senator Dunkley speaks on historical aspects, and says "if the shoe was on other foot," the PLP would focus on it with "lazer like" effort. Says a "certain Government race relations consultant" used to take people to Tucker's Town to show them the graveyard, but has now "lost his tongue". Senator Dunkley said he "find that interesting."
Update 5:29pm: Senator Burt has finished, and Senator Michael Dunkley [UBP] starts. Commends Government for handling SDO in a public manner, however says the public has spoken. Thanks a number of people including BEST and Tucker's Point. Speaks on foreign ownership of hotel, says we need to make sure global investors understand we are "open for business." Speaks on environment, says we must have "balance".
Update 5:25pm: Senator Burt [PLP] decision will "not make us any new friends no matter how we vote." Said must consider all people when making decisions. Said debate represesents "historic" openness, and SDO is in-principle only, and carries "stringent conditions."
Update 5:18pm: Live video stream from the Cabinet grounds, which as the SDO debate is being broadcast outside, also includes audio feed of the SDO debate from the Senate. [Live stream over, replay of first 45 mins is available below]
Update 5:00pm: The SDO debate is beginning, PLP Senator Burt says he introduces the bill "with pride because the steps we are taking today are unprecedented in the history of the Legislature. Never before has any Government of these islands tabled for debate and for public scrutiny a Special Development Order." You can listen on the radio [89.1]. He references the volume of emails received and the demonstrators today, before talking on the SDO.
Update 4:58pm: Demonstrators are gathering on the Cabinet grounds again [photo]
Update 4:30pm: Senators are still debating aspects of the budget. It is anticipated that the SDO debate will start after 5/5:15pm.
Update 4:15pm: Photo gallery from this morning's demonstration. Click to enlarge photos:
Update 3:35pm: Full 90 minute replay of this morning's webcast, which footage from approximately 9am to 10:30am. The webcast starts out by showing the Tucker's Point group walking into the Cabinet Grounds carrying signs to show support for the SDO, then shows the arrival of all the Senators, a brief interview with BEST Chairman Stuart Best, crowd shots and more.
Update 3:06pm: 4 minute video of the presentation at 1pm by Frances Eddy, who said she would like to "speak for her great, great grandmother Dinna Smith, who famously refused to give up her land. She has a farm, she was a farmer. Her voice, her protest was squashed. I don't think she even received remuneration in the end for her land." Ms Eddy said she is not asking to reclaim land, but to ask people to be conscious of the history.
Update 1:26pm: Live 40 minute webcast replay now available above of all the speeches made. The first few minutes show preparation, the scene etc., with the speeches started about 6/7 minutes in.
Update 1:10pm: Speeches are over, organisers invite everyone to come back at 5pm to listen outside as the Senate debates the SDO. The replay of the live stream will be available shortly.
Update 1:07pm: BEST Chairman Stuart Hayward [pictured below] is speaking, saying "they own the land, but we own the zoning" and calling for the land to be protected. He commended the Government for bringing the SDO to the legislature, noting it is the first time it has happened. He said that the Minister has turned the decision over, but not the financials, which Mr Hayward called "cock eyed", and to make an informed decision, one needs all applicable information.
Update 1:00pm: Ray Charlton is speaking, he notes that it is a nice day today, and said thats what they are trying to protect – Bermuda's natural beauty, not bail out foreign investors. Mr Charlton says finances indicate that Tucker's Point will likely go into receivership anyway down the road, and this is just a bailout. He asked "Will the tourists come here when all the trees are cut down?".
Update 12:59pm: Crowd photo taken 2 minutes ago.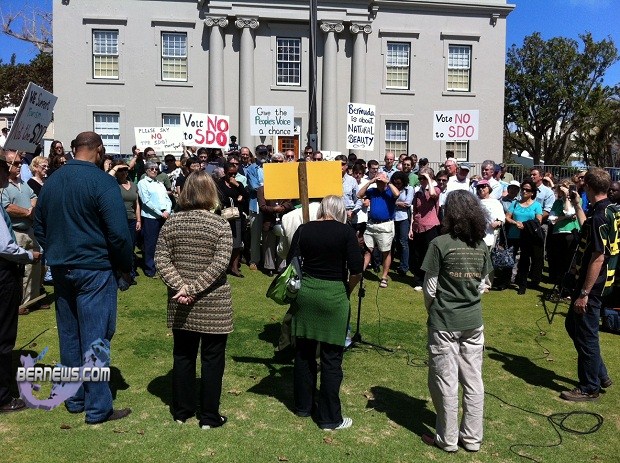 Update 12:55pm: Lynne Winfield of the anti-racism group CURB is speaking. Says their objection is not environmental, but historical. Holding a sign saying "not this time", Frances Eddy of CURB is talking about one of her ancestors Dinna Smith who was one of the 400 families removed, and said that the families were "forced out." She said she is not asking to reclaim land or anything similar, but to ask people to be conscious of the history.
Update 12:50pm: Deputy Chairman of the Tucker's Town Historical Society Denny Richardson is speaking, he said "you as a people have to do whats right by each other." He appealed to all of Bermuda to "come out and take a position of strength."
Update 12:45pm: All three UBP Senators spoke briefly, and thanked everyone for coming. Quick 18 second video of UBP Senator Michael Dunkley addressing the crowd:
Update 12:31pm: We are back live streaming video, available above. Speeches are due to start.
Update 12:15pm: A crowd is starting to gather on the Cabinet Grounds again.
Update 12:10pm: Organisers say the online petition against the SDO is still open for signing. To date it has over 2,000 signatures. Link here.
Update 11:51am: Organisers are encouraging people to gather at the Cabinet grounds at 5 pm, when the Senate is expected to start debating the SDO, which will be broadcast to those gathered on the grounds.
Update 11:20am: Quick video of Tucker's Point staff chanting "Yes to SDO"
Update 11:00am: Audio clip of Ray Charlton, who referenced the Tucker's Point staff who came to the demonstration, explaining that those against the SDO  are "in favour of their jobs, in favour of tourism, and wish them all the best, but we don't think this is the answer." Mr Charlton also spoke on the financial and environmental aspects. Listen here
Update 10:50am: The live webcast replay is now available above, about 90 mins of footage from approx. 9am – 10:30am.
Update 10:16am: The pro-SDO demonstrators from Tucker's Point have left, and a few dozen people remain and the scene is much quieter. We will be hopefully be back live streaming the planned speeches at lunchtime.
Update 10:11am: Audio clip of Tucker's Point Night Manager Sean Pitcher, who previously wrote a letter of support for the SDO, speaking on why the staff came out this morning, saying "they are concerned for their jobs," and want the Senators to vote yes for the SDO. Listen here.
Update 10:06am: The Tucker's Point group is getting on a bus. A few Police officers are visible as well. Live video stopped temporarily while we switch cameras.
Update 9:57am: The Tucker's Point group appear to be leaving, and were just chanting "Save the SDO, save our jobs, save tourism." They are standing on Front Street now.
Update 9:40am: Senators continue to arrive, most being greeted with applause as they come in. Premier Paula Cox has just left the Cabinet building.
Update 9:28am: BEST Chairman Stuart Hayward is now speaking with us on video, as seen above, and said he is pleased to see so many people turn out. He said at 5pm some of them will go into listen to the debate. Mr Hayward said he hopes the Senators do the right thing. While we were talking with Mr Hayward, three more Senators arrived. UBP Senator Michael Dunkley stopped to talked to some who were gathered.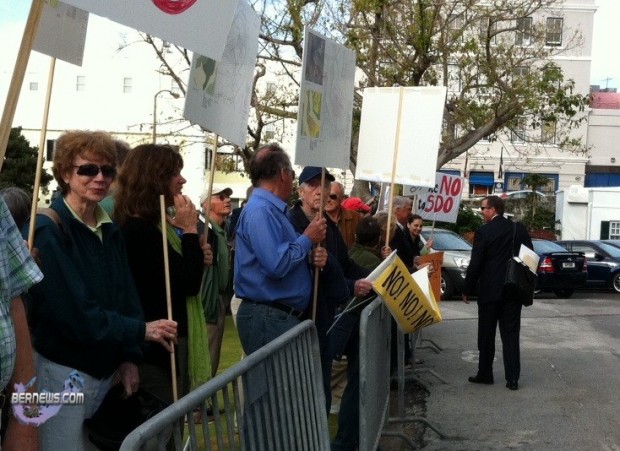 Update 9:24am: PLP Senator Laverne Furbert is the first Senator to arrive [photo], applause can be heard as she walks in.
Update 9:20am: There are people across the street of the Cabinet office with signs saying "Honk no to SDO." Video here.
Update 9:05am: Quick video spanning the pro-SDO demonstrators from Tucker's Point here.
Update 9:00am: Tucker's Point President Mr Ed Trippe arrived along with approximately 30 persons on a bus, carrying signs supporting the SDO and a Tucker's Point banner. Last night BEST said they had "been informed that Tuckers Point plans to ferry paid employees of the hotel with placards to the Cabinet Building tomorrow," and a spokesperson for Tucker's Point said, "Tucker's Point employees who want to show their support are going to be present at the Cabinet Building tomorrow – very peacefully." Short video of group standing on Cabinet grounds here.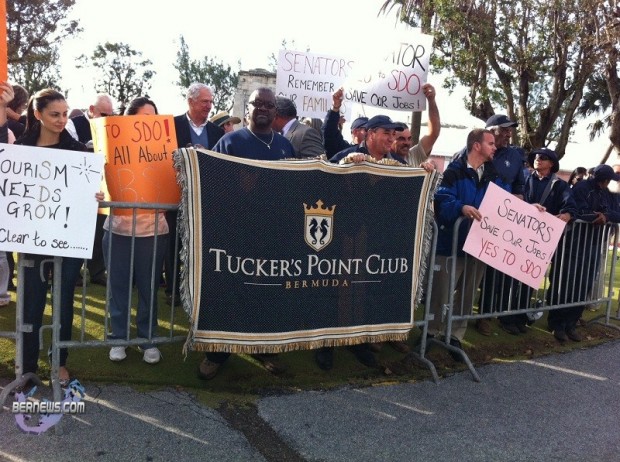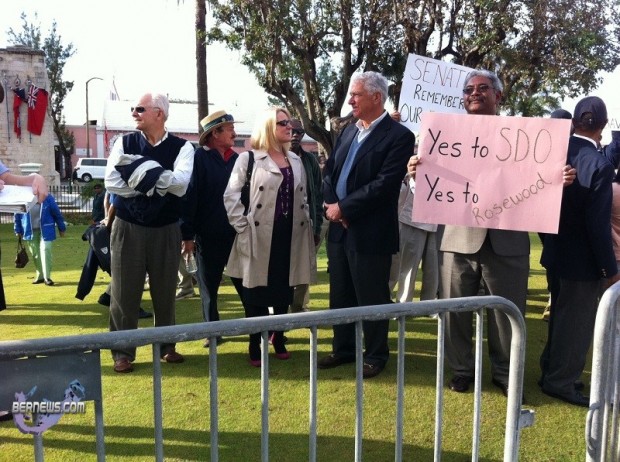 Update 8:45am: People are starting to filter on the Cabinet grounds, many carrying signs.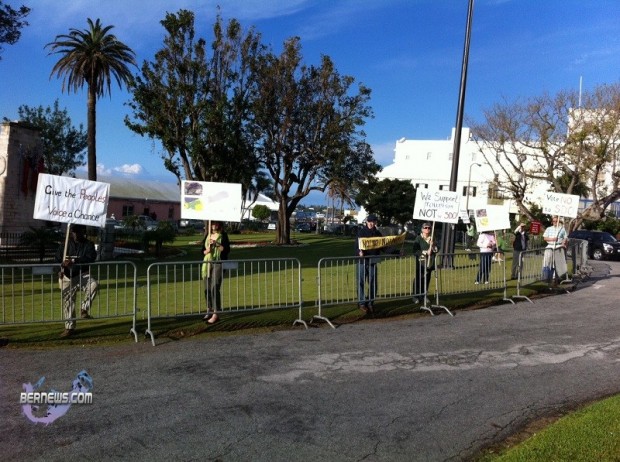 Read More About
Category: All, Environment, News, Politics, Videos