Business Bermuda represented Bermuda's fund industry at the Geneva Hedge Fund Re-domiciliation conference for Managers & Funds on 28th June at the Starling Geneva Hotel.
Business Bermuda attended the day-long event to talk about how non-EU offshore jurisdictions, in particular Bermuda, will accommodate the Alternative Fund Managers Directive [AIFMD] on non-EU, offshore jurisdictions and discuss Bermuda's current legal frameworks, tax structures and possible regulatory changes.
A spokesman said, "There are currently a number of factors driving the re-domiciliation of hedge funds and hedge fund managers such as increased taxes and controversial new European regulation including the AIFMD."
"Post financial crisis and recession, there has been a move towards an emphasis on fund transparency and disclosure and since Bermuda has levels of disclosure and transparency that have, unlike any other jurisdiction, put the country on the Organisation for Economic Co-operation and Development [OECD] white list and is Vice Chair of the steering committee of the OECD's Global Forum, the jurisdiction is well placed to be among the first non-EU jurisdictions to achieve equivalence."
At the conference, Business Bermuda welcomed the directive as a positive development for the fund industry and reiterated that its regulatory regime will meet the standards set by the EU under the AIFMD. The delegates also discussed the taskforce set up by the Bermuda Government to promote Asset Management in Bermuda and to ensure that it can be flexible to meet all the needs of fund managers.
Cheryl Packwood, Chief Executive Officer of Business Bermuda, who spoke at the event, said: "The Hedge Fund Re-domiciliation conference is an important event and an excellent opportunity to discuss the benefits of Bermuda's legal and regulatory framework as well as the cost advantages of basing in Bermuda for asset and fund managers such as lower costs, practical efficiencies associated with the use of private placement regimes and access to the many other benefits such as Bermuda's tax neutrality or no remuneration caps, which can be attractive to investors."
Photo below shows Peter Hughes of Apex, Professor J.V. Bannister, Chairman and President of Malta Financial Services Authority and Cheryl Packwood, Business Bermuda.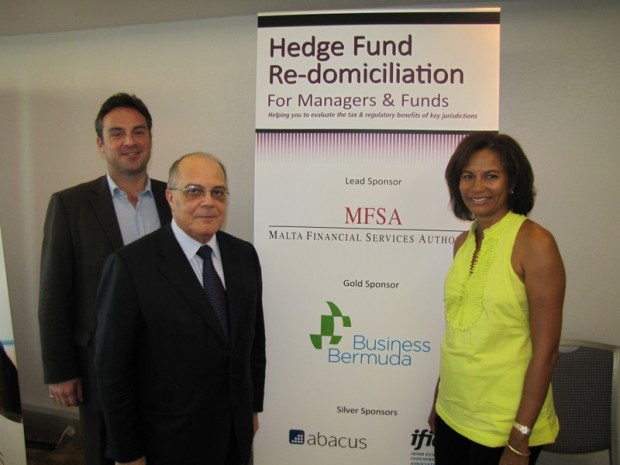 Peter Hughes, Managing Director of Apex Fund Services, which provides global fund administration solutions to investment managers investing in traditional and alternative assets, added: "Bermuda is internationally recognised as the 'gold standard' in offshore jurisdictions and known for being one of the best-regulated and most compliant jurisdictions worldwide.
An example of growth in Bermuda over last few years is the establishment of some quality administrators including ISIS Funds, Apex and Equinoxe who have responded to the Bermuda hedge fund market's need for tailor-made administration service.
Bermuda is also home to large insurance-linked securities hedge funds focusing on event driven investments and provide investors with a proven uncorrelated asset class. 5 per cent of global hedge funds are currently domiciled in Bermuda, they will be among the first to benefit from Bermuda's future equivalence with the AIFM Directive."
Photo below shows Peter Hughes of Apex, Cheryl Packwood, Business Bermuda and Matthew Feargrieve of Appleby in Zurich.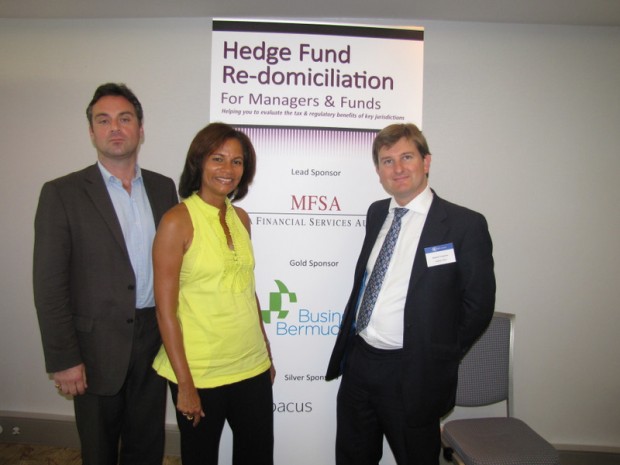 Matthew Feargrieve, Partner at Appleby commented: "Many Alternative Investment Funds are managed from Europe but are domiciled in offshore locations so now one of the key considerations will be to establish whether the necessary cooperation agreements are in place. Bermuda has signed 25 Tax Information Exchange Agreements and is making efforts to qualify as a 'third country' for the purposes of the EU AIFMD when implementing measures are finalised."
Read More About