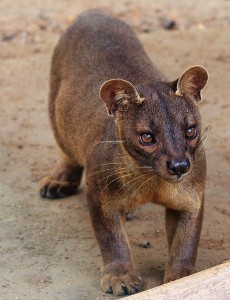 HSBC CEO Philip Butterfield will be joined by Public Works Minister Walter Roban and representatives from the Department of Conservation, the Bermuda Zoological Society and the Bermua Aquarium Museum & Zoo [BAMZ] on Thursday [Nov. 10] to officially open the new exhibit, "Madagascar: Land of Mystery and Wonder" at the Flatts facility.
Financed by Government and private contributions, the Madagascar exhibit is part of the Aquarium & Zoo's strong focus on island ecosystems, including Australasia, the Caribbean and Bermuda's own coral reefs.
The Madagascar showcase takes visitors on a tour of the environmentally threatened Indian Ocean island, home to diverse and unique creatures such as the exotic fossa [pictured], hissing cockroaches, ring-tailed lemurs, radiated tortoises, ground and tree boas, and panther chameleons.
The exhibit describe aspects of Malagasy culture, the pressures the country is under, and how those challenges impact the natural environment.
It also traces the positive steps conservation groups–including BZS/BAMZ–are taking to help the island's people and its endangered species.
The opening will take place at 10:00 am.
Read More About
Category: All, Environment