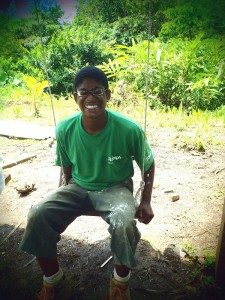 A 15-year-old teenager will appear in court tomorrow [Nov.2] in connection with the murder of 18-year-old Malcolm Outerbridge [pictured] who died after sustaining injuries in an attack on Friday, October 28 in Warwick.
Detective Chief Inspector Nicholas Pedro said, "The Bermuda Police Service continues its' investigation into the murder of 18 year old Warwick resident Mr. Malcolm Outerbridge."
"Detectives from the Serious Crime Unit have spoken to many area residents and other witnesses in progressing this case, and are grateful for the assistance received from the public so far.
"A fifteen year old Warwick resident will be appearing in court tomorrow, Wednesday 2nd November in connection with this matter. A second man has been bailed.
"However, officers still need to ensure that they have spoken with all the persons that were walking on the Railway Trail between Khyber Pass and Rocklands Road, Warwick, on the morning of Friday 28th October, 2011. In particular, a number of persons have been seen to be walking on this section of the Railway Trail between 10:30am and 1:00pm.
"If you saw the victim and any other persons in this vicinity on Friday 28th October, 2011, between these times, we are urging you to contact the Serious Crime Unit.
"Whilst charges are expected against an individual in this matter, we urge members of the community to still come forward with information that can assist the enquiry team, especially persons that may have seen the victim – Malcolm Outerbridge – with other persons on the day of his murder.
"The Bermuda Police Service would like to assure members of the public that whilst this was a brutal killing of a young man, detectives believe that the killer(s) were known to the victim. There is no suggestion that the victim was randomly killed by an unknown assailant.
"The Bermuda Police Service is continuing heightened patrols in this neighbourhood of Warwick, and area residents are reminded that they can contact their local Community Action Team (CAT) member by calling the Somerset Police Station on 234-1010 – to discuss issues of general concern that impact the local neighbourhood.
"Members of the public that wish to assist in bringing these murder suspects to justice can speak in confidence with a detective from the Serious Crime Unit by calling 295-0011.
"Alternatively, anyone with any information regarding the murder of Mr. Malcolm Outerbridge can call the independent & confidential Crime Stoppers hotline on 800-8477."
Read More About