Premier Paula Cox hosted the final of a series of Town Hall meetings to discuss the upcoming National Budget last night [Feb.1] at the Francis Patton School in Hamilton Parish.

Premier Cox was joined by Deputy Premier and Minister of Transport Derrick Burgess, Minister of Education Dame Jennifer Smith, Minister of Business Development and Tourism Wayne Furbert, and Minister of Environment, Planning and Infrastructure Strategy Marc Bean.
Also in attendance was Sen. David Burt, Sen. Jonathan Smith, Sen. Vince Ingham, PLP MP Randy Horton, former PLP candidate Anthony Richardson, PLP candidate Linda Merritt, One Bermuda Alliance MP Pat Gordon Pamplin, BIU officer Louis Somner and more.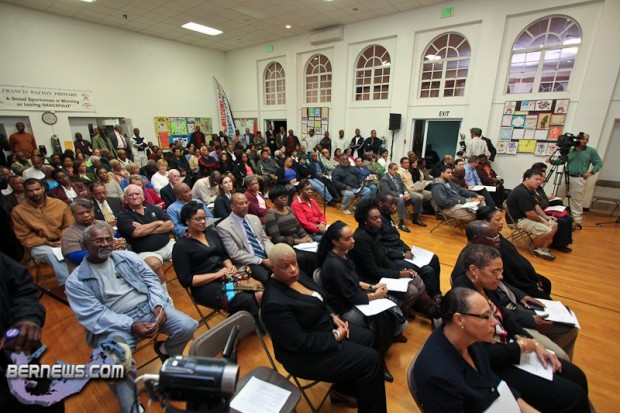 Yesterday's 'big catch' — the 920lb Bluefin tuna — got a mention in the meeting, with Environment Minister Marc Bean speaking on the development of the fishing industry.
Minister Bean said, "Such is the potential for offshore fishing that I will have you know today, a master fisherman from the West End landed a 930lb Bluefin tuna.
"To put that into an economic perspective, if we were able to store, freeze and process that fish and get it to the Japanese market in particular, that one fish would have brought $60,000 to $75,000 for that fisherman. Just one fish."
Premier Paula Cox, Part #1:
Premier Paula Cox, Part #2:
Minister Marc Bean:
Minister Wayne Furbert:
Dame Jennifer Smith:
Minister Derrick Burgess:
Read More About