The Annual Junior Fishing Tournament put on by the Bermuda Anglers Club this afternoon [Aug 19] saw dozens of boys and girls ranging in age from 3 to 15 weigh-in their fish at the end of a good day's fishing.
Organizers said that about 150 youngsters had registered, and at the end of the weigh-in they thought that about 100 had shown up to collect the promised t-shirts, but not all had entered fish for the weigh-in.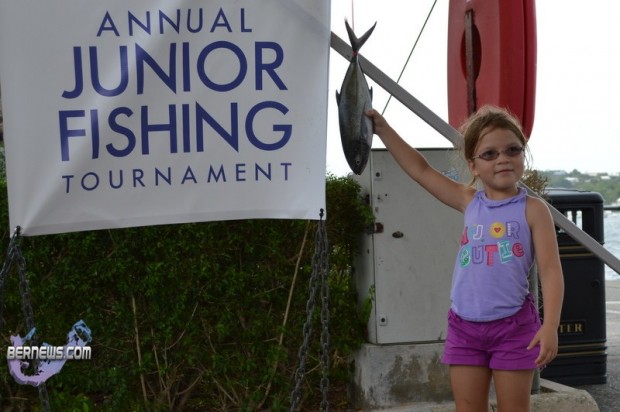 A total of 66 weighed in their largest fish, some still very much alive. There was a large variety of species including wahoo, tuna, flounder, cowfish, snapper, bream, snakefish, turbot, garfish, bonefish, pompano, chubb, mackeral, grunt, pilchard, triggerfish & jacks.
The competition was a 'rain or shine' event and went ahead despite several rain squalls that went over the island and its surrounding ocan.
The weighed-in catch ranged from two ounce white grunts caught by handline or rod-n-reel from the shoreline up to a deep-ocean 70lb yellowfin tuna caught off a boat out near the 'banks' and landed by 15 year-old Joss Lines.
Other fish included an 11lb grey snapper, a flounder with both its eyes on one side and and a cowfish that was still alive at weigh-in and was returned to its natural habitat immediately after being weighed-in.
The prize presentation will be at the Royal Hamilton Dinghy Club at 10.00am on Saturday 25th August. The overall winner from the shoreline, along with a guardian, will enjoy a half day fishing trip on the Jolly Roger Charter Boat.
You can view more of our fishing coverage here, and all our fishing photo galleries here.
Click to enlarge photos:
Read More About