[Updated] Today the Ministry of Finance announced the signing of a Tax Information Exchange Agreement [TIEA] with the Republic of Singapore. The signing took place at the Singapore High Commission in London.
This TIEA solidifies Bermuda's relationship within the Asian South Eastern Pacific region and allows for greater diversification of Bermuda's international business sector as Bermuda now has tax agreements with the Republic of Singapore, Malaysia, and Indonesia and marks the 37th tax agreement. Signing on behalf of the Premier Paula Cox, was Assistant Financial Secretary of Treaties Wayne Brown.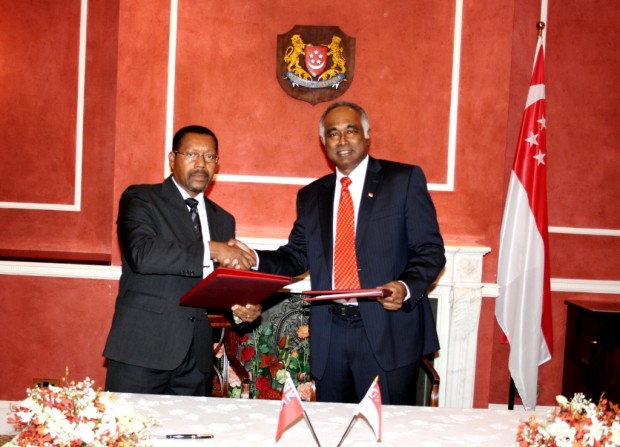 Mr. Brown said in his remarks today, "On behalf of the Premier and Minister of Finance Paula A. Cox JP,MP, I extend best wishes and thanks to High Commissioner your Excellency T. Jasudasen for inviting Bermuda to sign a TIEA with the Republic of Singapore.
"Your Excellency as you would be aware Bermuda and the Republic of Singapore has always enjoyed a solid economic relationship as there are natural synergies between the two island states in that our size, location, and regulatory framework allow us rapid access to international markets. As such, one of our key industry stakeholders known as Business Bermuda recently conducted a survey that named Singapore as Bermuda's leading Asian economic partner driven by shipping and the insurance sectors and we look forward to strengthening that relationship.
"The signing of this Tax Information Exchange Agreement (TIEA) allows Bermuda to utilize this opportunity to officially recognize our partnership within the International Business community and publically demonstrate our shared commitment to implementing the Global Forum on Exchange Information for Tax Purposes' internationally agreed tax standard, exchange of information by request, of which Bermuda is one of the vice chairs."
The President and Executive Director of the Association of Bermuda Insurers and Reinsurers Brad Kading, praised the Bermuda Government for completing the TIEA with Singapore saying today, "Singapore is the new hub for building our Asian market insurance operations and as such it is very important to have cooperative measures in place between our two governments. Asia includes the biggest growth economies for the 21st century. Nine ABIR members have operations in Singapore today and more are intent on investigating market opportunities. Regulatory and tax cooperation agreements should be mutually beneficial to the jurisdictions and ABIR members alike."
Update: The Ministry of Finance also announced the signing of a Tax Agreement with the Republic of Brazil.
The signing took place at the Embassy of Brazil in London, and signing on behalf of Premier Paula Cox was Assistant Financial Secretary – Treaties Wayne Brown.
Mr. Brown extended thanks and appreciation to the Ambassador of Brazil, His Excellency Roberto Jaguaribe and the Brazilian officials on behalf of the Premier and Government of Bermuda for graciously extending the invitation to sign the Tax Agreement at their London embassy.
Mr. Brown said, "The signing of the tax agreement with Brazil, the largest economy in South America and one of only two G20 countries in South America was a major development for both countries. Also the signing of this tax agreement creates a foundation for dialogue in other areas of mutual interest to promote business development.
"The TIEA also underpins the current economic relationship enjoyed by both countries as there are many entities with Bermuda that currently have business relationships in Brazil and encourages more business investment from Brazil going forward.
"In addition, signing this tax agreement with Brazil marks the 18th Tax Agreement Bermuda has signed with members of the G20 nations" and is Bermuda's 38th tax agreement."
Meanwhile in response to the Brazil tax agreement, Bradley Kading, President and Executive Director of the Association of Business Insurers and Reinsurers (ABIR) said, "Five ABIR members have licensed Brazilian insurers in operation today. More do business with representative offices and others do business on a cross border basis.
"ABIR members offer great capacity to meet the needs of Brazil's burgeoning economy and have expertise in special insurance markets such as energy which are critical to Brazil's future. We commend the Bermuda Government for its work with Brazil on the TIEA and we hope more can be done to open the Brazilian reinsurance markets to fulfill the true promise of competitive markets which will benefits Brazil's citizens and businesses."
Read More About