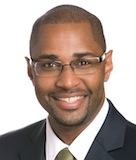 Today Lawrence Scott –the PLP Candidate in C#24 — responded to his OBA opponent Alexis Swan's comments about youth unemployment statistics: "I can say only that 'imitation is the most sincerest form of flattery'!
"Consequently, the PLP party, government and I are truly flattered that the OBA candidate for Constituency-24 has chosen to both support and promote the PLP's policies and performance in assisting the youth of Bermuda.
"It would appear that her research has determined that when it comes to the solutions for our youth employment challenges, she has decided to reiterate the policies and programs that the PLP government already has in place – and put the OBA's name on it.
"In particular I speak to the PLP's "Payroll Exemption Program" which provides payroll tax exemption for any Hotel, Restaurant and Retail employer and employee," continued Mr Scott.
"In addition to any employer in any job sector/industry that hires an "apprentice" would receive payroll tax exemption for each apprentice hired – providing a clear incentive to hire our young.
"So it seems as though the OBA is promoting and applauding the PLP's handling of this situation. They know a good policy when they see it…and so do the Bermudian young people who have seen the Government 'Stand Strong' for them in education, training programs and recent industrial certification of young men who were sent overseas and returned to jobs in the construction industry.
Mr Scott concluded: "Finally, let me say that she can't go wrong when she stands strong for PLP policies!"
Read More About