We have all been majorly impacted by the global economic recession and gun crime, and decisions made in regard to our country are now more significant than ever, Youth Premier Ryan Robinson Perinchief said.
The Convening of Youth Parliament took place on Thursday [Nov.15] at the House of Assembly, with Youth Premier Ryan Robinson Perinchief delivering the Youth Throne Speech during which he addressed topics including discrimination, conscription, education, crime, teaching Portuguese and much more.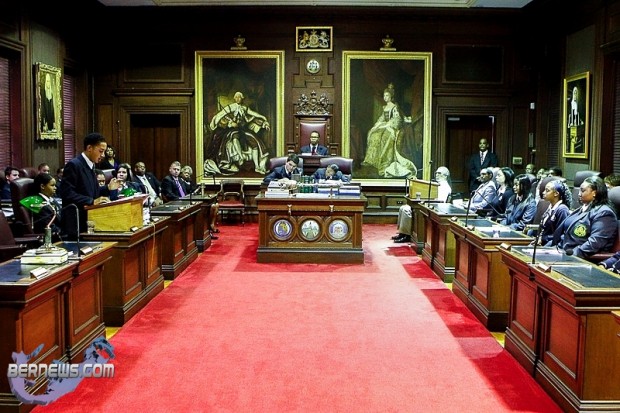 "The young people in this country are being impacted in unprecedented ways, and in some cases, seem to have been forgotten," said Robinson Perinchief. "With the presence of gangs now being accepted by students as 'the normal', with many parents out of work, and with students who are now unsatisfied with their standard of education, it is no secret that we have entered into a new era.
Speaking on the topic of discrimination, the Youth Premier said their formal debate was about adding sexual orientation into the Human Rights Amendment Act, and that all the members were unanimously in favour of it.
The Youth Premier said: "A key point that we would like to make is that this Youth Parliament does not support "gay rights" – we support human rights. What we mean by this is, whether someone is homosexual, heterosexual, black, white, or anything in between, all of us as Bermudians deserve to be protected from all forms of discrimination in our own country.
"Therefore, we believe that this amendment should be made without hesitation, and we thank the Honourable Premier Cox for her commitment to doing this, as mentioned in her Throne Speech. If our young people can commit to treating others equally, certainly our adults can as well."
Modeled on Bermuda's official Parliament, the Youth Parliament was founded in 1985 and meets on Wednesday afternoons at the House of Assembly. View a photo gallery of this year's opening session here.
Welcome & Congratulations:
Yearly Report:
Youth Premier Delivers The Throne Speech:
Carlton Simmons:
Advisor's Remarks:
Read More About