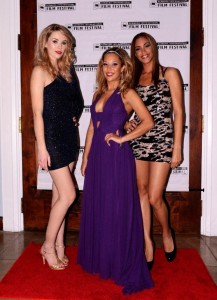 James Bond is the man with the golden anniversary — and to celebrate 50 years of the classic film series the Bermuda International Film Festival [BIFF] screened "Everything or Nothing: The Untold Story of 007″ at City Hall's Earl Cameron Theatre last Friday [Jan. 18].
Drawing a capacity crowd to City Hall, the gala fundraising event for the upcoming 2013 edition of BIFF featured an opening reception at 7 p.m. followed by the documentary screening at 7:30 p.m.
The new feature-length documentary "Everything Or Nothing" focused on three men with a shared dream: Bond film producers Albert R. Broccoli, Harry Saltzman and author Ian Fleming. It provided the thrilling and inspiring narrative behind the longest running film franchise in cinema history which began in 1962 with the release of "Dr. No."
With unprecedented access both to the key players involved and to Eon Productions extensive archive, this was the first time the inside story of the franchise has ever been told on screen in this way. While Bond was saving the world from chaos and catastrophe on screen, this compelling documentary drew back the curtain to reveal the battles, threats and real stakes unfolding behind the camera.
Released last October to coincide with the 50th anniversary of the premiere of "Dr. No", the critically praised documentary took its name from the devil-may-care motto of producers Saltzman and Broccoli when they embarked on the Bond film series; its acronym — "Eon" — became the name of their production company.
Preview trailer for "Everything Or Nothing"
Hilary Saltzman, daughter of Harry Saltzman, participated in a Q&A discussion after the screening with Bermudian entertainer Bruce Barritt.
There were door prizes, a raffle and even a bevy of Bond Girls were on hand [pictured at top]. Guests were encouraged to attend in black tie tuxedo and were treated to a special Bond cocktail — shaken, not stirred — courtesy of Bacardi.
Hilary Saltzman with Michael Frith, Bermudian co-author/illustrator of the 1962 Bond spoof "Alligator", and BIFF's Tim Stewart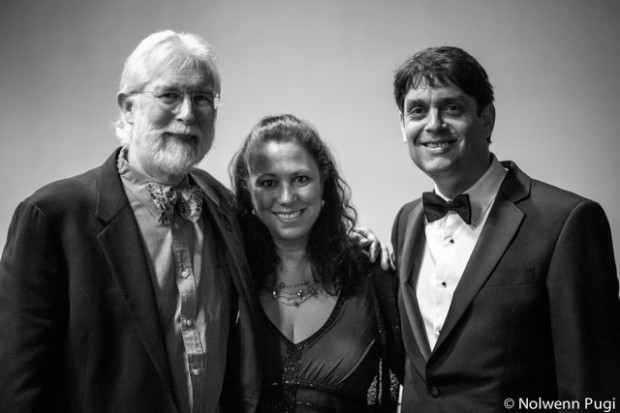 Bermuda has an association with James Bond and his creator Ian Fleming which pre-dates the 007 film series by almost 20 years;  as a young officer in Britain's World War Two Naval Intelligence Division, the future author first visited the island in 1941 and filed away mental details about Bermuda and Bermudians which he later used in both "Dr. No" and his 007 short story "Quantum of Solace."
Two Bermudian actors – Earl Cameron, after whom the City Hall venue for Friday's gala is named, and the late Michael Ebbin – have appeared in Bond films. And in 1962 Bermudian artist/humourist Michael Frith co-authored the bestselling Bond parody "Alligator" for the "Harvard Lampoon", drawing a sharply worded letter of rebuke from Ian Fleming who complained some American readers had mistaken the book for a genuine — if particularly outré — entry in his 007 series.
Photos courtesy of BIFF/Nolwenn Pugi, click to enlarge:
Read More About
Category: All, Entertainment, Films/Movies, Photos