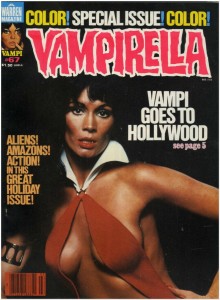 Some horror film fans still consider it the greatest vampire film never made — a proposed '70s epic featuring an ageless and voluptuous comic book bloodsucker, alien invaders and James Bond-type action/adventure sequences all filmed against an incongruously sunny Bermuda backdrop.
In 1975 Britain's Hammer studios — best known for a series of 1950s and '60s productions which reintroduced Frankenstein, Dracula and assorted ghouls and goblins to  new generations of filmgoers in a series of lurid but highly profitable shockers — secured the rights to the comic book character Vampirella.
The character was far removed from the traditional Gothic horror fare Hammer had previously specialised in. Appearing in a magazine published by New York's Warren Publishing, Vampirella was a cross between futuristic female secret agent Barbarella, Dracula and Superman.
Hailing from the planet Drakulon where the inhabitants drink from rivers of blood, she flees to Earth in a rocket after a cosmic disaster destroys her home world.
Teaming with an unlikely group of allies — including an elderly nightclub magician called Pendragon — Vampirella dedicates herself to ridding her adopted world of an evil off-shoot of her species who are descended from Count Dracula. The vampire king, it is revealed, was originally an inhabitant of  Drakulon who left that planet for Earth centuries earlier. By creating a blood-line which now preys on other humans as a source of blood, Dracula gave rise to the vampire legend.
The wise-cracking Vampirella — whose minimalist costume [such as it was] amounted to a revealing blood-red one-piece swimsuit with a bat insignia — was an immediate sensation among adolescent boys and college students when her campy series was launched in 1969. The book was soon drawing approximately three million regular readers, largely based on striking covers by artists including Frank Frazetta; his work on a paperback series of Conan The Barbarian stories is largely credited for the massive resurgence of interest in that Depression-era heroic fantasy character in the 1970s.
Frank Frazetta's attention-grabbing cover art for the first issue of "Vampirella"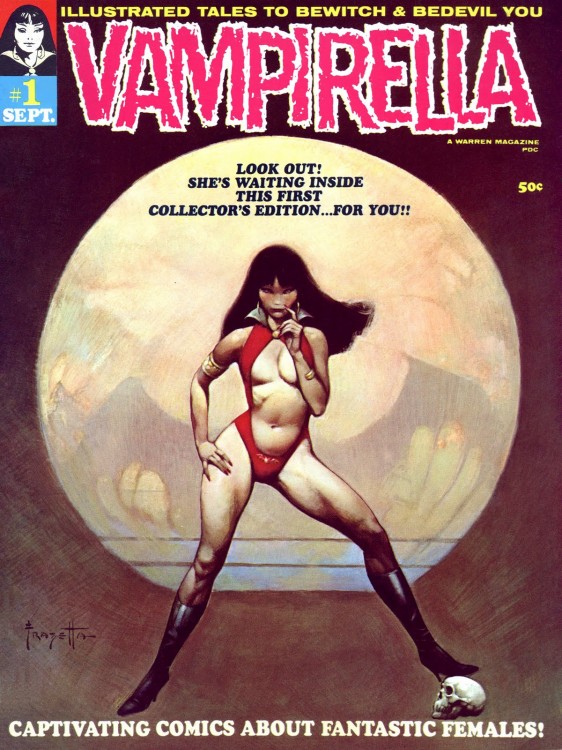 It was only a matter of time before Hollywood came calling upon the comely comic book sensation.
After Hammer optioned the rights to the character in 1975, British screenwriter Chris Wicking was commissioned to produce a script which tied Vampirella to the then widespread interest in the Bermuda Triangle myth.
When Mr. Wicking turned in his screenplay for the first in what was envisaged as an ongoing series of Vampirella movies, he suggested it should be sub-titled "Blood & Pink Sand" given the Bermuda setting [this was a play on the title of the hugely popular Vicente Blasco Ibáñez  novel "Blood & Sand" and the subsequent Tyrone Power film adaptation].
The script — which blended horror, comedy and science fiction elements — was forwarded to the Bermuda Department of Tourism which agreed to assist the production team when it came to location shooting on the island.
A provocative "Bermuda Sun" lead story about the film — which was originally slated to go into production in the summer of 1976 — led to protests from tourism-related businesses and church groups. Both were concerned by the prospect of associating Bermuda with the sensational subject matter — and the title character's almost-isn't-there costume.
The film's plot was largely centred around Bermuda and focussed on a re-telling of Vampirella's origin story; when she is mysteriously transported to Earth from a devastated Drakulon by way of a space-time portal which connects her planet to the Bermuda Triangle, the vampiric alien winds up washed up on a beach on the island's South Shore.
Discovered by eccentric nightclub magician Pendragon [to be played in the film by Hammer regular Peter Cushing], Vampirella — who is suffering from amnesia — is soon incorporated into his act at a Bermuda hotel.
Later she regains her memory and crosses paths with operatives of a super-secret agency called SODS [Space Operatives for Defence & Security] who are dedicated to stemming an invasion of Earth by the same aliens who destroyed Drakulon.
Ultimately the chief of SODS [Sir John Gielgud had been tentatively cast in the role] is revealed to be an alien who has infiltrated the organisation to thwart its efforts to stem the invasion plan — which is being coordinated from a secret base off Bermuda.
After the invasion is foiled and the alien base destroyed, the film was to conclude with Vampirella and Pendragon walking down the same Bermuda beach where she was found at the opening.
Cover page of Christopher Wicking's Bermuda-based screenplay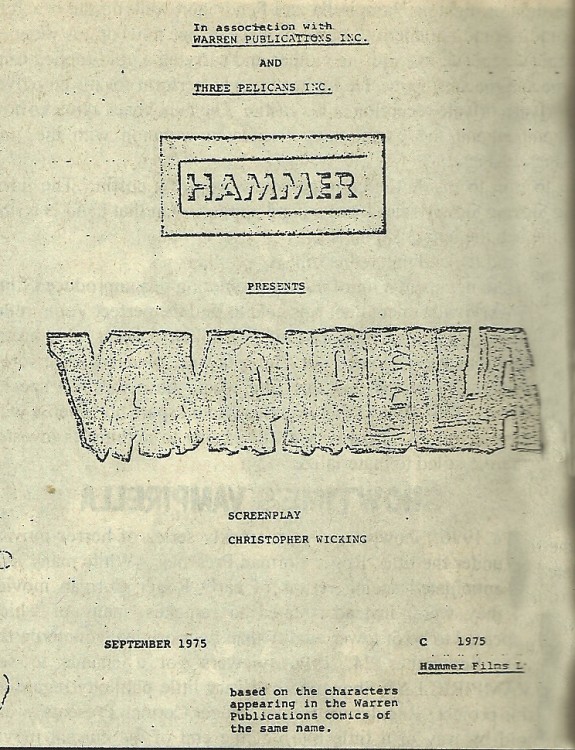 They are approached by a horse-drawn carriage. The driver, a hunchback, tells them that they are invited to perform for his employer at his castle and that they have friends in common.
Inside the carriage, a coffin lid raises and a hand emerges, wearing a ring with Count Dracula's signet ring embossed with the letter "D". Following this good-humoured homage to Hammer's hugely successful series of Dracula films starring Sir Christopher Lee, the screen was to fade abruptly to black.
After Hammer starlets Caroline Munro and Valerie Leon turned down the title role in the "Vampirella" movie  because of the nudity involved, American fashion model-turned-actress Barbara Leigh was cast in the title role.
Best known for her 1972 breakthrough role came in the film "Junior Bonner", in which she starred alongside then boyfriend Steve McQueen,  the statuesque Ms Leigh believed "Vampirella" would be "a dream come true."
Signed to a six picture deal with Hammer, Ms Leigh — who had been a passionate Dracula fan since childhood — posed in a series of glamorous publicity shots in Vampirella's eye-catching costume to promote the forthcoming film; some of the pictures were used on the cover of the comic magazine [pictured at top and below].
But Ms Leigh's dream role never materialised. Like so many projects in the film industry, the Vampirella film series never came to fruition because of budget problems and ongoing disputes between Hammer and Warren Publishing about merchandising rights.
After the Vampirella project finally collapsed in 1978 following two years of on-again, off-again development, Ms Leigh married a New York lawyer and retired from the film business. She still makes appearances at US and Canadian comic and science fiction conventions every year, autographing copies of her Vampirella photos and discussing the still-born film with fans.
The original "Vampirella" comic folded in 1983 when Warren Publishing went bankrupt. Subsequently revived in comics produced by two minor publishers, the character was eventually  featured in a low-budget 1996 film which went direct to video; the  plot owed nothing to Mr. Wicking's Bermuda-based story.
Actress Barbara Leigh in character on a "Vampirella" magazine cover  when the aborted Bermuda-based film project was in pre-production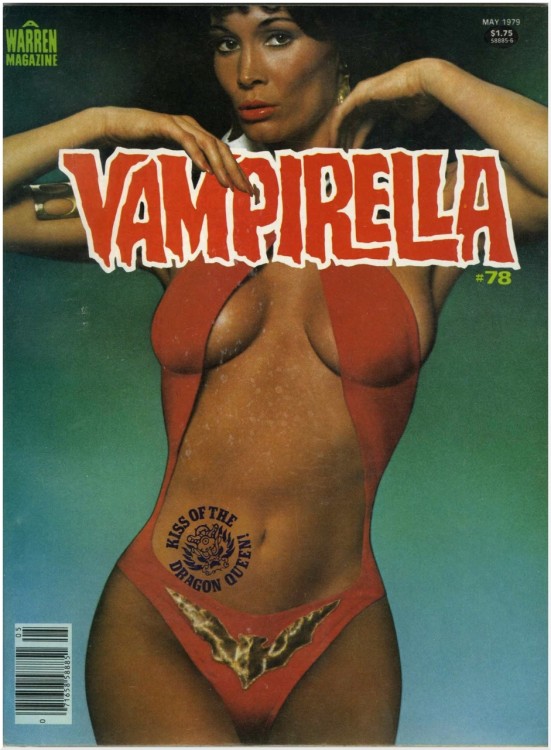 Read More About
Category: All, Entertainment, Films/Movies