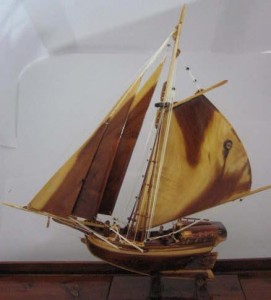 A travel writer at the "Huffington Post" website has said vacationers in Bermuda don't just unwind by experiencing "the clear white sunlight and azure ocean breezes" but also by "stopping to smell the Bermuda cedar."
Mike Dunphy said the island's cedar trees — decimated by a post-World War Two blight — are slowly rebounding but there's no shortage of artwork crafted from the "musty, spicy, smoky" wood.
He cited the work of Bermuda Arts Centre at Dockyard resident artist Chesley Trott who has been working with cedar since he was a youngster.
"Had I been a richer journalist, I would not have escaped the seduction of one of Trott's abstracts, which range between $100 and $10,000," said Mr. Dunphy after visiting his studio.
Mr. Dunphy also spotlighted the work of Milton Hill, who focuses his cedar carving talent on miniature model ships.
"Predominantly, his work hearkens back to the colonial days of ship travel, with exquisitely detailed 17th and 18th-century sloops [one is pictured above], pilot gigs, galleons, and replicas of the 'Sea Venture' among his repertoire," he said. "In 2012, his work earned him a lifetime achievement award by The Bermuda Arts Council.
"If you are lucky enough to be standing in the The Windjammer II Gallery, inside the Fairmont Hamilton Princess hotel, marveling at his works, and he steps into the shop at the same moment, he'll be happy to talk about his work in his modest, rumbly voice. Perhaps just as interesting is how he uses his art to work with youth in De Boys' Day Out Club, an organization dedicated to the 'emotional and social wellbeing of young men' and developing them into "courageous men, committed husbands, caring fathers and productive citizens' …"
Read More About
Category: All, Entertainment