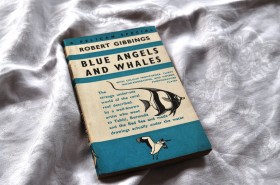 In the early 1930s celebrated Irish artist and author Robert Gibbings visited Bermuda twice and — using special diving apparatus –made underwater pencil sketches of the marine life among the island's reefs.
Most famous for his work as a wood engraver and sculptor as well as for his books on travel and natural history, most of his underwater pictures were subsequently re-worked as woodcuts.
Mr. Gibbings was also associated with the Golden Cockerel Press in the 1920s and early '30s, renowned for beautiful handmade limited editions of classic works produced to the very highest of standards.
A major feature of Golden Cockerel books were the original illustrations, usually wood engravings, contributed by, among others, Mr. Gibbings, Eric Gill, Robert Gibbings, John Buckland Wright, Blair Hughes-Stanton, Agnes Miller Parker, David Jones, Mark Severin, Dorothea Braby, Lettice Sandford, and Eric Ravilious.
In pursuing his interest in sub-sea drawing after British publisher Penguin commissioned him to write and illustrate a travel book, Mr. Gibbings [1889-1958] spent some time experimenting with techniques which would enable him to make drawings beneath the surface of the water.
He wanted to get on "closer terms with the fish, and to meet them on their own level".
His first thoughts involved copper plates prepared for etching but a better solution was suggested by a colleague.
Robert Gibbings embarks on one of his underwater drawing expeditions in Bermuda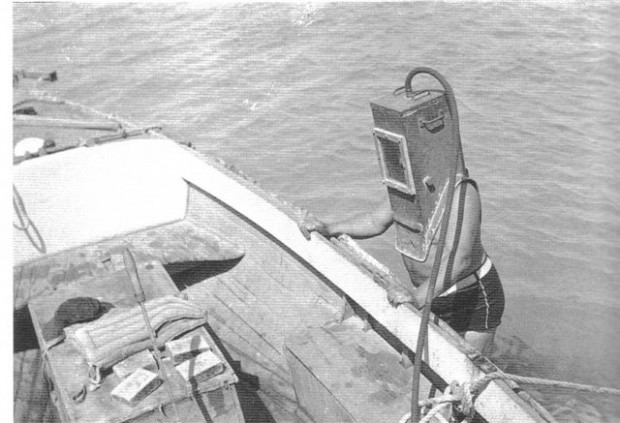 He proposed that Mr. Gibbings should try drawing on sheets of xylonite, a waterproof celluloid-like substance which, when roughened with sandpaper, would accept the marks of a pencil as well as paper.
This proved to be a successful solution and the Bermuda drawings were reproduced in Mr. Gibbings' classic 1938 book "Blue Angels and Whales" [pictured at top] which also included chapters on his underwater expeditions in the Red Sea.
"As I stepped down that ladder with the noise of the pump echoing down the hose-pipe, and the waves splashing against the window of the helmet so that I could see neither land nor water, I wondered why I had ever left home," Mr. Gibbings said of his first excursion in Bermuda's waters.
Robert Gibbings' "Mid-Coral Caves, Bermuda"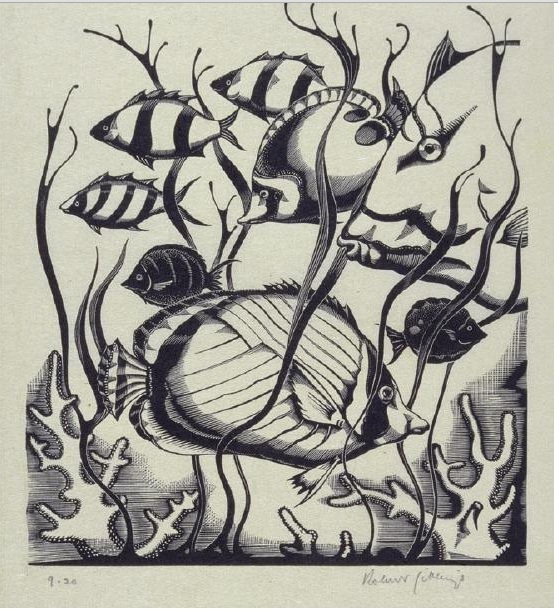 "But once below the surface my feelings changed. My ears ceased throbbing, I breathed easily, I forgot the noise of the pump and I could see easily.
"From the hard rung of the ladder I stepped onto the soft ooze of the sea-floor. It was like being in some great cathedral lit by pale green glass."
Mr. Gibbings dived around Bermuda's reefs and near Cooper's Island during the course of two trips here.
"His output of underwater art was prolific and in recounting his experiences, his writings are interspersed with a wonderful array of humorous and interesting anecdotes about the locality and its characters," said one biographer.
Read More About
Category: All, Entertainment, Environment, History