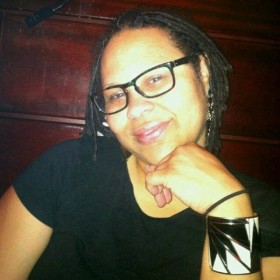 While Bermudians on island prepare for the annual Cup Match event, Bermudians located in London and surrounding areas are heading to Central London to support Bermudian writer, Cha'Von Clarke, who will see her first play on stage in the UK.
On Wednesday [July 31] Cha'Von K. Clarke's play, "A Moment of Innocence", will meet the London stage at Tristan Bates Theatre in Covent Garden, London. The play features many Bermudian attributes such as the Cahow, Gombeys and Hibiscus flowers and it explores the challenges of national identity in the aftermath of colonialism.
Miss Clarke said, "A Moment of Innocence" was inspired by the issues of national identity that I believe has been sparked in the aftermath and current state of colonialism. Many Bermudians quickly attach themselves to other countries [England, USA, Jamaica, UK, Canada] rather than embracing who they are as a citizen of Bermuda.
"I believe that some are confused because we've lost who we are and how wonderful we are as a people while learning from others. I really realised that this was an issue when I relocated to London in 2012 and was faced with challenges based on the fact that numerous British do not recognise citizens of British colonies, like Bermuda, as British.
"After reading a comedy-version of my now revised play of suspense, "A Moment of Innocence", an established Director in the London theatre world told me boldly that eventually Bermuda and other colonies will simply "disappear" and no one will know who they are. He said, "You must make it interesting to the London theatre-goers and the topic of Bermuda alone just isn't that interesting." That statement did not discourage me. It helped me to propel forward with my contribution to celebrate Bermuda and Her beauty.
"I revised the script and the comedy became a piece of political theatre that spoke of an issue that affects people of colonies around the world – just who are we as a people, what do we have to offer the world and what makes us who we are as a nation. I use the sounds of the Gombey drums, Cahow, a recording of a real Cup Match game, and the song, Bermuda is Another World, to demonstrate the beauty and talent that Bermuda has to offer Britain and the rest of the world. We are not to be forgotten!"
The setting of the play is a cove off of Horseshoe Bay Beach. British couple, Chris and Gabbie [mother – British, father – Bermudian], plan a private Cup Match beach day but their plans come to a halt when they find the body of a woman alone on the sand. After a string of intimate moments with the mystery woman, Gabbie begins to question who she is as a person and how the relationship between her British/Bermudian parents have affected her self-identity.
Miss Clarke has published three novellas, two books of poetry and a compilation of original Christmas stories. She is a spoken word performer and has worked on film and television projects. She has also written and directed numerous plays performed in Bermuda and directed plays on island and in London. The owner of CKC Corporation [Spotlight Talent Agency, CKC BOOKS, CKC Cares Charity], Cha'Von is passionate about Bermuda and Her talents and has organized events to showcase Bermudian talent in Bermuda and London. Her work also assists youth through the Spotlight Performing Arts Camp and Bermuda's first Children's and Teen anthologies of creative works.
Miss Clarke currently resides in London with her 14 year old son, Kaiias-Gianni, where she is due to complete a master's degree in Creative Writing: Playwriting at Kingston University.
Tickets for the "A Moment of Innocence" are available here.
Read More About
Category: All, Entertainment