Queen Street will be the setting for safe – and free – Halloween trick or treating on Friday evening when retailers on the popular shopping street open their doors to children in costume.
Bermuda's first ever Boo Bash is organized by Daisy & Mac and will see shops including the Bermuda Book Store, Pic A Pet, Leisure Time, Choices, Kolorz, Daisy's and Daisy & Mac open from 5.30 to 7.30pm. Restaurants including Lemon Tree and KFC will also be open.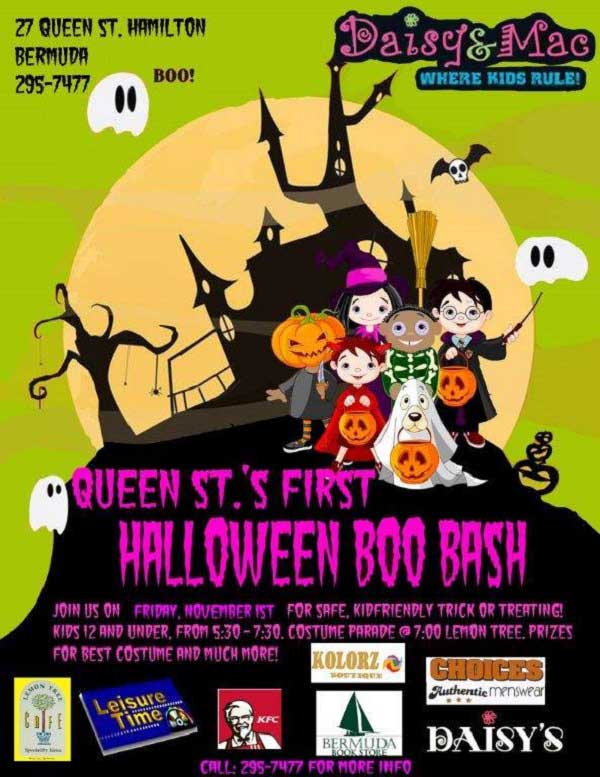 Staff at the participating stores will give out candies and gifts to trick or treaters aged up to 12.
The event will culminate with a parade at 7pm at Lemon Tree where prizes will be given for the most creative costume, the cutest costume, the scariest costume and the best boys' and girls' costumes. Prizes will include gift certificates and toys from participating stores.
Boo Bashes have become increasingly popular in North American shopping malls, shopping streets and museums as a safe way for children to trick or treat and have fun.
"We wanted to hold an event that gave families a safe and easy way to trick or treat while enabling businesses to give something back to their customers," said Daisy & Mac owner Dawn Zuill.
"We are thrilled that so many of our neighbours on Queen Street have joined in and it's not too late for others to take part."
The Queen Street Boo Bash will take place before Lemon Tree holds its annual "Nightmare on Queen Street" for older Halloween partiers.
"Originally we thought we would hold Boo Bash on Halloween night," said Daisy & Mac's Kelly Gilmour, who is coordinating the event.
"But we realized that with Lemon Tree holding Nightmare on Queen Street and being the perfect location for the parade and prize giving, that it made more sense to keep celebrating Halloween for a second day – especially since it is a Friday night and many children are on half term."
Read More About
Category: All, Entertainment