The casino themed entry by Charles Crisson was judged the Best Boat Overall at last night's [Dec 7] Christmas Boat Parade in Hamilton Harbour.
Founded in 1998, the Boat Parade continues as a biennial event and always attracts a large crowd to watch the spectacular event, with the casino themed boat attracting quite a bit of attention among attendees.
The timing does, of course, coincide with the recent tabling of the bill which paves the way for a referendum, with the public set to be asked their views on the introduction of regulated casino gaming.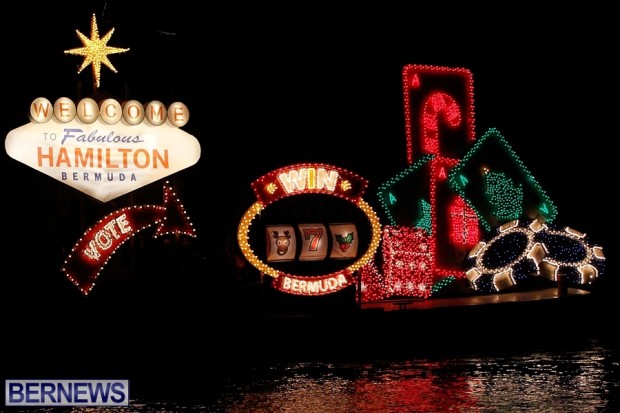 Crowds of onlookers lined the parade route for the event, which concluded with a fireworks display after the fleet of boats had made their rounds starting from the Fairmont Hamilton Princess.
Dozens of boats took to the waters and followed the parade route clockwise around White's Island. There was a wide variety of themes, and a number of awards were presented to the entrants.
The Most Humorous was Cedar, the Best Traditional Christmas theme was Halcyon, the Best Contemporary or Current Affair Theme was Twisted Tini, the Best Crew Costumes was Lucky Charms, and the Most Confusing Entry was Gabriella.
The Best Use of Lights was from the Fairmont Southampton Turtle Hill Golf Club, the Best Music Onboard was Unholey, the Pink Category winner was Just Sayin, the Most Fun to be Aboard was Justified, and the Children's Choice was the Marketplace barge.
Video of the casino-themed boat, accompanied by the sounds of "Let the Good Times Roll":
The Best Commercial boat was Playmate, the Best Sailboat was Spirit of Bermuda, the Best Corporate was by Bermuda Pest Control, the Best Non Profit was the Caledonian Society of Bermuda and the Most Original was Andrea Christine.
The Best Powerboat under 25 ft was Sylvester, the Best Powerboat over 25 ft was Dutch Courage, the Best Bermuda Themed boat was Full Hott Scott and the Best Community Message was Megabucks.
You can view our first set of photos of the Christmas Boat Parade here, our second set here,  photos and video of the fireworks here and all our coverage of this year and past Christmas Boat Parades here.
The full results follow below:
Best Boat Overall

Warlock #2 – Charles Crisson Casino Themed Boat.

Best Commercial boat

1st – Playmate – #5 Playmate Fishing Charters
2nd – Ellen B #14 Baxters Fishing Charters

Best Sailboat

1st Spirit of Bermuda – #60
2nd Nightwind – #28 Andrew Barnshaw
3rd Self Made – #32 Sharundae Thompson

Best Corporate

1st Blue Heron – #4 Bermuda Pest Control
2nd Bravo zulu – #1 Michael Gladwin

Best Non Profit

1st – Naughtiness – #6 Caledonian Society of Bermuda
2nd – RV Stommel – #7 BIOS

Best Power Boat Under 25 ft

1st – Sylvester – #22 Bill Pitman
2nd – Rolling Hot – #20 Terry Williams
3rd – The Rancid Kipper -#25 Alan Blackmore

Best Power Boat Over 25 ft

1st – Dutch Courage – #43 James Boyce
2nd – Ingy – #16 Vanell Ingham
3rd – Sacrifice RM #9 Susan Correia

Best Bermuda Themed

1st – Full Hott Scott – #21 Corey Masters-Brown
2nd – Devocean – #15 Cameron Harris
3rd – Team RHADICAL #31

Best Community Message

1st – Megabucks #51 Jamie C Charters
2nd – Endurance #55 Bermuda Zoological Society

Most Original

1st – Andrea Christine – #57 Edwin Whitfield
2nd – Studio – #56 Emmanuel Methodist Church

Most Humorous

1st – Cedar – #34 Friends of Black Seal
2nd – Brenda J – #12 Cecil's Jewelry Box
3rd – Little Grumps – #23 Byron Renecken

Best Traditional Christmas Theme

1st – Halcyon #35 The Chee Foundation
2nd – Sundeck II- #47 Swizzle Inn

Best Contemporary or Current Affair Theme

1st – Twisted Tini #39 Martin Harvey
2nd – Fisher Seal – #40 Smiles Inc.
3rd – Elusive #46 Bermuda Olympic Association

Best Crew Costumes

1st – Lucky Charms – #19 Carlos Falcao
2nd – Westpot – #41 Anfossi Marine
3rd – TMT – #53 William Rowse

Most Confusing Entry

1st – Gabriella – #50 William Knight White
2nd – Entropy – #36 Sean William Dickonson

Best Use of Lights

1st – Friendship – #30 Fairmont Southampton Turtle Hill Golf Club
2nd – Suigetsu – #29 Ross Smith

Best Music Onboard

1st – Unholey – #33 Anamaria Worswick
2nd – Sea Slipper – #10 Michael Smith

Pink Category

1st – Just Sayin – #26 Peter Stableford
2nd – Hi MainTNance #44 Glen Flood

Most Fun to be Aboard

1st – Justified – #3 Justin Williams
2nd – Ubervida #58 Denis Owen

Children's Choice

1st – Marketplace barge – #59 MarketPlace Stores
2nd – 10 of us – #13 Michael Heslop
-
Read More About