In a media briefing yesterday [Jan 30] Tourism Development and Transport Minister Shawn Crockwell and Chairman David Dodwell introduced the Bermuda Tourism Authority's new Chief Executive Officer Bill Hanbury.
They noted that BTA is privately managed and now has responsibility for the day to day management of tourism in Bermuda, and while the BTA is not part of government, it is a very significant and important partner.
Mr Hanbury said he was very excited to be in Bermuda and noted that he plans to "live the brand," and plans to get himself some Bermuda shorts.
Mr Hanbury, Minister Crockwell, Mr Dodwell: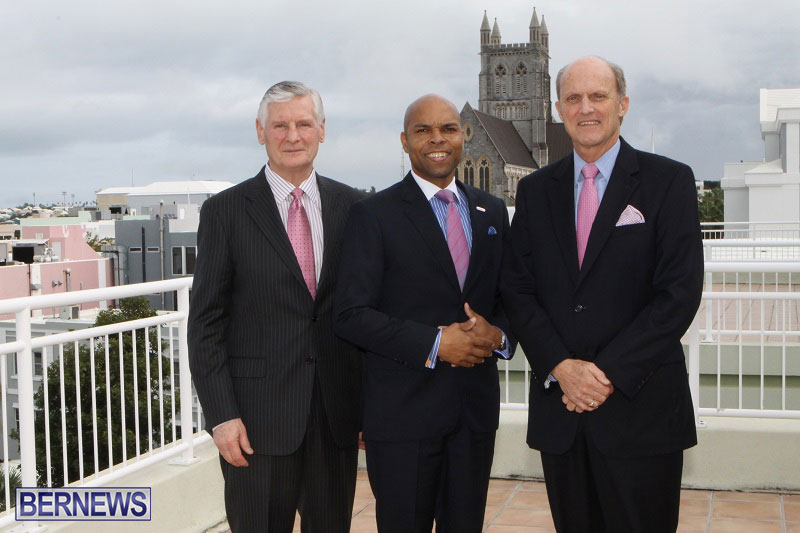 Speaking on why the new CEO's salary is not being revealed, the BTA said: "The most important assets of the BTA are its team members, particularly those in senior positions. For us to reveal any confidential details of employment would simply be feeding competitive information to those who are competing against us.
"We are in the process of hiring other executive and staff positions right now. If any of those applicants were informed that the details of their remuneration were going to be revealed by the media, many of them would probably walk away from their application."
"The BTA has set very high standards of ethics within its charter and the confidentiality of employment contracts is important. The BTA intends to honour those agreements. The BTA is a private enterprise and the issue of salary and benefits is a matter between employer and employee."
30 minute video of the press briefing; 
"Chairman Dodwell noted that in establishing the remuneration packages of BTA executives, the Board of Directors looked at market based information and are satisfied that the BTA scales of remuneration are not excessive and fall within the industry norms," the BTA said.
"Minister Crockwell further noted that it is possible that BTA has been more innovative than many other destination marketing organizations, another reason not to disclose proprietary information."
Chairman Dodwell said, "So, we have made the decision that we are not going to disclose contractual details of any BTA employees. We are hopeful that we can now focus on the 99 percent of issues that are important in the delivery of a new energy for tourism in Bermuda.
Minister Crockwell noted, "You have seen Mr. Hanbury's impressive background and it is clear that he is the right man for the job. I want to reiterate just how pleased we are to have Mr. Hanbury lead this team.We appreciate your interest in Mr. Hanbury and the work that he will be doing to help revive Bermuda tourism. "
Read More About