The Cannabis Reform Committee [CRC] will host the "Cannabis Conversation" at 7:30pm on the 25th of February, at Manchester Unity Hall on corner of Victoria & Union Streets [across from People's Pharmacy].
A panel of four special guests will be presenting on their experiences within drug prevention, law enforcement, addictions treatment and medicinal cannabis use, from local and international perspectives. Each guest will give a 10 minute presentation on their specific area of expertise, after which, smaller round-table type discussions will take place where members of the public will have the opportunity to converse and interact with the special guests.
Left to Right: Dr. Chantelle Simmons, Dr. Jeffrey Hergenrather, Jack Cole, Judith V. Burgess

One of Bermuda's best spoken word artists and community facilitators, Tiffany Paynter, will host the event and attendees will be encouraged to come prepared to listen and discuss the question:
Should we reform our cannabis policies?
How do you think cannabis reform will impact our work, our lives and our community?
Special Guests will include:
Judith Burgess – PRIDE Bermuda
Founding Member and Executive Director of PRIDE Bermuda and the Chairperson for the Bermuda Coalition. She has worked in drug prevention for almost 30 years.
Dr. Jeffrey Hergenrather – Society of Cannabis Clinicians – USA – via skype
Cannabis Consultation Physician, Vice President / Secretary, American Academy of Cannabinoid Medicine [AACM] Member, International Cannabinoid Research Society, Former Family Practitioner.
Jack Cole – Law Enforcement Against Prohibition – USA
Retired Detective Lieutenant with the New Jersey State Police for 26 years — 14 in narcotics, mostly as an undercover officer. Founding member and for eight years was executive director of Law Enforcement Against Prohibition.
Dr. Chantelle Simmons – Consultant Psychiatrist, Turning Point – BHB
Consultant Psychiatrist at Mid Atlantic Wellness Centre for the Acute West [General Adult Psychiatry] and Turning Point [Substance Abuse Treatment Programme services]. Completed an Addiction Psychiatry Fellowship at the Emory University.
CRC Chairman Stratton Hatfield said, " With the round-table discussion format, this will not be your typical town hall set up as members of the public will have a more personal experience in discussing their views and we believe, in turn, a more constructive conversation on cannabis reform. The group is dedicated to listening, learning from and working with members of the community to develop a detailed, localized and informative document regarding Cannabis Reform."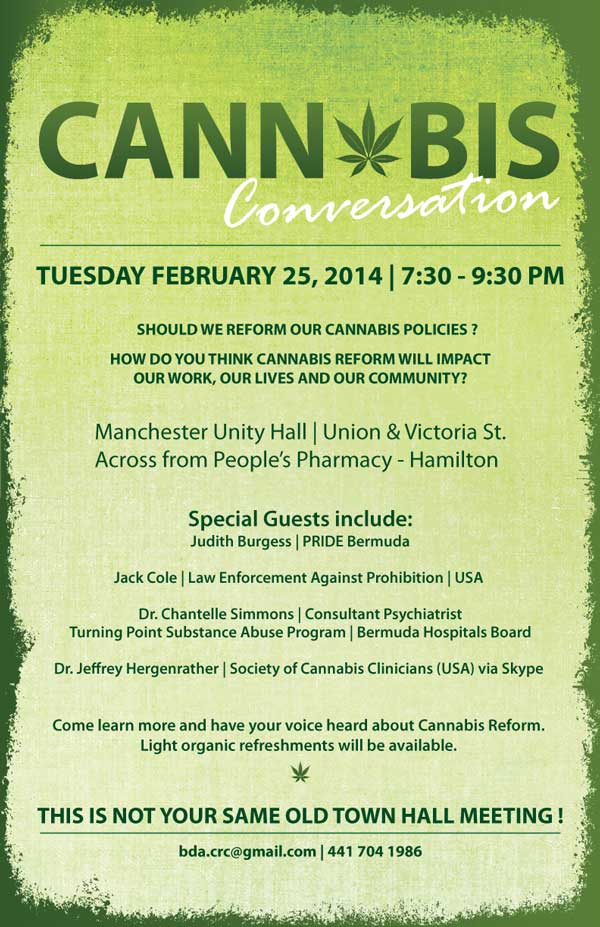 The Cannabis Reform Collaborative, [CRC] is a non-partisan group of Bermudians working with the full co-operation of the Bermuda Government. For further information contact Cannabis Reform Committee [CRC] – bda.crc@gmail.com or call 441-704-1986.
Read More About
Category: All