The 16th Annual Teen Pregnancy Prevention Month was recognised today [May 7] at Teen Services headquarters on Happy Valley Road.
The reading of the proclamation by Minister of Community, Culture and Sports Wayne Scott was followed by the keynote address by guest speaker Dwayne Caines.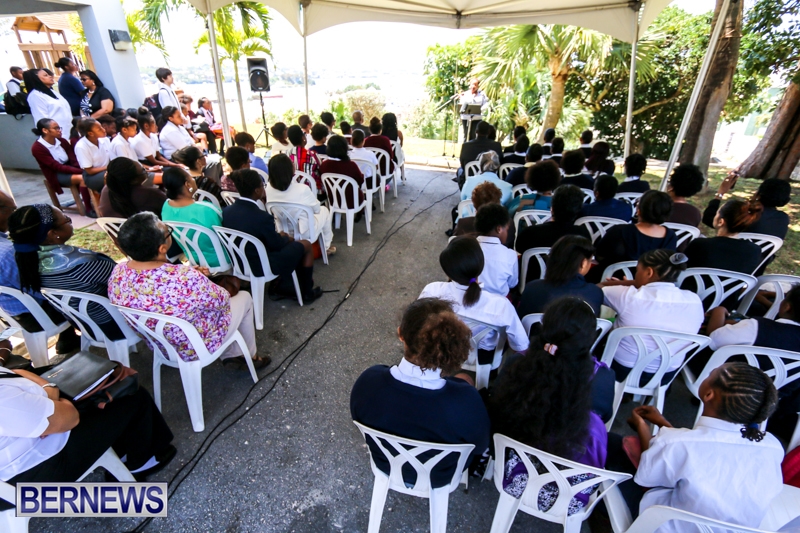 The event included opening remarks by Teen Services Board member Olga Scott and a musical selection by Cindy Smith. In giving closing remarks, Teen Services Executive Director Michelle Wade invited all those in attendance to an open house and refreshments.
Since 1998, Teen Services has joined forces with the National Teen Pregnancy Prevention Campaign, which is recognized worldwide, in observing May as Teen Pregnancy Prevention month.
The purpose of the campaign in Bermuda is to increase public awareness on teen pregnancy. The ultimate aim of the campaign is to help young people make wise choices and in return reduce the rate of teen pregnancy.
Over the years, Teen Services has shown its commitment to ensuring that the Teen Pregnancy Prevention Campaign remains the cornerstone of their community prevention outreach program.
The proclamation follows below:
WHEREAS, May is sanctioned as the month to recognize Teen Pregnancy Prevention. Teen Services celebrates 16 years of hosting this awareness campaign.

WHEREAS, teen pregnancy remains a major problem on the island of Bermuda. The economic, social and personal cost to teen parents, their families, and society is great. Teen Pregnancy impacts every parish, school and household. Thus, the responsibility to solve this problem lies with all of us; families, communities and young people.

WHEREAS, the basic goal of the Teen Pregnancy Prevention Campaign is to reduce Bermuda's rate of teen pregnancy. This includes raising awareness of teen pregnancy prevention and providing young people and their families with the tools to identify at-risk scenarios.

WHEREAS, five principles have been identified that are essential to promoting community involvement:

To increase public awareness and commitment to teen pregnancy prevention.
To encourage young people to avoid at-risk behaviors and situations, which result in early pregnancy.
To provide information and practical behavioral skills that promotes abstinence and empowers one to be responsible for their actions.
To encourage young people and guide them to remain in school and further their education.
To build public and private sector partnerships with all stakeholders; which includes parents, schools, businesses, media, health, and human service providers.

WHEREAS, Teen Services continues to honor its commitment to ensuring that the Teen Pregnancy Prevention Campaign is the foundation of the agency's programs. The agency will continue to interact with students in the middle and senior schools, using various mediums. The social work staff will also provide follow up intervention.

NOW, THEREFORE, I Minister Wayne R. Scott, JP, MP proclaim the month of May 2014 as Teen Pregnancy Prevention Month. I call upon all citizens to express their commitment to join forces with Teen Services, families, schools, churches and social organizations to reduce the rate of teen pregnancy in Bermuda.

Signed on behalf of the Government of Bermuda 7th day of May, in the year of the Lord, Two Thousand and Fourteen.
-
Click to enlarge photos:
Read More About