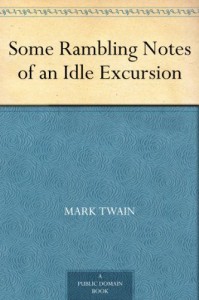 A book written by Mark Twain in the late 19th century that details a trip to Bermuda has been released for free in Kindle format, with Amazon making it available for their Kindle ebook reader.
Some Rambling Notes of an Idle Excursion was written for the Atlantic magazine in 1877, featuring a collection of stories about Twain's trip to Bermuda with friends. The celebrated author writes about getting lost on the island, which he called a "feat that requires talent in Bermuda."
In the humorous book, Twain said, "The Bermudians are hoping soon to have telegraphic communication with the world. But even after they shall have acquired this curse, it will still be a good country to go to for a vacation, for there are charming little islets scattered about the enclosed sea where one could live secure from interruption.
"The telegraph-boy would have to come in a boat, and one could easily kill him while he was making his landing."
The author also touches on the island's onion trade, which was still going strong at the time of his visit, dissecting what that form of business meant to the average Bermudian, and calling the onion itself Bermuda's "gem of gems."
Said Twain, "There was an ample pier of heavy masonry; upon this, under shelter, were some thousands of barrels containing that product which has carried the fame of Bermuda to many lands: the potato. With here and there an onion.
"That last sentence is facetious, for they grow at least two onions in Bermuda to one potato. The onion is the pride and joy of Bermuda. It is her jewel, her gem of gems. In her conversation, her pulpit, her literature, it is her most frequent and eloquent figure. In Bermuda metaphor it stands for perfection – perfection absolute.
"The Bermudian weeping over the departed exhausts praise when he says, "He was an onion!" The Bermudian extolling the living hero bankrupts applause when he says, "He is an onion!" The Bermudian setting his son upon the stage of life to dare and do for himself climaxes all counsel, supplication, admonition, comprehends all ambition, when he says, "Be an onion!"
Click here to download the ebook version of Some Rambling Notes of an Idle Excursion via Amazon or click here to download the PDF version of the book for reading on a PC or mobile device.
Read More About
Category: All, Entertainment, History, technology