Two young Bermudian debaters chosen from Bermuda's Youth Parliament impressed those in attendance at the Regional Commonwealth Parliamentary Association [CPA] Conference Annual Youth Debate in Barbados on August 1st.
Ariana Caines and Dejanee Hill-Edwards represented Bermuda at the conference last week, with Miss Caines taking home the top award of "Best Debater"
Government Whip Cole Simons and Shadow Minister of Seniors Derrick Burgess and Clerk to the Legislature, Mrs. Shernette Wolffe were also part of the delegation that travelled to the CPA meeting.
Youth Parliamentarians Dejanee Hill-Edwards and Ariana Caines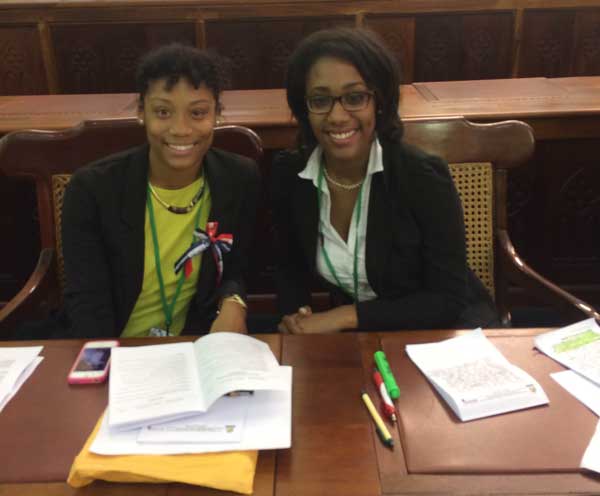 Mr. Burgess said, "These two young people made me so proud, I was beaming with joy. Their performance was first class. Thirty-one delegates from countries across the Caribbean attended the conference. The topic for the Youth Debate was Youth Unemployment. Both Ariana and Dejanee and were chosen to debate on the Opposition side."
Mr. Burgess continued, "Dejanee presented first and was one of the youngest debaters, she did an excellent job. She was followed by Ariana, whom I call Dame Lois [reference to her late iconic grandmother, Dame Lois Browne-Evans], tore the house down.
"She showed no signs of nervousness and as I looked around the room at the other Caribbean Members of Parliament you could tell that they were very impressed as almost to say, who is this girl and where did she come from?"
Mr. Simons noted, "Ariana had full command of the subject and full command of the audience. She was dynamic and held her own like a professional litigator. When she spoke she set the standard for the rest of the debate. She did Bermuda proud. Dejaneee is our future; she did extremely well, given her age. She was knowledgeable regarding her subject and Bermuda can expect great things from her in the future."
Ariana receiving her award for Best Debater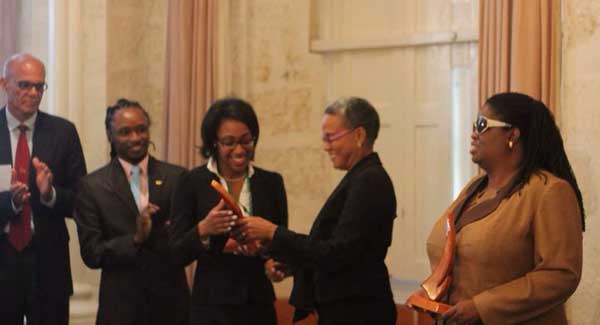 Speaking of the success of the Youth Parliamentarians, Mr. Burgess said that the debate was a first class performance and that the Youth Parliament Bermuda deserves all our support.
Ariana, a former Head Girl of The Berkeley Institute and a freshman at Bermuda College, is preparing to attend University of Buckingham Law School in September; while Dejanee, a Principal Honour Student is entering S3 at The Berkeley Institute and the Bermuda College as a fulltime student in the dual enrollment participant.
Ariana said, "It was such an honour to represent my country at this year's CPA Regional Youth Parliament debate. I am proud of the showing Dejanee and I made on behalf of Bermuda, and even more excited to bring home the coveted title of Best Debater.
"It is so humbling to be considered as one of the Caribbean's talented and promising young adults. I am grateful to Youth Parliament for the opportunity to represent my country."
Ariana receiving her award for Best Debater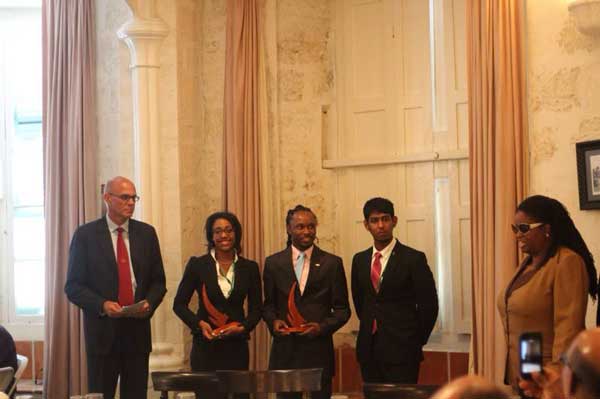 Speaking of her experience, Dejanee said, "This was a once in a lifetime opportunity that was not taken for granted. I was one of the youngest Youth Parliamentarians but I learned so much from the other participants and was inspired by their stories and aspirations.
"When I return to Youth Parliament in September, I will take what I learned from the conference and implement it into our program here in Bermuda but more importantly, to better myself as a debater."
On their return, Senior Advisor of Youth Parliament Bermuda, Mr. Owen Darrell was delighted, however not surprised to learn that our young people performed extremely well while in Barbados.
Mr. Darrell said, "I have seen them debate many topics well during our Youth Parliament sessions. It's encouraging to know that Youth Parliament Bermuda is preparing our students to be leaders not only in Bermuda, but globally as well."
Accompanying the two Youth Parliamentarians to Barbados was Youth Parliament advisor Mrs. Dawn Broadbelt.
Read More About