Tucker's Point Club is offering new price structures for membership starting this September, with initiation fees being waived and memberships customized to fit each individual's needs.
Through the years, the property has survived many changes and challenges, and the evolution for the Tucker's Point Golf, Beach & Tennis Club continues as they launch their new membership options for 2014.
Callan Bassett, member of the Tucker's Point Club revitalization team, explains: "Starting this September, our initiation fees are being waived and memberships have been customized to fit each individual's needs – whether one is looking for a Full membership to enjoy all the amenities, or just a Golf or Tennis Membership for families, couples, individuals and even Juniors.
"Families can enjoy Full, Social or Sports memberships, while couples and individuals can enjoy the same, along with two additional options of Golf or Tennis membership only. Juniors, for those under the age of 23, can sign up for both Golf and Tennis or pick one of the two. Never before has our Club offered so many accessible options and price structures."
From left to right: Callan Bassett, Lisa Mello & Robert Holland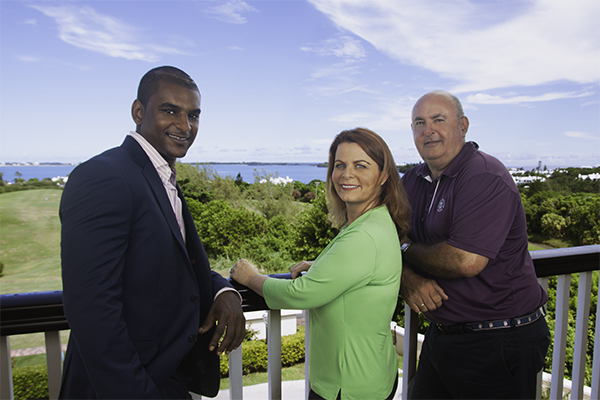 A hotel spokesperson said, "Those who take advantage of the revitalized memberships will enjoy amenities that are unparalleled on the Island. In addition to the spectacular views from the golf course and the all-round amenities of the Tennis Club, members can enjoy the stunning Beach Club, resort dining at three top-rated restaurants, spa, fitness centre, hotel pools, discounts on hotel rooms and at the retail outlets, and even the children's programs on weekends and school holidays.
"From the serious golfer who appreciates the 18 hole, par-70 course to the family looking for the vacation experience right on their doorstep, Tucker's Point Club is the perfect getaway."
Fellow Club team member Lisa Mello encourages those interested to contact them for more information. "We are all very excited about the changes and look forward to showing our amenities to potential members. We offer so much in terms of sport, fun and relaxation that we really are a haven to our members. Our haven is your haven."
Read More About