The Bermuda Regiment's newest commissioned officer, Second Lieutenant Mark Prior, is the first Bermudian to complete the 8 week Reserve Commissioning Course at the Royal Military Academy, Sandhurst [UK]. He is also the only Bermudian to be personally promoted by a senior member of the UK General Staff.
A Bermuda Regiment officer confirmed that the RMAS course was only the second of its type and is primarily used to train UK Army Reserve officers, many of whom will go on to serve in war zones.
2/Lt Prior and Maj/Gen Cullen.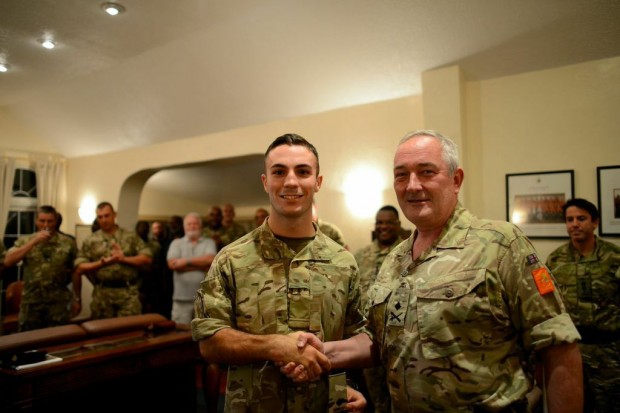 "It is an intensive and testing period of training to graduate them as competent and credible junior officers", the officer said.
The course included command, leadership and management theory, as well as tactics, weapons handling, drill and fitness training. There was a series of mid-course two to three day exercises to test cadets' knowledge and the course ended with a grueling seven-day test and confirmation exercise.
Before the introduction of the new course, Army Reserve soldiers trained with their units and completed several short courses at RMA Sandhurst before being granted a commission as an officer.
The senior officer who presented 2/Lt Prior with his first 'pip' was Major General David M Cullen OBE. Maj/Gen Dullen is Assistant Chief of the UK General Staff [ACGS] and was in Bermuda on a familiarization visit to the Bermuda Regiment.
Maj/Gen Cullen was commissioned into the Royal Artillery in 1983. His early career was dominated by service with 7th Parachute Regiment, Royal Horse Artillery and 5th Airborne Brigade where he deployed on operations to Northern Ireland, the Falkland Islands and Belize and exercises in Africa, America, Canada and Europe.
Maj/Gen Cullen took a battle group to Iraq for Operation TELIC 4 in 2004. Between 2005 and 2007 he was Chief of Staff 1[UK] Armoured Division, returning to Iraq for nine months, where the Division took charge of Multi National Division [South West].
His operational experience includes Northern Ireland, the Falkland Islands, Belize, Bosnia, Kosovo, Iraq and Afghanistan. Maj/Gen Cullen was awarded the MBE in 1994 for work in the Middle East and promoted to OBE in 2004 for his contribution to operations in Iraq.
Maj/Gen Cullen took up his current appointment as Assistant Chief of the General Staff in January 2013.
Read More About
Category: All