Argentina has sent requests for information to tax authorities in the Virgin Islands, Uruguay and Bermuda, according to a Reuters report.
This comes as Argentina wants HSBC Holdings Plc to repatriate some $3.5 billion that it says the bank's Argentine branch moved offshore to help clients evade taxes and move capital abroad, the country's tax chief Dr Ricardo Echegaray said.
Sky News reports that, "The country's tax authorities issued the request weeks after the Central Bank of Argentina temporarily suspended HSBC Bank Argentina's operations of transferring money and assets abroad for a period of 30 days.
"That action followed Argentina's decision last year to charge HSBC with aiding more than 4,000 clients to evade taxes by shifting assets offshore. HSBC Argentina denied the claim – insisting it respected Argentine law."
A statement released by the bank said: "HSBC has been cooperating fully with Argentine regulators, including AFIP [the tax authority] and the judiciary, since allegations were first made public last year, and we will continue to do so."
Bermuda has a number of Tax Information Exchange Agreements [TIEA] with nations around the world, including one with Argentina, which was signed in 2011.
Former Premier Paula Cox and Dr. Ricardo Echegaray sign the TIEA in 2011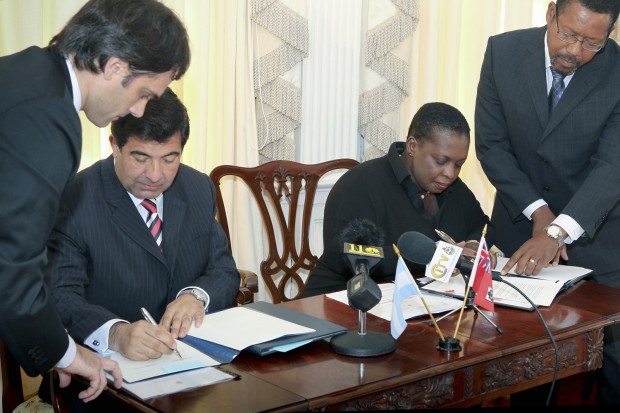 Speaking back in 2011, Ms Cox said, "The Argentine Republic is a crucial market particularly for our reinsurance industry.
"This treaty relationship enhances the dealings between the two countries. In fact this morning Dr. Ricardo Echegaray and I had the chance to chat about matters of mutual interest.
"Our TIEA with Mexico has recently come into force and today's TIEA with Argentina is also communicating the message that Bermuda recognises the value of opening trade relationships with the Latin American market.
"We are also communicating that diversification of the economy is not just about diversification of industries but of diversifying our strategic linkages and economic partnerships."
Read More About