International Girls in ICT [the Information and Communications Technologies] Day is set to take place tomorrow [Apr 22], with organisations from around the world hosting events and workshops in celebration.
A spokesperson said, "International Girls in ICT Day, which is celebrated on the fourth Thursday in April, is an initiative established to raise awareness and to empower and encourage girls and young women to consider studies and careers in ICT.
"The awareness day was created by the International Telecommunication Union [ITU], the United Nations specialized agency for information and communication technologies.
"Spreading the word here in Bermuda is the Department of E-Commerce at the Ministry of Economic Development."
Department Director Dr. Marisa Stones said, "Women have long had a profound impact on the technology industry.
"But we believe there is far more room for women in the industry and we are hopeful that more students and young women will see the growing opportunities in information and communications technologies. The industry is growing so quickly.
"Even here in Bermuda, we see women making a significant difference in the technology landscape of our country."
Dr. Marisa Stones, Vicki Coelho, and Sandra DeSilva: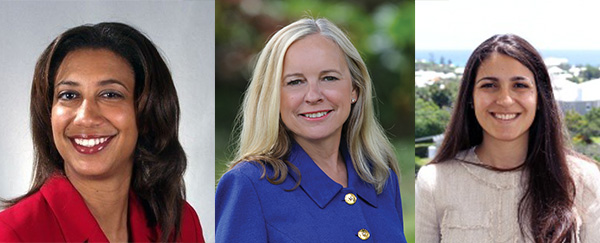 "Dr. Stones highlighted successful women in the industry such as Vicky Coelho, the CEO of Logic Communications, who conceded technology was not even her first career choice."
Ms. Coelho said, "My university education was not related to Information Technology. But when I was a women's fashion buyer for a large department store in Canada, I found that I needed more of a challenge."
"She began climbing the corporate ladder of ICT after a former President of Xerox Canada encouraged her to take advantage of training opportunities in management, product marketing, and sales training."
Ms Coelho added, "There are incredible opportunities for women in ICT. Women are inherently great communicators. They can multi-task, work collaboratively, and have natural leadership skills.
"Future women leaders in ICT must have passion and drive. Although historically, men have been the dominant force, we now see women leading firms and leading them successfully."
Sandra DeSilva, Managing Director of Nova Limited, said, "The path to success in ICT is to step outside your comfort zone. Research different areas that you have had no exposure to, and see if you like it. Evaluate local industry needs and characteristics by speaking to as many professionals as possible.
"Once you become comfortable, step outside that zone once more."
Dr Stones added, "Technology is everywhere and is playing a big role in our day-to-day life. Here at the Department of E-Commerce we're eager to see more women entering the field and playing the impactful role that we know they can."
Read More About
Category: All, Business, News, technology