On Tuesday [July 21] over fifty people attended the "Taking The Leap Into Entrepreneurship" seminar that dealt with the fears of taking the first step into starting a small business.
This seminar, coordinated by N.E. Hamilton Economic Development Officer Roxanne Christopher, included five presenters that discussed topics most frequently asked about by those interested in starting up a business.
First up to present was seasoned entrepreneur Tory Darrell, owner of Building Blocks Day Care. Mr Darrell shared his story about the process he went through to embark on a new business venture in the day care industry, which was largely different from his first business in security.
He shared that although the industries were different, he found that many of the steps that needed to be taken were the same and that it was most important to get guidance and support. He offered that the BEDC helped him with both of his businesses and encouraged attendees to reach out to them when taking the initial leap of faith.
[L-R]: Tory Darrell, Roxanne Christopher, Steve Skowyrski, Frederica Forth-Anglies, Ray Jones, Zina Edwards, Belcario Thomas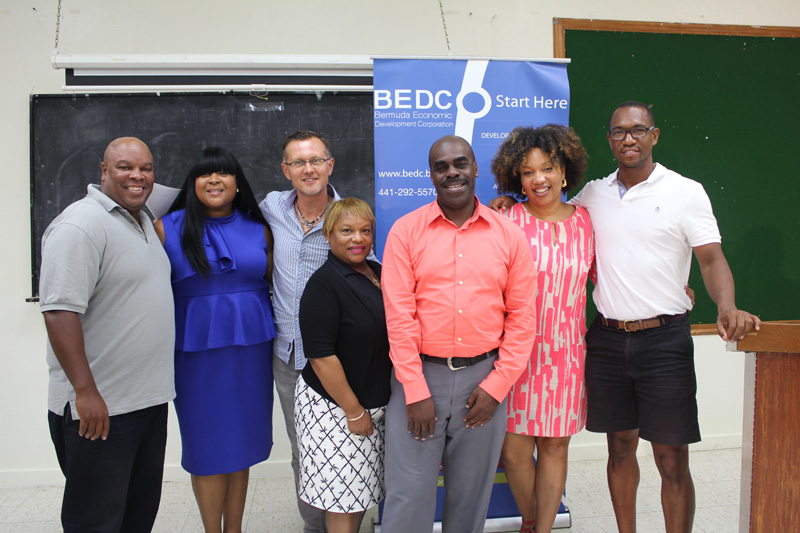 Following Mr Darrell was Frederica Forth-Anglies, President of Century 21 Properties. Ms Forth-Anglies reviewed the process of identifying and negotiating the best lease agreement for your business.
She said, "One of the best relationships that a business owner should nurture is with their landlord and a great real estate agent, these persons are the ones that can navigate long-term success for your business".
Continuing on with a review of best practices, Zina Edwards Malcolm, publicist for Brand Lion helped attendees to understand the importance of creating and maintaining a brand for a business.
She highlighted local small business Orange Bay Company, stating, "In order to connect to your consumer you have to be authentic, be an expert, be consistent, show your value and tell your story."
Taking a leap of faith to test out the waters of entrepreneurship is no easy task and there is no one in a better position to share the story of what it takes to realize your dreams other than those who have done it before.
Serial entrepreneur, Belcario Thomas shared his story of starting his business focusing on his most recent venture, Tobacco Bay, with partners of Beach Boys Ltd.
Mr Thomas stated "Always follow your passion and your make sure to give your customer an experience that they can never get anyplace else".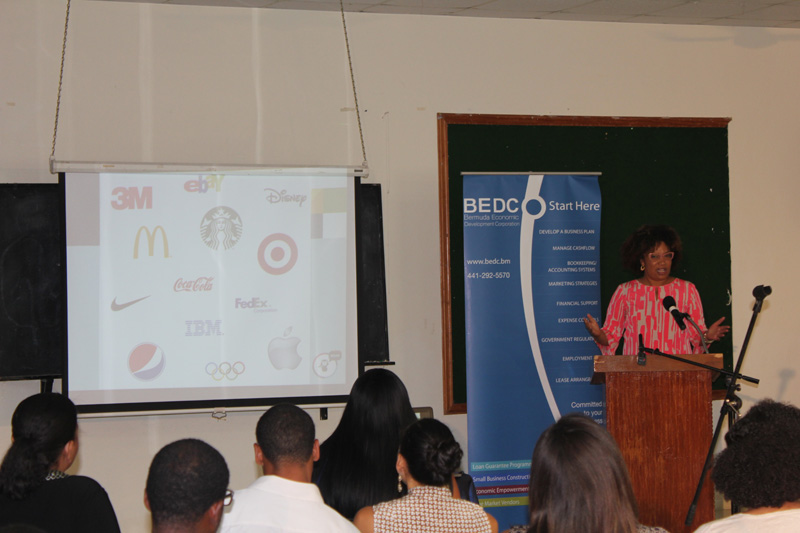 Last to present, but not least, was self-titled global entrepreneur Steve Skowyrski, who spoke to the audience about the alternate ways to gain financing to start a small business.
Mr Skowyrski has helped to start up businesses all over the world and drew on his experiences to provide some specific tips for attendees around raising the necessary capital to get started.
He said, "In 2014 there has been over 10 billion dollars raised for businesses as a direct result of crowd funding, including companies in Bermuda. Don't be afraid, and prepare your business to seize every opportunity".
Ms Christopher closed the seminar by reminding attendees that the BEDC can assist them with getting their business started. She encouraged them to become members of the BEDC Business Register by logging on to the website www.bedc.bm, to take advantage of the various loan and small business products that are on offer.
Read More About