Local creative studio Uber Super Duper won the America's Cup competition to design a trophy for the winner of the Louis Vuitton America's Cup World Series Bermuda event.
Sami Lill, founder and creative director of Uber Super Duper conceived the winning design.
With any array of locally sourced materials, Mr Lill worked with a diverse team of local talent, from St George's to Somerset, to produce the final piece on island.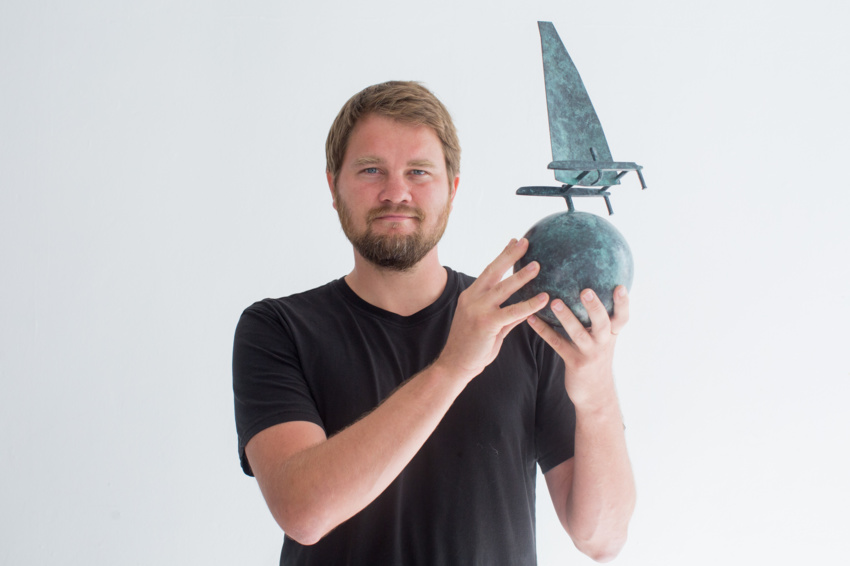 "Sami's piece was very creative and he not only captured what the event is about in the form of a trophy, but he took it upon himself to highlight Bermudian collaboration and the many varied talents and craft skills on the island", says Julien di Biase, Events Director ACEA. "We congratulate him on a fantastic trophy and memorable piece of art."
Mr Lill's innovative design was based on the concept of balance, as sailing is all about balance, specifically the balance between power and agility, between speed and resistance, between human engineering and the forces of nature.
The trophy features a 1:90 scale replica of a AC45, balancing on the hydrofoil on top of a hollow sphere. Wanting to add dynamism into the trophy Mr Lill decided to make it kinetic, so it would be able balance on its own.
If nudged, the trophy doesn't topple, but rather sways side to side, and then balances itself out, as seen in the video below.
Silicone bronze was chosen as the material, as it's a well known marine material, that is both workable and durable.
Mr Lill says: "Being chosen to design the Louis Vuitton America's Cup World Series Trophy is a real honour and has been a big challenge for me.
"We managed to produced a self-balancing, interactive, silicone bronze trophy, based on the very simple concept of perfect balance. It leans over 32 degrees, which is Bermuda's latitude on the globe."
The counterweight inside the trophy was created by experimenting with melting lead from various local sources – the keel weight from a Bermuda International One Design, a Bermuda fisherman's downrigger ball and a reclaimed sash weight from an old Bermuda cottage.
Producing it was a five-week process of prototyping, engineering, testing, milling, filing, welding, sanding, polishing, finishing, wood working and waxing. The finished piece weighs just over 10 pounds and leans over at exactly 32 degrees, which is the latitude of Bermuda on the globe.
The trophy production was made possible by working with the following local craftsmen and companies: Woodworker Vibio Festa, Machinist Alex Roque, of Dynamic Machining, Metal workers Robert and Max Moniz, of Bermuda Electroplating, Fishermen Jim and Blake West, who melted the lead counter weight inside, Engineer Bill Andrews, Craig and Donna Faries of Mass Ltd, Marine Engineer Stuart Lunn, of Lunn Marine, Sculpter Desmond Fountain and David Swift, of Pembroke Paint.

Read More About
Category: All, Entertainment, News