"We must be a choice for travellers again. Bermuda must be relevant to them and their lifestyles, so that coming to Bermuda is what fits with who they are. Bermuda must be a brand that stands out and is not confused with others," Premier Michael Dunkley said.
The Premier was speaking at the Bermuda Tourism Authority's second annual one-day tourism summit which was held yesterday [Nov 16] at the Fairmont Southampton.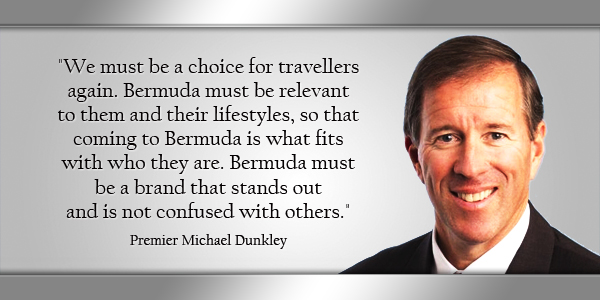 Premier Dunkley said, "I am pleased to join you today for an important occasion – the one time each year the entire tourism industry convenes to talk about its future.
"Ladies and gentlemen today provides us an opportunity to take a closer look at the business of tourism and for us to have some frank and candid conversations about the way forward. I am grateful for the opportunity to address you this afternoon.
"Tourism in Bermuda has been confronted with its share of challenges but the fact remains that the industry is critical to Bermuda; it is an important economic driver and is a key employer of Bermudians in many different careers.
"Tourism offers opportunity in many areas so today is a day to harness the energy, enthusiasm and momentum to spur on our tourism revitalization which I believe is happening across the island.
"For many years tourism and international business have been referred to as the "twin pillars" of Bermuda's economy. This characterization is more than just a statement of fact; it is a call to action.
"It demands that the leadership in both areas constantly adds to the lifeblood of their respective industries with innovation, flexibility and recognition of what is required for success in the modern world," the Premier continued.
"In tourism, it is now settled history that we fell short of the mark in doing these things; not individually but as an industry generally. We ignored trends, changes in socio-economic demographics and we did not pay attention to the advent of new competitors who improved what we invented.
"The lesson of a downturn or recession for business has been one of developing better business models, becoming more efficient with better customer service or you do not survive.
"The lesson for tourism following the decline of our fortunes is no different. We can no longer trade on what we were and hope to inspire a new generation of travellers for whom Bermuda represents 'your grandmother's holiday'.
"As the debate rages around our tourism fortunes, and that debate will continue on as we are all experts, I am pleased that it now appears that there are few who take issue with the need for, or the principle of, a tourism authority.
"The need for an entity focussed on growing tourism, separate from the politics of the day appears to be accepted and the public discussion is rightly about results.
"The three quarters completed of 2015 have been difficult. The results to date have not been what we wanted.
"In considering the results it is important to recognise that our challenges did not simply happen overnight and thus we will not deal with these challenges in a night. Our competition will not roll over and play dead.
"Achieving the turnaround we all want to see in tourism is still a work in progress. This is not because of inaction or lack of effort.
"Let me clearly state that I am impressed by the energy and work ethic of the team at the BTA. We have a good team on the job.
"In every initiative we see unmatched commitment to gaining ground lost over the years. This work is not easy and I recognize that the BTA team is putting their all into the mandate to grow Bermuda's tourism.
"The question for all of us at this point in the life cycle of the BTA is why the growth we seek is being so elusive. Why is it that although we are just over 700 miles from New York and Boston or 90 minutes by plane, we cannot break the cycle of low air arrivals and a tourism economy shored-up by cruise visitors?
"Is the answer to be found in increased budgets for marketing and advertising? Is the answer to be found in a market saturation strategy so that Bermuda is on every channel, every day, everywhere?
"This would help, but in reality the answer is not as simple as that. The answer my friends is making Bermuda matter again.
"We must be a choice for travellers again. Bermuda must be relevant to them and their lifestyles, so that coming to Bermuda is what fits with who they are. Bermuda must be a brand that stands out and is not confused with others.
"When I say Nike there is no doubt. When I say Apple most people know where the iStore is closest to them. We cannot achieve the revitalization of tourism by reminding today's travellers why their parents and grandparents fell in love with Bermuda.
"We must make them fall in love with Bermuda for themselves.
"I know the BTA is up to this challenge. I am confident that they possess the innovation, flexibility and recognition as to what is required for success in the modern world.
"I have seen some impressive work by them which I believe is starting to build the Bermuda brand that is required. I am confident that the foundation they are building is once again developing the twin pillar I mentioned at the start of my remarks.
"Now ladies and gentlemen as we rebuild tourism, it is also critical that those in the industry on the island deliver the experience we promise.
"If we say we are a $400 a night destination then that is what we must deliver. If we say we have a beach experience that can't be missed, we must deliver.
"This list goes on but the message is simple; tourism is a 24/7 business and while we have the basic ingredients to transform the experience from good to the exceptional, at all times we must offer the quality and service expected. We must deliver the goods.
"Ladies and gentlemen today's level of interest in this summit is a key indicator of the unity of purpose that is essential for the success of the industry.
"2016 and beyond presents us with unique opportunities to establish a niche again in the marketplace. When opportunity knocks we must answer the door, when the phone rings we must not let it go to voicemail. The world we live in today waits for no one.
"We have the assets to be successful- our culture, our beaches, our historical landmarks, our golf and spa, our activities and experiences, the many events in our calendar, the America's Cup in 2017 and of course our people, our Tourism Ambassadors.
"We have all that is required to renew our product and provide experiences that resonate with today's traveller. I believe that your efforts and the efforts of this Government thus far are taking root and will yield a positive outcome.
"I also believe that we can return Bermuda to the "top of mind destination" for those who influence today's trends and market decisions. This was our strength before and it can be again.
"So in closing, it is clear that we still have a lot of work to do, but I am encouraged by what I see taking place and I am encouraged by your attendance and interest today. You have this Government's commitment and full support to those efforts designed to return this industry to its prominence in our community," concluded Premier Dunkley.

Read More About