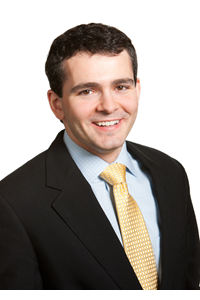 [Opinion column written by Quinton B. Butterfield]
Who is Dr Ryan T. Anderson?
There is a saying that goes, "there are three sides to every story, your side, my side and the truth." Ok, so I got that from a movie, but it is true.
Once again, Bermuda is at a divided crossroad thanks to same-sex marriage. And this time it is because there is a new forum to be held with a speaker named Dr Ryan T. Anderson.
Concerned Citizens of Bermuda would have you believe that Dr Anderson is an intellect, coming to Bermuda to give an unbiased, well researched talk about same-sex marriage, which in their words, "is not based on arguments founded in morality, theology nor tradition." This is far from the truth.
Before I delve into this, however, I am not encouraging anyone not to attend the meetings, but you should know who you are dealing with before you go.
Dr Anderson is a part of an organization called The Heritage Foundation. If you go to their About page, you will see that they were founded in 1973 in the United States, and they call themselves a think-tank with a mission to further the cause of free enterprise, limited government, individual freedom, traditional American values and a strong national defense.
If you are a person that follows American politics, then this list will look very familiar to you. It is a list of principles held by the far-right extremist politics of groups like the Tea Party [arguably one the most racist US political groups out there] and the Republican Evangelical crowd.
These are people that endorse open-carry guns, call President Obama all kinds of racist names, and fight against same-sex marriage, abortion, women's rights and I suspect would like to see a theocracy established in the United States.
Furthermore, Dr Anderson's bio on the Heritage Foundation's website states that he "researches" and writes about marriage and religious liberty, and is a member of the DeVos Center for Religion and Civil Society, and The Institute for Family, Community, and Opportunity [which advocate for advancing religious freedom, marriage, promoting child-centered education reform through parental choice, advocating work-based welfare reform, and developing patient-centered health care proposals to protect America from Obamacare].
I bring all this up so that it is clear that this man is a religious fanatic, and no matter how much Concerned Citizens tries to make it seem that this will not be based on "arguments founded in morality, theology nor tradition", that is far from the truth.
So, now that this is established, let's pretend that this will be a presentation from an intellect. It is clear that Dr Anderson has some well-regarded credentials. He received his Bachelor of Arts degree [in Music] from Princeton University, where he graduated Phi Beta Kappa and magna cum laude. He also received his Master's degree and a Ph.D. from Notre Dame.
With those credentials, you would think that he would bring some sound, well-researched facts and information to the table and to the forums that are coming up. Concerned Citizens would have you believe that this is true.
If you look up some of the things that Dr Anderson has said, you will find things like, "Gays and lesbians undoubtedly have been discriminated against" and "heterosexuals are to blame for the breakdown in marriage, not homosexuals." Doesn't that make you feel all fuzzy inside. Rhetoric like this that he spews allows people to feel as if they are not feeding into discrimination, that they "understand the plight" of others, and they are having a "respectful" conversation. This is all part of the facade.
In July of this year Zach Ford wrote an article about Dr Anderson's work. In this article he highlights the sly way that Dr Anderson frames his arguments. He likes to use the argument that marriage is about monogamy, exclusivity, and permanence. He then relies on the falsehood that same-sex couples cannot achieve these ideals.
He does not however mention that society is just breaking free from a history of anti-gay stigma, that did not allow these couple to live up to these characteristics, because of being ostracized by families, because of violence and because of the shame placed on them by their churches.
He also relies on the slippery slope ideas that same-sex marriage will lead to "other types" of relationships like polygamy or open relationships, but of course these things have nothing to do with the same-sex marriage issue. As a matter of fact these relationships already do exist; and also they would have no effect on other people's relationships.
Dr Anderson also likes to play on the fears of "fatherless" relationships and studies that are based on zero facts or data, or studies that were created to swing opinion in a certain direction. For example, one study that he uses by Mark Regnerus, Douglas Allen and Donald Paul Sullins, showing the negative outcomes of same-sex parenting, was a biased study which used extreme situations where divorce had a negative effect on children and where there were obstructive family structures.
The Regnerus Fallout website also highlights aspects of this false report. The report was created and funded by the Witherspoon Institute [which has ties to the hate group, Family Research Council] to attempt to discredit 30 years of scientific research conducted by the American Psychological Association [see related links for more info]. Dr Anderson uses this false study, while ignoring controlled, scientific studies that show results from committed same-sex families, because it does not fit his narrative.
The reason that I am bringing all of this up is so that as an attendee, you can be informed of who Dr Ryan Anderson is and his tactics. Also, so that you will not fall for the way this is being presented, as a well-balanced, unbiased, theology-free presentation, which it is not.
This is a well-crafted attempt to placate those who are tired of the religious slant on this issue. However at the core of this is the same religious arguments that have been presented over and over again, just presented in a less dogmatic way.
Lastly, I would also like to warn the reader that I too have my biases. I am just trying to present the facts as I see it, but it is up to you to do your own research and form your own opinions concerning Dr Anderson, and the issue at large.
Related Links:
Meet Ryan Anderson, The Anti-LGBT 'Scholar' Peddling Junk Science To National Media: here
The Regnerus Fallout: here
Ryan T. Anderson Accidentally Highlights Weakness Of Lost Fight Against Marriage Equality: here
- Quinton Berkley Butterfield

20 Most Recent Opinion Columns

Opinion columns reflect the views of the writer, and not those of Bernews Ltd. To submit an Opinion Column/Letter to the Editor, please email info@bernews.com. Bernews welcomes submissions, and while there are no length restrictions, all columns must be signed by the writer's real name.
-
Read More About