[Updating] While the full circumstances remain unclear at this time, a number of BELCO employees were seen leaving BELCO this afternoon [Nov 25] and making their way to BIU headquarters.
Bernews understands a meeting is now taking place inside the BIU building with a number of BELCO employees present, with unofficial reports suggesting that employees may have some form of issue relating to benefits.
We are on scene outside the Union and have asked BELCO for clarification, so will update as able.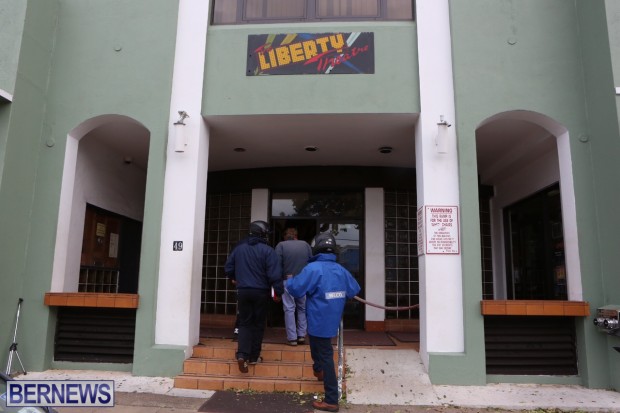 Update 3.24pm: BELCO said, "With regard to today's industrial action, BELCO's office closed this afternoon shortly after 2:00 p.m. as a result of industrial action. The Company has been given no official notice of the action or reasons for it."
Update 3.45pm: Photos of BELCO staff leaving the Union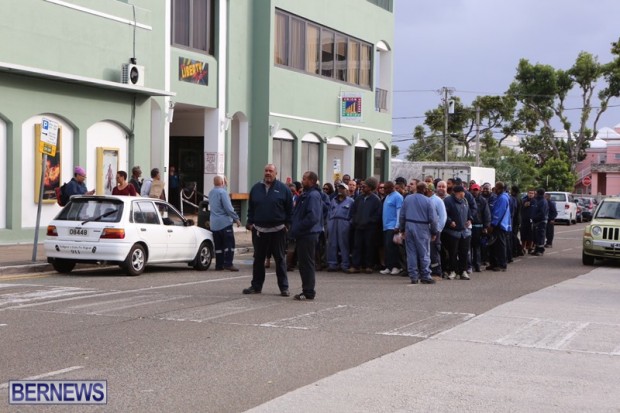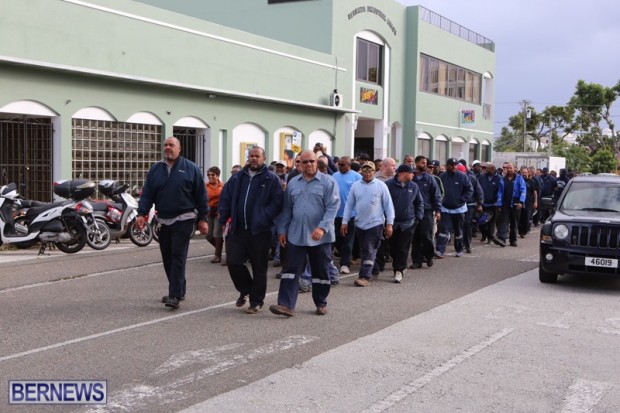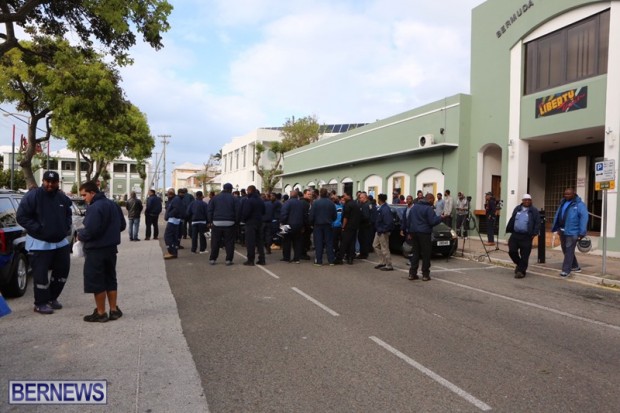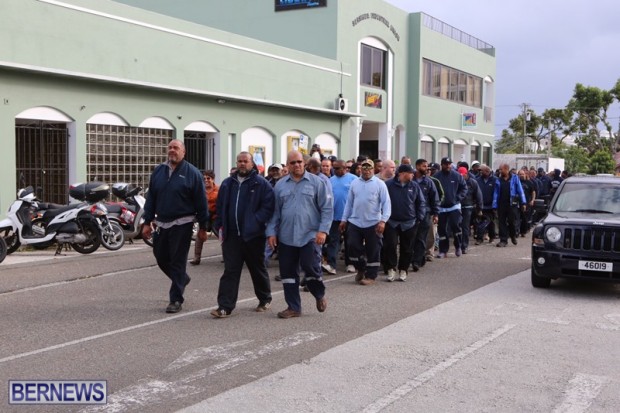 Update 3.49pm: BELCO worked are now waiting outside BELCO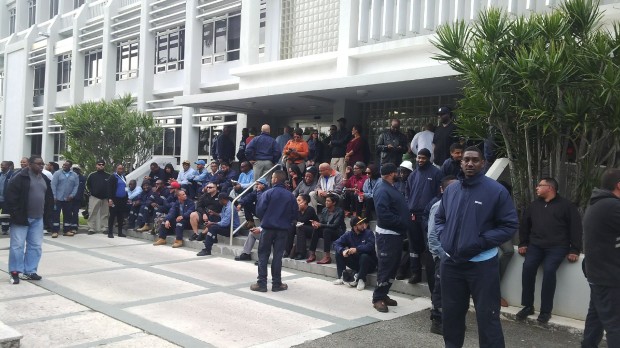 Update 4.04pm: Live video stream added below [note - removed at 6.06pm]
Update 4.25pm: As you can see from the live video above, everyone just remains gathered outside. We understand some form of meeting is taking place right now. We continue to receive unofficial suggestions that this dispute is over benefits such as pensions/insurance.
Update 4.51pm: Someone just spoke, saying meetings are taking place inside, and asking all workers to stay, and we continue to receive word the dispute is over pensions and insurance matters.
Update 5.25pm: Apologies for those few minutes of technical issues with the live stream we just had, all is fixed now!
Update 5.40pm: As far as the actual dispute, it does appear to revolve around benefits.
Bernews received an email which alleged that the "current retirees at BELCO have been told that the medical insurance scheme that they retired under has changed.
"In order to maintain the insurance promised to them, retirees on a fixed income now have to pay $270.00 per month. Previously BELCO paid the entire insurance. They were promised this benefit when they retired."
We asked BELCO for a response and they said, "We are currently engaged in litigation with respect to this matter and as such BELCO is unable to comment."
The email also said, "BELCO has told future retirees that the medical benefit that they were promised will no longer be available to them when they retire."
In response, BELCO said, "This matter has been referred by the Minister of Home Affairs to the Essential Industries Disputes Settlement Board, and as such BELCO is unable to comment."
And finally, the email said that BELCO "told some salaried staff that the early retirement benefit is no longer available to them. This affects some future retirees by as much a 35% drop in their monthly pension."
In response BELCO said, "The changes in pension apply to employees who joined the Company prior to 2006 and were enrolled in the Company's Define Benefit Pension Plan [DB].
"In 2011 the Company froze the DB Plan and all employees were moved to the Define Contributions [DC] pension plan. The changes were made to reduce operating expenses with respect to liabilities and volatility associated with continuing with the DB Plan."
Update 6.06pm: Things have tapered down, so we have removed the live stream. We will have a transcript and video of the announcement, however it just concluded and in the meantime a replay of the last section is below, if you fast forward [by dragging the bottom bar] you can hear the announcement.
44-minute live stream replay of part of the gathering
"Management have acquiesced to our request, they will put a stay on the pension talks," the speaker said. "So you have won," he added, receiving loud applause.
Update 6.29pm: BELCO said, "At approximately 2pm, BELCO's offices were closed due to industrial action. The matter has now been referred to the Department of Workforce Development. BELCO's Management and the ESTU have agreed to meet to further discuss the issue."
The 3-minute video of just the announcement is below:
Women Who Love Wine

Posted by SOML on Saturday, October 10, 2015
Read More About