The Island's newest soldiers today [Jan 17] marked a milestone by completing their first week of training.
The 66 Royal Bermuda Regiment [RBR] recruits, all volunteers, left Warwick Camp for a few hours' leave before their final week at Warwick Camp begins on Monday.
The troops attended a traditional drumhead church service after completing a gruelling five mile road race on Saturday.
Maleke Martin, 18, said he had joined the former Cadets and later transferred to the Junior Leaders.
The 18-year-old from Sandys added: "I had a lot of fun, liked the military lifestyle and wanted a career.
RBR Lieutenant Tyler Owen prepares for a gruelling six mile run – pushing a stroller with sons [L to R] Christian, six months, and Sebastian, aged 2.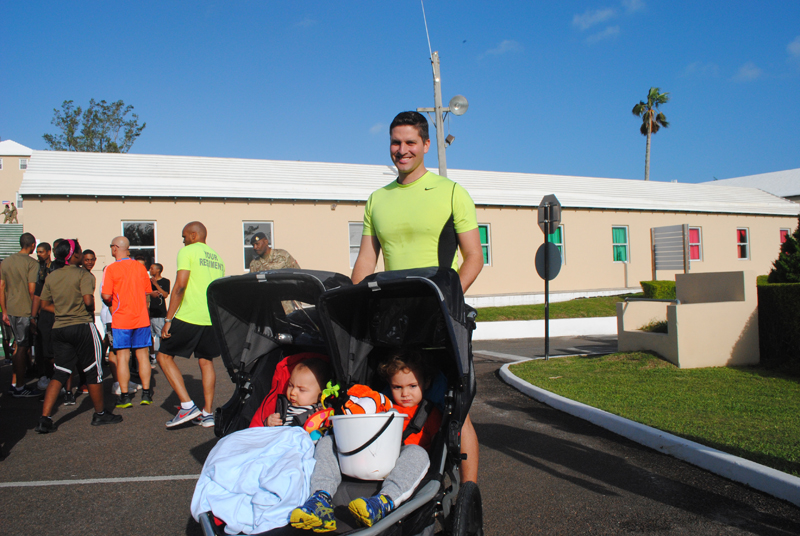 "I enjoyed the sports, but I hurt my knee and couldn't take part in the sports night we had, but I definitely had the team spirit."
Corporal Andre Smith, who is part of the training team for 7 Platoon, said: "They've been pretty good – morale has been high.
"They've been putting in the effort – but this week coming, the effort has to come up even more. We want to make sure they finish off strongly."
"We have people who want to be here – most of them are switching on and realizing they are cut out for this and they can finish."
The two platoons in this year's camp competed against each other on Saturday in the road race, with one officer, Lieutenant Tyler Owen, opting to push a double stroller with his two sons, Sebastian, aged 2, and six-month-old Christian, the entire way.
Soldiers singing clapping along to a hymn at the traditional drum head church service to mark their first week of training in the RBR.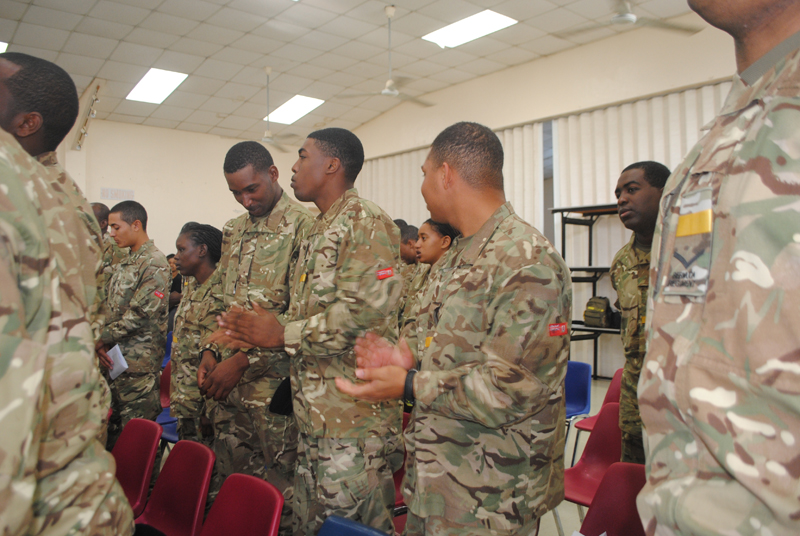 Lt Owen said, who is commanding 8 Platoon, said: "It gives my wife a bit of a break – but I think I'll still get in the top 20 per cent. It should be fun – I love taking the boys on runs and they love to get out."
Lt Owen added: "The recruits are doing very well. I'm pretty impressed and the attitudes are good – they're trying. They're getting on target after just one week."
"This is my first recruit camp as an officer, so I didn't know what to expect, but it's been good."
Private Kevin Fraser, 20, from Somerset, said: "From the experience I had in the Junior Leaders, I really liked the military. I've already signed up for the junior NCO's cadre."
Pte Fraser, who works for Jadefox Audio, added: "I'd like to train new recruits myself and join the motor transport section. I've really enjoyed the week. The first four days were tough, but you adjust to it. But I'm looking forward to going home and having a nice, long shower."
Regiment Commanding Officer Lieutenant Colonel Michael Foster-Brown addresses the troops at the drum head service on Sunday.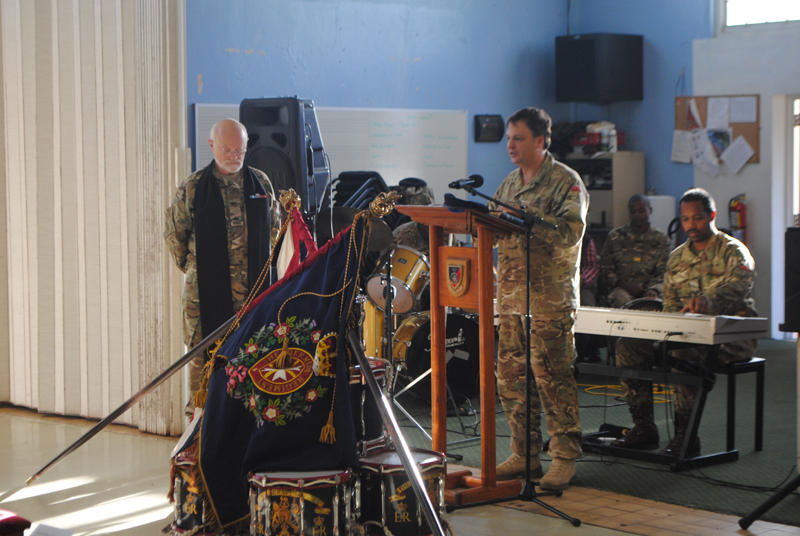 Dante McKenzie, 21, from St George's Parish, said he had been called up for this year, but decided to sign up after he was later told that conscripts would, for the first time, not be required due to the high number of volunteers.
He added: "My aim is to get into the US Coast Guard and this experience will help me to do that."
Pte McKenzie said that he had enjoyed the first week – but admitted he found drill practice "really tough."
He added: "I'll be happy to finish and pass and that I got through it all. And it's helping me step towards my goal."
The recruits are also the first to train with the RBR's new stock of SA-80 rifles – and learn new parade ground drills as the rifles are shorter than the ageing Mini Rugers they have replaced.

Read More About