Yesterday [Feb 18] marked an important milestone for Artemis Racing, launching their new Turbo boat in the waters of Bermuda, and beginning their two boat testing programme.
Artemis Racing skipper, Nathan Outteridge, commented, "It was good to have our first two boat session here in Bermuda, especially given that it was also the first day that we've sailed from our new base at Morgan's Point. With the early forecast looking very light, it was great to be able to get out there."
"We did a few systems checks to start before the other boat came out. To have two boats lined up this far out from the America's Cup is a big thing for us. It was nice not to have to use another team to check how we were going, we can now start to do that in house."
Left to Right: T1 and T2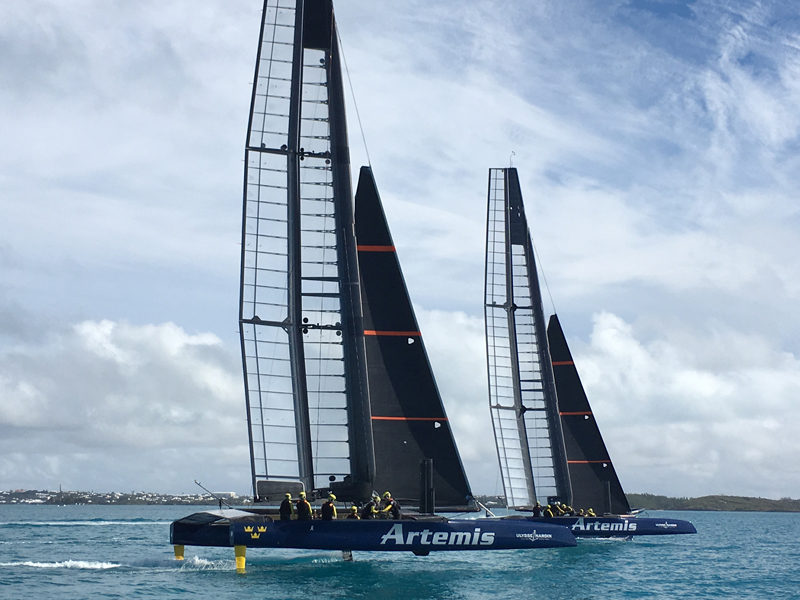 "You can really see the competition within our sailing team developing, which will make everyone start pushing a little bit harder. Our base on the end of Morgan's Point gives us a good vantage point to see the sailing.
"It's not just good for the sailors, it's good for all the guys that are in the shed as well. When they are working they can see the boats sailing past. This is a huge boost for the team and now we just have to keep doing it. We have to keep the boats on the water and keep progressing forward".
Swedish grinder, Anders Gustafsson, was also happy with the outcome of the session.
"Today was our first day sailing T1, and the recently launched T2, together. It was a great day for the whole team, to finally see them line up. I was onboard T2, and it was an amazing feeling to look over your shoulder and see the other boat just flying next to you. We came really close and the boats matched up really well together".
Artemis Racing is the first 35th America's Cup challenger to start training with two prototypes, allowing both for comparison in design, and for valuable match racing training.
The team is looking forward to heading to Oman next week for the first event of the year, in the Louis Vuitton America's Cup World Series. Racing will take place over 27-28th February in the one design 'AC45F's'.

Read More About