[Updated] Police can be seen in the Devonshire area this afternoon [March 7], responding to what they said was a "large group of students fighting" using "helmets, sticks and rocks."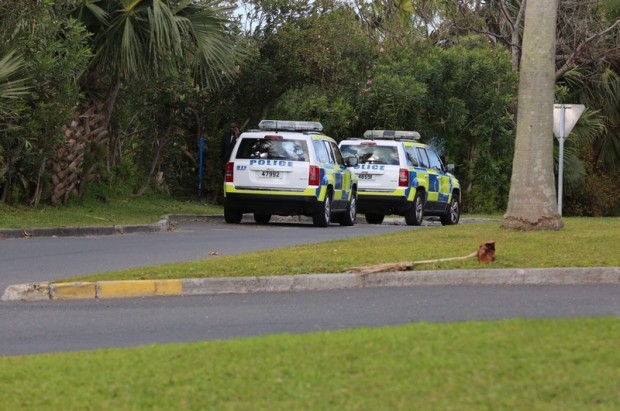 Police Media Manager Dwayne Caines said, "A few mins after 3.30pm, police responded to reports of a disturbance that took place in the area of Palmetto Road and Dock Hill.
"Early reports suggest that an altercation took place between students from two different schools. Upon police arrival, most the students dispersed in the area and police are now liasing with the relevant school authorities to address the situation."
Update 5.21pm: The police said, "At 3:49pm on Monday March 7th police received a report of a large group of students fighting in the area of the round-a-bout of Palmetto Rd and Dock Hill Devonshire. The fight involved combatants using helmets, sticks and rocks.
"Upon police arrival the students dispersed in the area and the identity of those involved are unknown at this point. Police are appealing for witnesses or anyone with any information to contact police on 2950011.
Update 10.09pm: As is becoming a somewhat regular occurrence, a video showing the altercation is now making the rounds. The video shows a large group of students fighting, as well as some watching.
There is some profanity, and at some point they are standing in the road by the round-a-bout at the top of Dock Hill where they appear to be impeding traffic, with some commuters apparently honking their horns at them.
A couple of them are using some form of stick to hit someone else, and at least one bystander can be seen laughing, and some of the students do appear to be trying to walk away from the fight.
We asked the police for comment on the video, and Mr Caines said, "The images of school children fighting in the street today can only be described as very disturbing footage.
"Both schools are aware of the incident, and teachers and faculty members immediately took action to deal with the situation. Over the next few days, school officials and the Bermuda Police Service will be working in tandem to deal with the situation.
"As per usual, we are requesting that right minded individuals do not pass on the footage," added Mr Caines.
Read More About