A small percentage of Government pension investments could be diverted into overseas companies to get them to set up in Bermuda.
That is according to Shadow Finance Minister David Burt who was speaking to Bernews in this latest podcast about his Reply to the Budget.
He said diversification of the economy became an issue after the financial crash of 2008 but now "we have to have a long-term plan for economic diversification or else we are going to be stuck".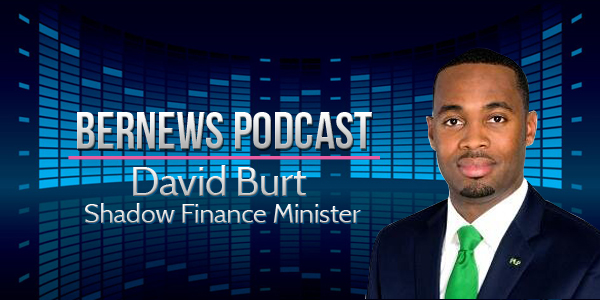 Asked if it was realistic that Bermuda could bring different sectors to the Island to create jobs, Mr Burt said: "In countries that set their minds to accomplishing goals and tasks, if that is a national objective, I have the faith that we can do what is required I order to bring those industries here."
"There are things that people smarter than me have said have worked the question is why haven't we done them?"
Mr Burt ruled out making anyone in Government redundant and he said savings would be made by increased efficiency within the civil service. "You cannot commit to redundancies in a place where you do not have employment," he said.
48 minutes podcast with  Shadow Finance Minister David Burt
Mr Burt talked about the setting up Crown Corporations as a way of injecting private sector management styles and systems into the public sector. "Many Government departments are not empowered to make their own decisions; they go through a very bureaucratic channel."
On using part of the pension investments to set up a Sovereign Fund, Mr Burt said it was not a question of taking money out of the pot. "That money is invested in some things locally and mainly overseas. It is a question of where you are going to be investing.
"It could be a mature company that can employ 200 people that may be looking for additional investment that would help it move to Bermuda."

Bernews' podcasts aim to provide an in-depth look at current affairs and different issues affecting the Island, and the text extracts above represent only a small portion of the full interview.
You can also download the episode in MP3 format here, view past podcasts here, and subscribe via iTunes, or download the Bernews app and enjoy advance listening, with each episode available for download directly to your phone or tablet earlier than it is released on our main site.
Read More About