The police continue to investigate the armed robbery that took place yesterday at the Gem Cellar in Hamilton, and have appealed for anyone with any information about the crime to please contact the police or Crimestoppers.
A police spokesperson said, "The Bermuda Police Service has commenced and active investigation into the armed robbery that took place yesterday [Thursday] at the Gem Cellar at approximately 11:25am.
"The BPS released a CCTV image of two males, between 5'11 and 6'2 both individuals are of a slim to medium build, with one of the suspects wearing a red jacket "Slam" Jacket with dark coloured pants and white sneakers.
CCTV image of the suspects released by the police: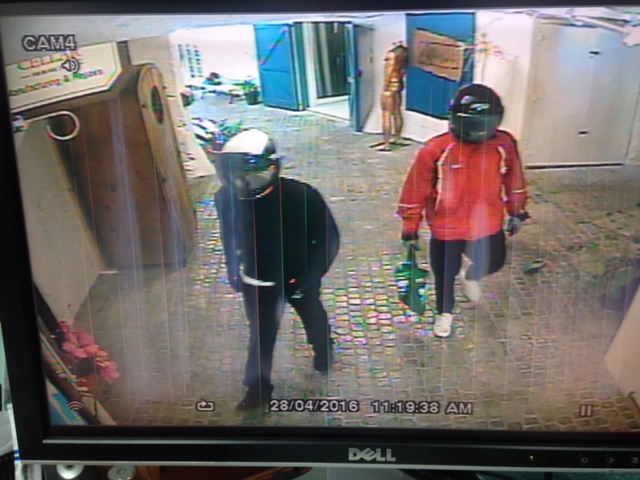 "The other suspect was wearing dark clothing and black sneakers. Police are interested in speaking with anyone who may have seen these 2 males on a motorcycle after the armed robbery in the area of Rosemont Avenue and Serpentine Road in Pembroke at around 11:30-11:40am.
"We are also interested in communicating with anyone who may have any knowledge of the planning, execution and the activities after the robbery was concluded.
"Someone in our community has information, and that information can make a difference no matter how insignificant that information may seem to you.
"We need for people to be bold and make contact with Sergeant Renay Rock at 247 1383 or Inspector Colin King 717-2273 or alternatively you can call the independent and confidential Crimestoppers hotline at 800-8477."
Read More About