In the latest of a series of profiles of members of Bermuda's team in the Red Bull Youth America's Cup, we spotlight Owen Siese, who provided insight into the dedication and training that it takes to represent one's country at the very highest of levels.
A former Somerset Primary and Warwick Academy student, Mr. Siese says taking part in the event is "an incredible feeling" and that "the energy of having our whole country behind us, as we compete in our own backyard, will be unbelievable."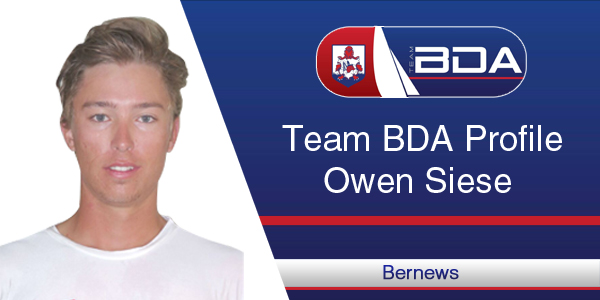 Q: Tell us something about yourself.
A: I am 21 years old, and I attend the University of Waterloo studying Mathematics. I will work as a dinghy instructor at the RBYC this summer. I went to Somerset Primary for six years before going to Warwick Academy for the rest of my Bermuda education.
Q: What made you try out for Team BDA in the first place?
A: I watched the last Red Bull Youth America's Cup live, and thought how amazing it could be if Bermuda ever had a team try to compete. Then suddenly, there was the announcement last summer, and I couldn't apply fast enough for my chance to be on that team!
Q: What sailing experience do you have already?
A: I have been sailing for as long as I can remember really. I have mostly stuck with sailing single-handed [one person] dinghies. I have some experience sailing keelboats, and even a little experience on the International Moth, the only foiling boat I have been on.
The last boat that I have real experience sailing is the Bermuda Fitted Dinghy, though that is the least similar boat to an AC45f ever sailed!
Q: Now that you are in Team BDA what do you hope to achieve?
A: I am already relatively involved in sailing and I think I always will be. I don't think that I would say I am searching for a career in it [not that I'd turn it down if offered!]. But this is an incredible starting point for sailing foiling boats, something I hope to continue in the future.
Q: Do you think that taking part in an event like this is something that will stand you in good stead for the rest of your lives?
A: I think that this will have a major impact on my ability to work and make decisions under pressure. Just sailing these boats fast is one of the hardest things to accomplish in sailing; handling that speed, making tactical decisions, and remembering all the rules at the same time will lead to some incredibly stressful situations!
Dealing with that might be helpful in future situations.
Q: What does it mean to you to be a Bermudian, racing in Bermuda for Bermuda in such a prestigious event?
A: I think that right now, it is an incredible feeling, and it does make me a little nervous. Come time for the actual event, I don't think that I'll have the words to properly describe how I'll feel. The energy of having our whole country behind us, as we compete in our own backyard, will be unbelievable!
Q: What excites you most about the lead-up to race time?
A: What I am most looking forward to before the racing, is working and spending time with the team. All of the sailors I have sailed with before, but it has been six years since we last did something all together as a team. Making friends with those on the team I haven't met before will be awesome as well, and I hope we can all click together and become a truly fantastic team.
Q: Do you think the Red Bull Youth America's Cup has the potential to leave a lasting legacy for Bermuda? If so, how?
A: I believe it has the potential to make a lasting legacy. With the framework for training and development that we are putting in place this cycle, I think we are paving the way for future teams to compete in this event.
Additionally, putting on a good show will hopefully inspire our sailors to push themselves harder in the sport, and encourage others outside the sport to pick up sailing as well.

Team BDA is Bermuda's entry into the Red Bull Youth America's Cup that will take place in the Great Sound in June 2017. They are mentored by Oracle Team USA and will race on the same high-speed AC45F catamarans seen during last October's Louis Vuitton America's Cup World Series in Bermuda.
The team comprises of 15 young Bermudians who will form the crew, the back-up crew and shore crew. Team BDA is being funded entirely by donations.
Team members are Connor Astwood, Mackenzie Cooper, Peter Dill, Preston Farrow, Na'eem Griffith, Philip Hagen, Kalin Hillier, Mustafa Ingham, Emily Nagel, Daniel Pell, Nicholas Pell, Owen Siese, Dimitri Stevens, Shomari Warner and Cecilia Wollmann.

Read More About