[Written by Talbot Wilson]
The June 17th start of the 2016 Newport Bermuda Race is right around the corner. Home-based spectators can watch the start and also track their favorite yachts, skippers, or crewmembers in the 635-mile ocean classic from Newport, RI to "the Onion Patch."
All boats in the 2016 fleet will be tracked by YB satellite trackers [formally Yellowbrick]. Bringing the competition to you as live as it can be, Pantaenius Race Tracking is your link to all the virtual action in the race. Pantaenius Yacht Insurance also sponsored tracking in the 2014 Newport Bermuda Race.
In addition, Livestream video and commentary of the start will be featured on the race website BermudaRace.com along with all other race news.
Commentator Andy Green will be posted overlooking the starting line at the Inn at Castle Hill. With cameras on the hill and on the water, he'll get close to the action bringing live sailing into your living room, or office… but don't watch on your mobile while driving.
'Black Watch', a S&S Custom 68′ Yawl sailed by John Melvin and Trevor Fetter, approaches the finish line off St. David's Head and the famous St. David's Lighthouse. Credit Charles Anderson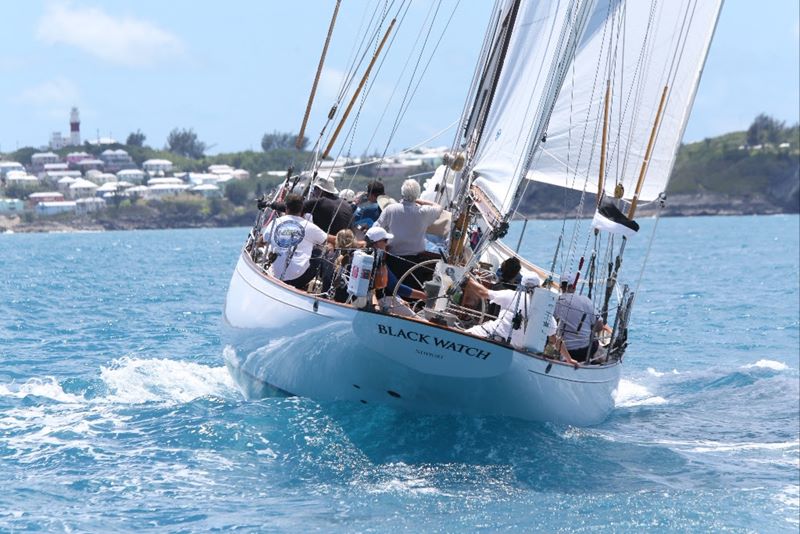 With the race in progress, Andy Green will deliver online commentary every morning and afternoon at 10am, 12pm, 2pm and 5pm.
Updates, weather, team strategic analysis, competitor insights and a look at overnight possibilities are the bill-of-fare. The program will also air on Newport radio FM 105.9. For best results, test the YB and Livestream sites ahead of time and also download their apps for mobile coverage wherever you are.
Bermuda Race tracking will be updated at approximately 5 and 35 minutes past every hour. In order to keep boats from taking tactical advantage of others' positions, the position reported from the start until 50 nautical miles from Bermuda's St David's Lighthouse finish line will be delayed by 4 hours
.For example, the position reported at 08:05AM will actually be the boat's 04:05AM position. Inside of 50 nautical miles to Bermuda, a boat's tracked position will be closer to real time.
Newport Bermuda action starts Friday, June 17th, with the first warning signal scheduled for 2:50 PM EDT in the East Passage of Narragansett Bay off Castle Hill. As of June 3, 192 boats have entered in six divisions which will be divided in classes of about 15 boats each plus a class for the four-boat Spirit of Tradition Division.
More than two dozen entries are also expected in the 26th Onion Patch Series, a tough triathlon of offshore racing.
The Onion Patch racers will compete in three events for three prizes—the Onion Patch Trophy for the top racing team, the Henry B. du Pont Trophy for the top individual racing yacht, and the Navigators Cup for cruisers and sailors wanting a more relaxed experience.
The St. David's Lighthouse Trophy & Gibbs Hill Trophy are prizes for their two namesake divisions in the race. These are silver replicas of Bermuda's two lighthouses. Credit Barry Pickthall/PPL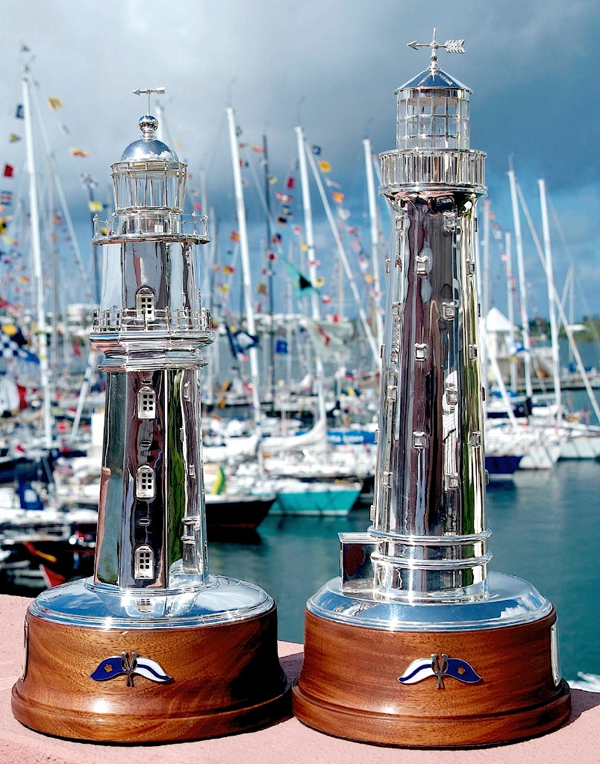 The first event is the New York Yacht Club's 162nd Annual Regatta presented by Rolex and sailed off Newport. The second is the Bermuda Race. The third regatta is the Royal Bermuda Yacht Club's Anniversary Regatta on June 24th.
The RBYC Anniversary Regatta is open to all ORR rated yachts over 25 feet in Bermuda. Anniversary Regatta entries close at noon on June 22nd. Information is online.
The race's website carries Newport Bermuda Race rules, news, videos, photos, history, and expert advice. Race news is also posted on the Newport Bermuda Race 2016Facebook page and on Twitter at @BdaRace.

Read More About