Following the referendum, the Rainbow Alliance released a statement saying "the failure to get enough of a voter turn-out proved this exercise to be a colossal waste of taxpayer funds," and also adding that they "want to tell the young LGBTQ community that the island's majority failing to speak for them does not mean that they are in any way unworthy."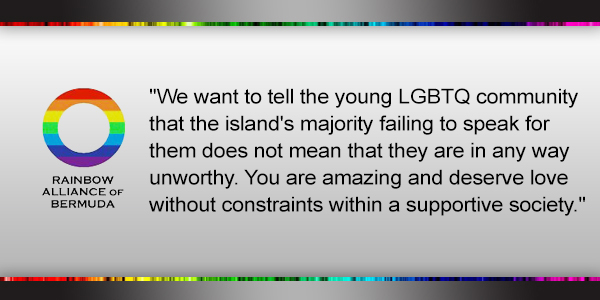 Referendum Question Is "Unanswered"
44,367 people are registered to vote, and 20,804 people — or 46.89% — turned out to vote in the referendum, so the Parliamentary Registrar said the "referendum question shall be taken to be unanswered" as it did not achieve 50% turnout.
While the referendum is technically "unanswered", looking at the votes that were cast shows 14,192 "No" votes for same-sex marriage [6,514 "Yes" votes] and 13,003 "No" votes for Civil Unions [7,626 "Yes" votes].
Rainbow Alliance Statement
The statement said, "The Rainbow Alliance of Bermuda would like to acknowledge the outpouring of love and support for the LGBTQ [lesbian, gay, bisexual, transgender, queer] community in response to the referendum on marriage equality.
"We have always maintained that a referendum is not the appropriate vehicle for this kind of human rights issue, and the failure to get enough of a voter turn-out proved this exercise to be a colossal waste of taxpayer funds.
"While many countries have deemed marriage a heterosexual-only institution, over 76 of them also include anti-LGBTQ legislation that endangers the lives of LGBTQ people. This is not an example to follow. Bermuda is a much smaller community than the 20+ countries that have already changed legislation to provide marriage equality.
"The referendum results show an opportunity for more education around LGBTQ issues and equity. The Rainbow Alliance of Bermuda now renews our call to urge the Government to show leadership on this issue.
"We will continue to advocate for marriage equality but we now expect the courts to quickly fill the vacuum left by the politicians' cowardice.
"The Rainbow Alliance of Bermuda is grateful for an end to the divisive and often-hurtful campaigning that this exercise has inspired. The discourse has included homophobic and transphobic attacks on the humanity of LGBTQ people through intellectually dishonest and sometimes hateful propaganda.
"Particularly, we want to tell the young LGBTQ community that the island's majority failing to speak for them does not mean that they are in any way unworthy. You are amazing and deserve love without constraints within a supportive society.
"We want to tell the LGBTQ Bermudians that could not vote on their rights because they have been forced to leave for more accepting communities: we miss you, we love you, and we want to make home a safer place. LGBTQ family, you matter, and love will ultimately win.
"The Rainbow Alliance of Bermuda will remain committed to creating safer spaces and advocating for equity for the LGBTQ community."

Read More About