Greenrock is commending the Department of Energy for holding the island's second ever 2016 Energy Summit, saying that "it is time for Bermuda to move from aspiration to action."
Greenrock Executive Director Jonathan Starling said, "We were happy to participate in the planning of this event as we view conversations on Bermuda's energy future to be of critical importance for our island.
"This summit helps raise awareness of the various issues concerning energy and is a vital part in facilitating the wider conversation that we as a community must have.
"Greenrock remains committed to seeing Bermuda transition to a low-carbon future based on renewable energy.
"We believe this is not only viable but also morally justified in light of both stemming the flow of hard currency out of the island, and, most importantly, in light of human induced global climate change.
"We are also mindful of Bermuda's obligations – through the UK – to both the Kyoto Protocol and the more recent 2015 Paris Agreement to begin this transition to a low-carbon future.
"We also note the release of BELCO's Integrated Resource Plan [IRP].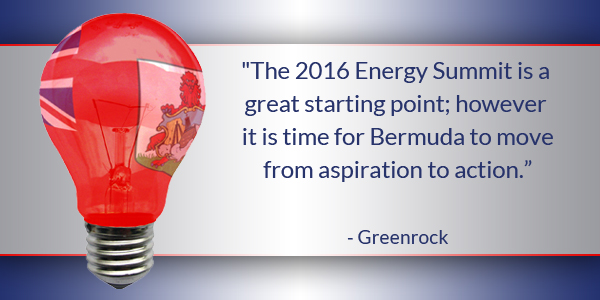 "We will take our time to review this IRP, and will comment on it later. The IRP model has an important role to play in developing our energy future, however it is our belief that the true potential of this approach is only realised in connection with clear targets for reducing greenhouse gas emissions [GHG] and targets for both energy efficiency and renewable energy.
"For example, the UK parliament passed a Climate Change Act in 2008 to reduce their reliance on fossil fuels, with an objective of reducing their carbon emissions to 80% of their 1990 baseline.
"The Scottish Parliament passed a similarly ambitious act in 2009, which also sets annual targets for GHG emissions and renewable energy increases, as well as introducing a levy on single-use plastic bags.
"These Acts have provided the legislative structure to enable a transition to a low-carbon economy. Importantly, the technology required has advanced considerably in the years since. What is required for Bermuda is for the Government to take a leadership role to support this transition to a low-carbon economy.
"In light of the challenges of human-induced global climate change in the 21st Century, we believe that Bermuda is up for the challenge.
"While we all have a part to play in making Bermuda more sustainable, we must move beyond mere aspiration and introduce a legislative framework to effect real change as an island state.
"As such, we encourage the Government to build on this Energy Summit and the 2011 White Paper on Energy – which called for 30% of Bermuda's energy to come from renewable sources by 2030 – by following the lead of both the UK and Scottish Governments by introducing an ambitious Climate Change Act for Bermuda.
"The 2016 Energy Summit is a great starting point; however it is time for Bermuda to move from aspiration to action."

Read More About
Category: All, Environment, News