"You become world class by looking in the mirror not gazing out the window" and "only your full potential is acceptable," Glenn Jones said, telling scholarship recipients it's in their DNA as they come from a small island that has become one of the world's leading financial centers and produces world class talent.
Mr Jones —  the BTA Director Of Public & Stakeholder Relations and an Emmy Award winning journalist – was speaking at the ABIC Education Awards, where over $500,000 in scholarships was presented to twenty undergraduate students and one post graduate student.
This year's recipients were Taahira Butterfield, Tatyana Butterfield, Hunter Cameron, Maha Clarke, Tracey DeSouza, Asha Ford, Dejanee Hill-Edwards, Ari Minors, Brooke Pereira, Krystl Robinson-Assan, Raeesah Shakir, Ranisha Simmons, Kenya Simons, Asia Smith, Imani Smith, Michael Smith, Shallette Spencer, Evan Watkins, Kaisha Wilson, Zoe Wright and Taylor Braithwaite.
Speaking at the event, Mr Jones said, "I am thrilled to be here today, honored that Christian and Richard would think I'm the right person to speak to this room of bright superstars. The positive vibes in this place right now are truly inspiring. I'm really happy to be here.
"I would be remiss if I didn't acknowledge the decades of dedication that ABIC has made to the young people in our community. Year after year. These education awards are so incredibly important.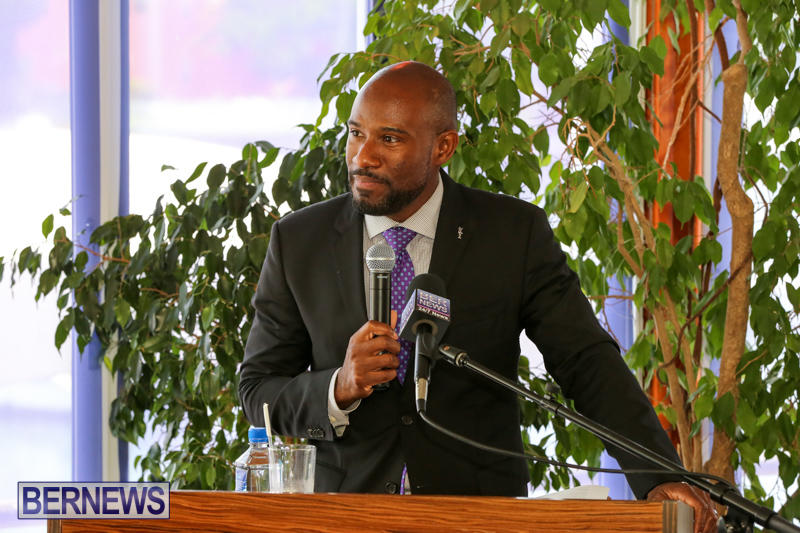 "They showed me an extensive list of people who earned an ABIC award over the years and they are a very impressive cast of characters, some of which I know personally.
"They are names you would recognize as well because you've probably heard about the fine contributions they've made to our country's success in one way or another.
"To the scholarship committee and the people who assist them, to companies that put up the money and the mentors who help follow through, to all of you – thank you. Our community is better off as a result of what you do.
"ABIC's goal with these awards is to prepare Bermudians with the education opportunities they will need to come home and contribute positively to our community, our economy. They want you to be successful. I want you to be successful. Just like the world's problems seem to know no borders, the same is true for our economy here in Bermuda. Totally border-less.
"Sure we're a small, isolated country out here in the North Atlantic, but the leading driver in our economy is international business. What happens elsewhere affects us to a great extent and the reverse is also true. Dollars, Sterling, Yen – all connected.
"And you know what else knows no borders: talent. Talent knows no borders.
"So I am here today to convince you that this room absolutely must be filled with people who are fixated — totally obsessed –with becoming world class talent. Not just some of Bermuda's finest. That's easy, you got that one covered. You're here.
"You need to be the best from anywhere. Best in show. Best in show in a global game with no borders. This is not negotiable. Only your full potential is acceptable.
"Don't be daunted by this. I'm here to tell you that it's in your DNA.
"Tell me of another place in the world with a population so small, but yet is home to one of the world's leading financial centers, basically number one in reinsurance. What country produces so few people, yet can have so many natives who are chartered accountants and actuaries and underwriters?
"What country this size can produce a Patrick Tannock and a Brian Depuerreault or a Gina Smith in the same space of time – so effortlessly. If you don't know those names, learn them quickly, they are world class talent and they are your countrymen.
"A basketball analogy seems appropriate here, time and again, Bermuda is the shortest on the court, but somehow finds a way to reach the rim and dunk the ball. Shaq, Mutombo, Kareem Abdul-Jabbar, it doesn't matter how tall the other countries are guarding the rim, we find a way to score – we find a way to be successful.
"The pathway between where you sit now and world class is not untraveled. The distance between where you are now and the rim is not as far as you might think.
"I mentioned Patrick Tannock a moment ago. In 1980 he won one of these ABIC awards and now he's head of Bermuda insurance operations for XL Catlin. A truly world class talent helping to lead a global powerhouse. He chairs the company's philanthropic unit too, giving back to the community that gave him a boost when he was starting out.
"Jonathan Ball is a friend of mine. He also won an ABIC award and also is at XL Catlin. Today he's an underwriter. Another world class talent. And he's president of Pembroke Hamilton Club where he's setting up a new legacy of opportunities for other young people in our community, like my godson who is a PHC scholarship recipient. I have tremendous respect for Patrick and Johnny and what they're doing for our community.
"This idea stretches beyond the world of international business too.
"Shane Mora is an ABIC awardee. Today what's he doing? He's the branding manager for the America's Cup Event Authority. Do you know how many marketing professionals around the world want that gig!? I don't know either, but it's a lot.
"Shane has to figure out the branding for one of the greatest sports franchises on the planet – not only here in Bermuda, but in the US, UK, France, Japan, Sweden and everywhere else America's Cup racing travels.
"Where I work at the Bermuda Tourism Authority we have a cast of 39 people and most of them, more than 85% of them, are Bermudian and they are the most talented bunch of people I have ever worked with. And through my career in the United States and Bermuda I have worked with some truly impressive people.
"I went through the list of ABIC education awardees since 1977 and I found five people on that list who are my colleagues at the BTA this very minute. Jill Dill, Keitha Trott, Kyle James, Jamari Douglas and Adrian Hassell. Men and women who are part of a group of Bermudians that wake up everyday to compete against the world.
"Let's be clear, the travel business is literally about competing against the world. Us against Barbados and Cape Cod and Hawaii and all the rest. And I have to tell you, I'm proud that our country decided to find the best Bermudians to form a destination marketing team to go up against the world and take the ball to the rim.
"It's working. This group of talented Bermudians, some of which are ABIC education award winners, are dunking the ball right now. They're killing it! Just wait until the second quarter results come out in a couple of weeks.
"I'm so proud to be on that team because we are world class. Just like Brian Duperreault, Patrick Tannock. Just like Johnny Ball and Shane Mora and so many others. True as well for the group at the Tourism Authority.
"This is the legacy you are stepping into. So pull up your Bermuda socks and let's go.
"If you're anything like me when I was beginning my college career you might worry the burden that comes with being world class is a burden too big to carry. Being best in show is hard… scratch that, just pursuing best in show is hard work, let alone achieving it. Long hours, short weekends, a lot of discipline.
"So here's the thing – all of that is true. It is. And sometimes it sucks because while you're trying to kill it at your internship late on a Friday, your friends are already at happy hour.
"If success was easy they'd let anybody achieve it. But here's what will help: Find something you love. Sounds cliché, I know. But it'll make your quality of life so much better.
"I think that's a truism about being world class – don't chase world class while looking around to figure out how everyone else is performing, become world class by constantly challenging your own personal best.
"You become world class by looking in the mirror not gazing out the window. You need to constantly hone your craft based on your own standards of success, that's the most rewarding way to becoming best in show. I know this in hindsight because that's how I became an Emmy Award winner, even while competing against reporters with more experience and probably more skill.
"When you leave here today with your ABIC education award, what will be your purpose? Your passion? How will you become world class? The expectation is that when you accept this award you carry with you a duty to give something back to your community, just like Jonathan Ball and Patrick Tannock and so many others.
"So the questions once again are these: What will be your purpose? How will you become world class? For all I've shared today the one thing I cannot tell you is the answers to your questions.
"Your parents won't know either, not your professors, not a politician. The answer is going to come from the person you see when you whip out your cellphone and take a selfie."
Read More About