[Written by Don Burgess]
Everyone loves seeing Bermuda's Olympic team stylized in our traditional Bermuda shorts for the opening ceremony, but it almost didn't happen this year.
Earlier today the official uniforms had not yet arrived and it was a race to get the team kitted up in its traditional blue blazer and red Bermuda shorts for the opening ceremony.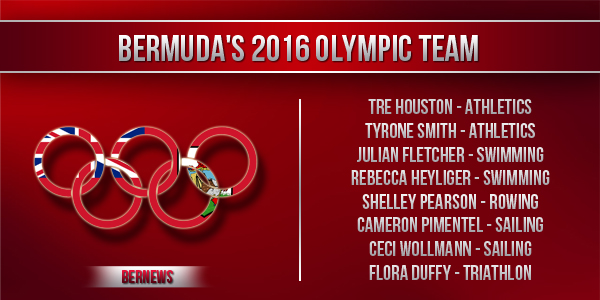 Long jumper Tyrone Smith posted on social media, "I've been selected to be the flag bearer for tonight's opening ceremony! Huge honor! Bad news is my uniform hasn't made it to Rio."
Bernews confirmed from a second source that the original uniforms were on a flight that had been delayed.
But Smith posted on his Facebook page this evening via a live video as he was walking to the bus stop at the Olympic Village to take him to tonight's opening ceremony: "Uniform came in… well, we borrowed a lot of pieces from a bunch of people.
There were at least several members of Bermuda's delegation who did not have the proper uniform earlier today.
The opening ceremony is set to take place this evening and can be viewed on ZFB 7.
Read More About
Category: All