There are lots of things you can do to raise money for cancer support – growing a moustache for the month of November might just be one of the easiest. That's the word from Joel Duffy, President of Robin Hood Football Club.
The 34-year-old is part of a team supporting Bermuda Cancer and Health Centre to raise awareness of men's health issues this month. Tonight, Mr Duffy, along with 15 to 20 other local athletes, will be shaving off their facial hair at a special launch event happening at Robin Hood Pub & Restaurant at 5.30 pm.
"This will mark the official start to the moustache growing in honour of Movember," he said. "We will be highlighting the events going on throughout the rest of the month and it will just be a time to get together and celebrate the part we all play in supporting this."
The club has been part of Movember for four years now.
Members of Robin Hood Football Club using their mustaches to raise awareness of men's health issues for Movember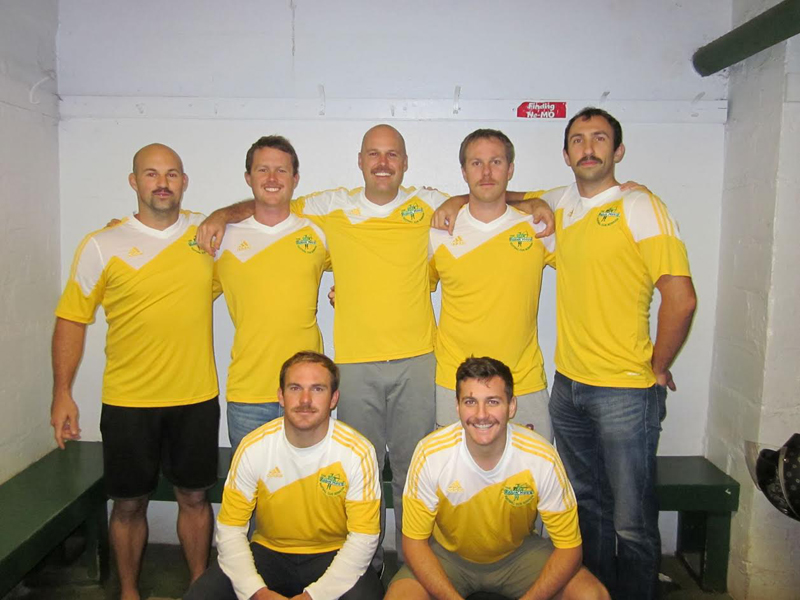 In the early days, a few team members thought it would be "a good laugh" to grow a moustache for a month. But once they realised how much money could be raised on behalf of cancer support the idea began catching on.
"We, as a team, have some close personal connections with cancer," Mr Duffy explained.
"One of our active players with the Corona team has had cancer and still goes away for formal check-ups each year. Our secretary of the club, who has been with the team for 35 years, has also had various health issues in the past, cancer being one of them.
"On top of that Chris Fosker, a clinical oncologist for the hospital and Medical Director at Bermuda Cancer and Health Centre, is also a Robin Hood player, so Movember has become an important awareness campaign that impacts us all around."
The RHFC'S participation in raising awareness for men's health issues has continued to grow each year.
"We just kept doing it because at the end of the day it was something simple we could do to make a difference," Mr Duffy explained. "You are just growing a moustache and don't have to go out of your way. I know a lot of guys really feel weird about growing a moustache especially in the corporate setting, but it's for a really good cause. That's why I continue to do it.
"Now my co-workers expect to see me with facial hair every once and a while and for the other people who don't really know about why I'm doing it it's an opportunity to raise awareness and invite them to be a sponsor."
Mr Duffy is encouraging men, especially those on local sports teams, to come out and take part in this month's festivities.
"Movember is an easy way for male teams to get active and play a part in the community," he said.
"It doesn't take any time or effort, but the result can be huge. That's one of the reasons we are helping out with this in partnership with Bermuda Cancer and Health Centre. We reach a different crowd than they typically reach at a lot of their events, which are attended by females more so than men, but gradually that's beginning to change."
Tara Curtis, Executive Director of Bermuda Cancer and Health Centre said: "One in two men will have a cancer diagnosis in their lifetime.
"There is a lot of information we are aware of now, [such as the importance of] early detection, healthy lifestyles, remaining active, having regular conversations with your doctors to understand your risk – all of these will help to counteract cancer.
"We are very excited about the continued support from the Robin Hood Football Club and their partnership with us for Movember this year."
For more details on the events happening this month, visit www.chc.bm.

Read More About