Warwick Academy was visited by alumnus Sam Dill after a busy few months in the United Kingdom.
The former Brunel Product Design Student returned to Warwick Academy to present in an assembly "Journey's" that outlined how he has developed his interest into a future career path.
The students heard how early inspiration from working in his grandfather's workshop led to projects that included building skate and BMX ramp;  to a fiber glassed, multi hull speedboat while in Y12 before embarking on his Product Design studies.
By his own admission, the segmented subject structure of a school curriculum didn't necessarily appeal to his approach to learning, but after leaving for University to study Product Design, the application and need for these subjects in his designing re-ignited his interest.
Principal Dave Horan, Sam Dill and Head of Secondary Anne Coakley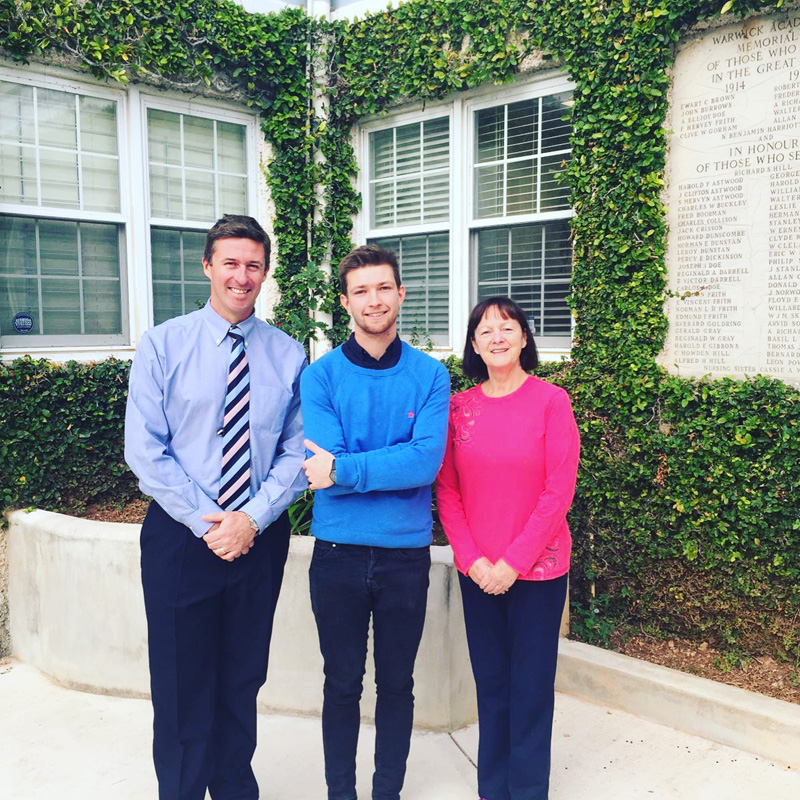 He graduated with a 1st in Product Design earlier this year and managed a hectic final year at Brunel University including been selected for the prestigious New Designers 2016 exhibition at London's Design Centre for his "eyeassist" modular wireless camera system, and  being involved with the "Made in Brunel" initiative; a student led collaborative platform focused on showcasing good design from Brunel University London.
His willingness to "spread the word" about future career opportunities in the subject has also been appreciated by his former teachers, namely Mr. Glynn Bough, formerly of Warwick Academy but now teaching at Taunton School, Somerset, England, and Mr. Nick Shardlow, the current Head of Practical Arts at Warwick.
Mr Dill  has run workshops, spoken to students in assemblies and was, on Monday, part of a trial run of a Y13 Design Technology presentation, offering his advice as part of a "Dragon's Den" style event that saw a collaboration between staff and students in the Practical Arts and Business studies departments.
Taking place in the recently renovated Barber Hall 6th form common room, business studies students, led by IB coordinator and Business Studies teacher Mrs. Sara Jackson, listened to product pitches before questioning the students designs and then considering how their product could be marketed.
Finishing his assembly with the quote 'Find something you love to do and you'll never have to work a day in your life,' Mr. Dill's presentation illustrated how following a passion for something you enjoy can pay dividends even if initially that path isn't clear.

Read More About
Category: All